Search & Buy Lao Airlines Flights
Select your payment method to view total prices including any payment fees:
Airlines will always try to sit children with their parents (subject to check-in)
Some airlines will allow travel for unaccompanied minors. Please email us to check.
The fare is based on the child's age on the date of travel.
More detailed information can be found here Traveling with children
Most airlines will let infants travel with their parent(s) for free. However some airlines will charge up to 10% of the adult ticket price. Click on 'Price Breakdown' to find out more.
If you are pregnant, but due before the flight departure date, please contact us once your baby is born and has a name. We can then add him/her to your ticket.
Infants will not be given a seat. The airlines expect parents to travel with them on their lap.
Airlines regard infants as being under 24 months old.
The fare is based on the child's age on the date of travel.
More detailed information can be found here Traveling with children
Buy
Lao Airlines

Flights
Lao Airlines Reservations with Alternative Airlines
Flights to and from Lao
Make a Lao Airlines Booking and Find Some Amazing Deals
---
About Lao Airlines
Lao Airlines is the major and national airline carrier of Laos and is headquartered in Vientiane. The airline's main hub is at Wattay International Airport in Vientiane. Lao Airlines operates domestic and international flights to many destinations, which include: Luang Namtha, Luang Prabang, Oudomxay, Pakse, Savannakhet, Vientiane, Xieng Khuang, Phnom Penhm, Siem Reap, Guangzhou, Kunming, Jinghong, Chengdu, Singapore, Bangkok, Hanoi, Ho Chi Minh City, Changsa, Seoul and Busan.
---
Lao Airlines Fleet
Lao Airlines operates four A320-200s, three ATR72-500s, and three ATR72-600s on scheduled passenger flights to Luang Namtha, Luang Prabang, Oudomxay, Pakse, Savannakhet, and Xieng Khouang locally as well as Bangkok Suvarnabhumi, Busan, Changzhou, Chengdu, Chiang Mai, Guangzhou, Hanoi, Ho Chi Minh City, Kunming Changshui, Seoul Incheon, and Siem Reap internationally. Lao Airlines has codeshare agreements with Thai Airways and Vietnam Airlines.
---
Lao Airlines Baggage
Passengers that travel with Lao Airlines are entitled to at least one carry-on item and checked baggage free of charge.

Depending on your booking class and partner airlines, Lao Airlines have different allowance and policies.

Lao Airlines - Economy Class: Maximum weight allowance is 20Kg

Lao Airlines -Business Class: Maximum weight allowance is 30kg.

Passengers who want to earn miles when they travel with Lao Airlines can register for Champa Muang Lao frequent flyer program and enjoy benefits such as free tickets, privileged services and remarkable convenience every time they fly with Lao Airlines.
---
Lao Airlines Check-in
Online Check-In
Lao Airlines is yet to offer online check-in for its flights.
Airport Check-In
Lao Airlines passengers flying internationally should check-in at least two hours prior to scheduled departure time. For domestic flights, Lao Airlines passengers should check in at the airport at least one and a half hours prior to scheduled departure time.
---
Lao Airlines Route Map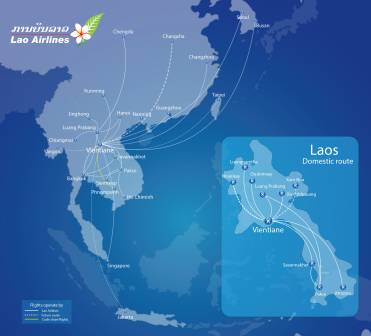 ---
Lao Airlines Popular Routes
Vientiane

Busan
Luang Namtha

Hanoi
Seoul

Vientiane
Vientiane

Siem Reap
Pakse

Vientiane
Phnom Penh

Vientiane
---
Lao Airlines Hub Airport
Wattay International Airport
Lao Airlines is based at Wattay International Airport which is located in the captial of Laos, Vientiane. Other airlines which fly to and from Wattay International Airport include AirAsia, Bangkok Airways, Cambodia Angkor Air, China Eastern Airlines, Jin Air, Lao Airlines, Vietnam Airlines and Thai Airways. Laos is a convenient hub for travel in the Indochina region, Lao Airlines, Thai Airways International, Bangkok Airways, Vietnam Airlines, China Yunnan Airlines. These airlines offer a range of scheduled flights to Bangkok, Phnom Penh, Siem Reap, Hochiminh City, Hanoi, Chiang Mai, Kunming and Jinghong. Lao Airlines flight offers regular services to all provincial capitals.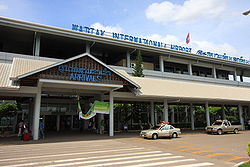 ---
Alternative Airlines to Alternative Airlines
---
Lao Airlines News
31st October 2018
Lao Airlines to offer Luang- Prabang- Changsa service
From the start of winter 2018, Lao Airlines will be expanding its Chinese service with a new route from Luang-Prabang to Changsa. The airline is expected to write one weekly flight from 31st October, using its Airbus A320 aircraft.
27th June 2018
Bangkok Airways and Lao Airlines in Codeshare Partnership
To strengthen their respective route networks between Thailand and Lao, Bangkok Airways and Lao Airlines have entered into a new codeshare partnership.
Lao Airlines in search for a strategic partner
Laos' national carrier, Lao Airlines, is looking for a specialist airline to jointly nuture the airline into a more eficient, profitable airline. Instead of privitising the airline, the Laotian government are scouring the skies for a strategic partner as part of a larger drive to improve efficiencies across the socialist-run Southeast Asian country's portfolio of state-owned enterprises. There appears to be some interest in Lao Airlines from foreign investors but no concrete information has been announced.
Lao Airlines halts route between Singapore and Laos
Laos' national carrier, Lao Airlines, has reported that it will cease direct Laos-Singapore flights from Mar 25 due to "operational reasons". In a Facebook update on Monday (Mar 12), the airline said it will resume flight schedules "as soon as it is ready for operation upon further notice". This is the second time that direct flights between the two countries have been delayed, and comes just five months after Lao Airlines relaunched direct Singapore-Lao flight services in late-October last year.
Lao Airlines to begin direct flight to Japan
Lao Airlines has announced it will inaugurate direct flight to Japan's Tokyo Narita International Airport soon to handle the growing need for air transport between the two countries. The exact date for the inauguration and ticket prices are still unknown, but details will be announced at a later date, an official of the airlines told the Vientiane Times yesterday. Aircraft will fly three times a week on Wednesday, Friday and Sunday, according to the plan.
"The precise date to begin to operate the flight and air ticket price is still unknown. Details are expected to be announced soon and passengers can follow our official website or facebook site," the official said. The new air route will be the first regulated direct flight that the Lao national flag carrier operates to Japan. Previously, Lao Airlines operated shuttle flight to Japan, but stopped operating this service. The company said in its announcement on Monday that the new air route was expected to boost economic development, investment and trade in Laos as well as the inflow of visitors to the country.
The planned opening of the new air route is also in line with the will of the government. Prime Minister Thongloun Sisoulith told his Japanese counterpart, Shinzo Abe during their meeting in June in Japan that Laos hoped to increase the exchange of people and goods by establishing direct flights between Laos and Japan promptly. Lao Airlines now flies to major cities in Cambodia, China, Republic of Korea, Thailand and Vietnam. Domestically, Lao Airlines operates flights to the provinces of Luang Namtha, Oudomxay, Luang Prabang, Xieng Khuang, Savannakhet and Champassak.
Recently, the airline announced it would re-launch direct flights from Vientiane's Wattay International Airport to Singapore's Changi International Airport starting on October 29 after halting the flight earlier this year. In addition, the company plans to operate direct flights to additional destinations in Myanmar, Indonesia and on the island of Taiwan. Along with its expansion, the company has registered growing numbers of passengers using its service.
In 2011, more than 531,000 passengers travelled with Lao Airlines and numbers climbed to more than 658,000 in 2012. In 2015, more than 828,000 passengers flew with Lao Airlines including more than 504,000 foreign customers. Numbers rose to 924,924 people in 2016 including 543,422 foreigners. An official of the company's Marketing Department said the planned launch of the direct flight to Japan was to handle the growing air transport need, especially foreign visitors. In 2016, Laos registered more than 4.23 million foreign visitors in total. Tourists from Japan accounted for almost 50,000, an increase from the 43,826 recorded in 2015, according to an information from the Ministry of Information, Culture and Tourism.
Lao Airlines to re-launch direct flights to Singapore
Lao Airlines, the Lao national carrier, is in expansion mode, re-launching direct flights from Vientiane's Wattay International Airport to Singapore's Changi International Airport from this October, according to an announcement by the company.
Earlier in 2017, Lao Airlines halted direct flights from Lao capital Vientiane to Singapore, for a number of unspecified reasons. However, the route is being re-launched beginning at the end of October, local daily Vientiane Times noted on Thursday. The new flights between Vientiane and Singapore will begin on October 29 with fares starting at 155 U.S. dollars and can be bookable through their website. The re-launch of the route from Laos to Singapore is expected to boost the economic development in terms of the influx of foreign tourists, investment and trade over the years to come.
Last year, two-way trade between the countries reached 30 million U.S. dollars, more than doubling from 13 million U.S. dollars recorded in 2015. In the same year, over 6,000 Singaporean tourists visited Laos. Singaporean investors invested 187 million U.S. dollars in 79 projects in Laos, making Singapore the 11th largest foreign investment source. At the end of 2016, Singapore's SilkAir resumed its Singapore-Vientiane-Luang Prabang flight, which flies three times a week providing a convenient travel route to help boost investment and tourism cooperation.
In the joint commitment, SilkAir has set to offer more flights to Laos under a code-share agreement with Lao Airlines. Currently Lao Airlines has direct routes to various major cities of Cambodia, China, Thailand, Vietnam, and South Korea.
The Laotian government has announced plans to source a strategic partner for national carrier, Lao Airlines, as it seeks to improve operational efficiencies across its portfolio of state-owned enterprises.
April 2017
Lao Airlines announced that it was set to benefit from Cambodia and Laos signing a deal to encourage regional airlines to increase their services between both countries in a bid to encourage tourism.
The memorandum of understanding (MoU) will push airlines in both countries to operate more flights between Cambodia and Laos due to the increased demand from tourists. The passenger load between the two countries increased by 5% last year to 178,000 and hoped the figure will hit 200,000 in the next two years.
Lao Airlines announced it was planning to launch a direct flight between Vientiane and Tokyo in Japan
The flight is expected to make a stop in Nagasaki on one of sector of the journey between Vientiane and Tokyo. Lao Airlines currently operates flights to Japan under a codeshare agreement with Thai Airways International and as a result, passengers wishing to travel to Japan need to fly from Vientiane to Bangkok and change planes there for a direct flight to Japan.
There is demand for a direct flight, but it will involve having to bring in a suitable plane to fly nonstop to Japan, which is beyond the range of any of its aircraft. The airline is the major carrier in Laos. It flies to Luang Namtha, Luang Prabang, Oudomxay, Pakse, Savannakhet, Vientiane and Xieng Khuang in the country.
On international routes it serves Phnom Penh, Siem Reap, Guangzhou, Kunming, Jinghong, Chengdu, Singapore, Bangkok, Chiang Mai, Hanoi, Ho Chi Minh City, Seoul and Busan.
ATR has inducted the first class of six pilot candidates into a new ab initio ATR 72-600 pilot training-program for Laos-based Lao Airlines. A third-party training pipeline is one of several initiatives ATR is pursuing to address the need for more entry-level airline pilots and localized training for existing pilot.
SilkAir has signed a codeshare agreement with Lao Airlines for its flights to Vientiane and Luang Prabang
The agreement will provide SilkAir and Lao Airlines customers more options when travelling to and from Singapore and Laos. From 31 October, SilkAir will offer three weekly flights on Mondays, Thursdays and Saturdays. With the new codeshare agreement in place, customers have a choice of six weekly flights to Laos shared between both airlines.
Under the agreement, which takes effect 1 September (subject to regulatory approval), SilkAir will add its 'MI' designator code to selected Lao Airlines-operated flights between Singapore, Vientiane and Luang Prabang. On a reciprocal basis, Lao Airlines will add its 'QV' designator code to selected SilkAir-operated flights between Singapore, Vientiane and Luang Prabang when flights commence, 31 October.
Today the Lao Airlines network extends to seven international destinations and 11 locations within the Lao PDR. New routes are planned for the future, including within the CLMV economic zone of Cambodia, Lao PDR. Myanmar and Vietnam, as well as to Hong Kong and Singapore.
Lao Airlines has been promoting Attapeu. Laos' national airline says it is committed to developing traffic on the Vientiane to Attapeu route following the increase of services to three times a week. Lao Airlines increased flights on the routes from two weekly to three weekly flights in August operating on Monday, Wednesday and Friday. The airline opened the first flight on 9 April. In August 2016, Lao Airlines celebrated its entry into full membership of the International Air Transport Association at an official admission ceremony held at its head office last week. ATA will assist the airline with training programmes and safety and technical audits to enhance the airline's systems. Membership will also allow IATA travel agents to trade with the airlines and pay for tickets directly through the IATA recognised bank settlement plan, which acts as a clearing house between travel agents and airlines.
---