Lao Airlines Reservations with Alternative Airlines
Make a Lao Airlines Booking and Find Some Amazing Deals
---
About Lao Airlines
Lao Airlines is the major and national airline carrier of Laos and is headquartered in Vientiane. The airline's main hub is at Wattay International Airport in Vientiane.Lao Airlines operates domestic and international flights to many destinations, which include: Luang Namtha, Luang Prabang, Oudomxay, Pakse, Savannakhet, Vientiane, Xieng Khuang, Phnom Penhm, Siem Reap, Guangzhou, Kunming, Jinghong, Chengdu, Singapore, Bangkok, Hanoi, Ho Chi Minh City, Changsa, Seoul and Busan.
Top tip: If you are looking for domestic flights in Laos, read our domestic flights within Laos page.
---
Lao Airlines Fleet
Lao Airlines operates four A320-200s, three ATR72-500s, and three ATR72-600s on scheduled passenger flights to Luang Namtha, Luang Prabang, Oudomxay, Pakse, Savannakhet, and Xieng Khouang locally as well as Bangkok Suvarnabhumi, Busan, Changzhou, Chengdu, Chiang Mai, Guangzhou, Hanoi, Ho Chi Minh City, Kunming Changshui, Seoul Incheon, and Siem Reap internationally. Lao Airlines has codeshare agreements with Thai Airways and Vietnam Airlines.
---
Lao Airlines Baggage
Carry-on Baggage
Passengers are permitted 1 x 7kg cabin bag free of charge for their flight. This item must not exceed the dimensions 30 x 60 x 18cm.
In addition, passengers are permitted to carry a personal object with them. This can be items such as a handbag, coat, umbrella or crutches.
Checked Baggage
Passengers travelling in economy class are permitted 20kg of free checked luggage for international flights.
For passengers in Business class, they are allowed 30kg of free checked luggage.
---
Lao Airlines Check-In Information
Online Check-In
Lao Airlines are yet to offer online check-in for their flights.
Airport Check-In
Lao Airlines passengers flying internationally should check-in at least two hours prior to scheduled departure time. For domestic flights, Lao Airlines passengers should check in at the airport at least one and a half hours prior to scheduled departure time.
---
Class Fares
The airline offers economy seating, and on the Airbus, also offers business class seats:
ATR 72-500: 70 Economy seats
ATR 72-600: 70 Economy seats
AIRBUS 1320-214: 126/150 Economy seats, 8/16 Business seats
---
Economy Class
On-board meals/snacks, depending on the flight time, and beverages are complimentary.
There is no in-flight entertainment, but duty-free shopping and in-flight magazines are available. Seats are comfortable, with fold-down back-chair trays.
---
Business Class
Make the most of extra-wide, padded and comfortable seats.
Traveling business class will qualify customers to access lounges before flying, with free snacks provided.
---

Lao Airlines Route Map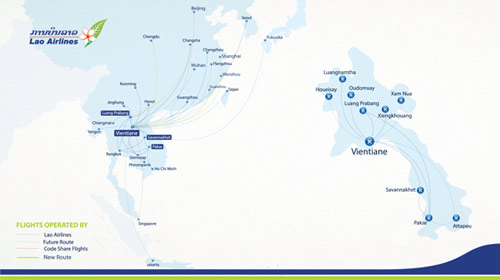 ---

Lao Airlines Popular Routes
Vientiane

Busan
Luang Namtha

Hanoi
Seoul

Vientiane
Vientiane

Siem Reap
Pakse

Vientiane
Phnom Penh

Vientiane
---
Alternative Airlines to Lao Airlines
Please click on the logos below to find out more about airlines that fly similar routes to Lao Airlines:
---

Lao Airlines Hub Airport
Wattay International Airport
Lao Airlines is based at Wattay International Airport which is located in the captial of Laos, Vientiane. Other airlines which fly to and from Wattay International Airport include AirAsia, Bangkok Airways, Cambodia Angkor Air, China Eastern Airlines, Jin Air, Lao Airlines, Vietnam Airlines and Thai Airways. Laos is a convenient hub for travel in the Indochina region, Lao Airlines, Thai Airways International, Bangkok Airways, Vietnam Airlines, China Yunnan Airlines. These airlines offer a range of scheduled flights to Bangkok, Phnom Penh, Siem Reap, Ho chi minh City, Hanoi, Chiang Mai, Kunming and Jinghong. Lao Airlines flight offers regular services to all provincial capitals.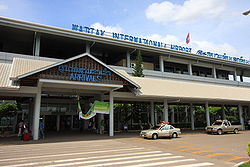 ---
Pay for Lao Airlines with PayPal
Pay with PayPal or PayPal Credit for any Lao Airlines ticket. Check out the available flight promo codes that can be used when paying with PayPal.