Search and Buy LEVEL Flights Online with Alternative Airlines
Make a LEVEL reservation and find some amazing deals
---
About
LEVEL is a low-cost airline that is owned by the International Airlines Group (IAG). The airline has four bases — the main base is in Barcelona (BCN) and its secondary bases are in Amsterdam (AMS), Paris (ORY) and Vienna (VIE). LEVEL offers short-haul and long-haul international flights to several destinations across Europe and the Americas.
The airline launched in 2017 with several transatlantic flights travelling from Barcelona to Oakland, Los Angeles, Buenos Aires and Punta Cana. It opened a base in Paris at the end of 2017 and — along with its first series of short-haul flights — a base in Amsterdam in 2018. Most recently, it opened a base in Amsterdam in 2019.
At LEVEL you'll be guaranteed to find affordable prices even during peak seasons. With LEVEL you can reserve your seat, food on board, checked luggage and even have the comfort kit on board. That's what flying with LEVEL airlines is about.
---
Fleet
LEVEL's fleet consists of entirely Airbus aircraft. The airline uses its A330 models on short-haul and long-haul flights. The airline has over 5 aircraft.
---
Destinations
The airline operates a mix of short-haul and long-haul flights to the following destinations.
COUNTRY
CITY
AIRPORT
Argentina
Buenos Aires
Ministro Pistarini International Airport (EZE)
Austria
Linz
Linz Airport (LNZ)
Salzburg
Salzburg Airport (SZG)
Vienna
Vienna International Airport (VIE)
Canada
Montréal
Montréal–Pierre Elliot Trudeau International Airport (YUL)
Chile
Santiago
Comodoro Arturo Merino Benitez International Airport (SCL)
Croatia
Dubrovnik
Dubrovnik Airport (DBV)
Cyprus
Larnaca
Larnaca International Airport (LCA)
France
Calvi
Calvi – Sainte-Catherine Airport (CLY)
Paris
Charles de Gaulle (CDG)
Orly Airport (ORY)
Germany
Hamburg
Hamburg Airport (HAM)
Rostock Airport
Rostock Airport (RLG)
Guadeloupe
Pointe-à-Pitre
Pointe-à-Pitre International Airport (PTP)
Italy
Genoa
Genoa Cristoforo Colombo Airport (GOA)
Milan
Milan Malpensa Airport (MXP)
Olbia
Olbia Costa Smeralda Airport (OLB)
Rome
Rome Leonardo da Vinci–Fiumicino Airport (FCO)
Martinique
Fort-de-France
Martinique Aimé Césaire International Airport (FDF)
Netherlands
Amsterdam
Amsterdam Airport Schiphol (AMS)
Portugal
Lisbon
Lisbon Airport (LIS)
Porto
Porto Airport (OPO)
Spain
Alicante
Alicante–Elche Airport (ALC)
Barcelona
Barcelona–El Prat Josep Tarradellas Airport (BCN)
Bilbao
Bilbao Airport (BIO)
Fuerteventura
Fuerteventura Airport (FUE)
Málaga
Málaga Airport (AGP)
Palma de Mallorca
Palma de Mallorca (PMI)
United Kingdom
London
Gatwick Airport (LGW)
Luton Airport (LTN)
United States
Boston
Logan International Airport (BOS)
Las Vegas
McCarran International Airport (LAS)
Newark
Newark Liberty International Airport (EWR)
New York City
John F. Kennedy International Airport (JFK)
San Francisco
San Francisco International Airport (SFO)
---
Baggage
Baggage allowance depends on the length of the flight.
Carry-On Baggage
Flights Within Europe
Passengers are entitled to one item of free carry-on baggage with a maximum weight of 10 kg / 22 lbs. This baggage must also fit within the dimensions of 55 cm x 40 cm x 20 cm (21" x 15.7" x 7.8").
Long-Haul Flights
Passengers are entitled to one item of free carry-on baggage with a maximum weight of 10kg / 22 lbs. This baggage must fit within the dimensions 56 cm x 45 cm x 25 cm (22" x 17.7" x 9.8").
Checked Baggage
Flights Within Europe
Passengers with a Basic fare ticket aren't given a free checked baggage allowance. If a passenger wants checked baggage, they must purchase it at an additional cost.
Passengers with an Optima fare ticket are given 25 kg / 55 lbs of free checked baggage.
Long-Haul Flights
Passengers with an Economy fare ticket aren't entitled to any free checked baggage. If they wish to purchase checked baggage, they can purchase it at an additional price.
Passengers with a Premium fare ticket are entitled to two pieces of free checked baggage with a maximum weight of 23 kg / 51 lbs per piece.
---
Check-In
Online Check-in
Online check-in can be completed by visiting the LEVEL online check-in page and entering the reservation details. Online check-in times vary, depending on the route flown but will open between 21 days–24 hours before scheduled flight departure time and will close 60 minutes before.
For passengers flying to/from Barcelona, online check-in must be completed via the Iberia online check-in page.
Airport Check-In
Airport check-in is open between four hours and 60 minutes before scheduled flight departure time on long-haul flights.
Airport check-in is open between two hours and 40 minutes before scheduled flight departure time on flights within Europe.
Please enough sufficient time to arrive at the airport to avoid long queues.
---
Fare Classes
Level's First and Business Class services are referred to as the airline's "Premium" service."
---
Economy Class
LEVEL's Economy Class cabin offers passengers excellent value and allows passengers to choose what they need to enjoy their flight.
Economy Facilities
Economy Class offers a no-frills service and allows you to add as much or as little as you want to the service, including baggage, WIFI and snacks and drinks on board.
Passengers can also enjoy free in-flight entertainment on long-haul flights.
What Are Economy Seats Like?
In Level's Economy class cabin, passengers can enjoy generous legroom as well as 9 inches personal TV which is built into the seat in front of them.
On long-haul flights, passengers can choose to upgrade their seats to an XL seat, which gives 20% more space.
On flights within Europe, passengers can upgrade their seats to a Space Plus seat, which gives 10% more space or a Space or Space One seat, which gives 20% more space.
Seats are set out in a 3 x 3 configuration on flights within Europe and a 2 x 4 x 2 configuration on long-haul flights.
---
Business Class
LEVEL's Business Class, named Premium Class, gives passengers a more comfortable and spacious in-flight experience, with several additional benefits.
Premium Facilities
Passengers travelling on Level's premium service are permitted one cabin bag and two checked bags as well as Priority Check-in.
While onboard their Level flight, passengers will be treated to a full three-course meal as well as snacks and complimentary drinks.
Passengers are also given access to the airline's in-flight entertainment system, with a personal TV screen on the back of each seat and are provided with blankets, pillows as well as a complimentary amenity kit. Passengers will never be low on a charge with built-in USB charging ports.
What Are Level's Premium Seats Like?
LEVEL's Premium seats provide passengers with a roomy 94 cm/37" of legroom, generous recline as well as their own adjustable footrest. Passengers are provided with blankets, pillows as well as a complimentary amenity kit.
Seats are set out in a 2 x 2 configuration on flights in Europe and a 2 x 3 x 2 configuration on long-haul flights.
---
In-Flight Entertainment
LEVEL's in-flight entertainment has a massive range of films, TV shows and music. In-flight entertainment can be accessed via the personal screen on the back of each seat and is available for free in all cabins from January 2020. So sit back and enjoy your flight by keeping up with the latest shows and movies.
---
WIFI
Surf the web at tens of thousands of feet in the sky with LEVEL's WIFI network air.
.air allows passengers to browse the web, flick through their favourite social media channels, catch up on emails or stream in-flight entertainment from their own personal electronic devices. Through .air, passengers can also pair their devices to their seatback screen, order food, drink and other items on their screen and pay for them on their device.
WIFI packages start at €8.99 EUR.
---
Food
Passengers can enjoy hot meals, sweet and savoury snacks and hot, cold, alcoholic and non-alcoholic drinks on all LEVEL flights.
In Economy Class, meals aren't included in the price of the ticket and need to be pre-ordered before the flight. However, passengers can purchase light snacks and drinks once in-flight without the need to pre-order.
In Business Class, passengers are treated to a three-course dining experience within two hours of take-off and another small meal within two hours of landing. Passengers are also given complimentary snacks and drinks throughout the flight.
Special meals must be pre-ordered at least 48 hours before the scheduled flight departure time.
---
Frequent Flyer
Avios
While LEVEL doesn't have its own frequent flyer program, passengers can earn and redeem Avios points on the airline, as well as on Aer Lingus, Air Italy, British Airways, Flybe, Iberia, Kulula, Vueling and any Oneworld alliance member.
---
Airline Alliance
LEVEL isn't currently a member of any airline alliance.
---
Hub Airport
Barcelona-El Prat Airport
Josep Tarradellas Barcelona–El Prat Airport also known as Barcelona-El Prat Airport is the main airport in Barcelona and the main hub airport for LEVEL. This international airport is located just outside the city of Barcelona, and is the second busiest in Spain, after Madrid Barajas Airport. The airport handles more than 50 million passengers a year.
El Prat Airport (BCN) has 2 terminals: Terminal 1 and Terminal 2. Terminal 1 opened in 2009 and was designed by Ricardo Bofill Taller de Arquitectura. This terminal is divided into 5 modules, Module A handles flights to Madrid, Module B handles Schengen flights, Module C handles Air Nostrum flights, Module D handles non-Schengen European flights and Module E handles non-Schengen non-European flights. Terminal 2 is split into 3 linked sections, known as Terminal 2A, 2B and 2C. 2A and 2B were added to ensure there was enough capacity spacing. Terminal 2 is mostly occupied by low-cost airlines even though some full-service airlines use this terminal too.
Barcelona Airport is also the hub for Vueling, but also operates services for many airlines including easyJet, Norwegian, American Airlines and previously Clickair.
Barcelona-El Prat is the first airport that LEVEL based itself at. The airport also has secondary hubs in Amsterdam (AMS), Paris (ORY) and Vienna (VIE).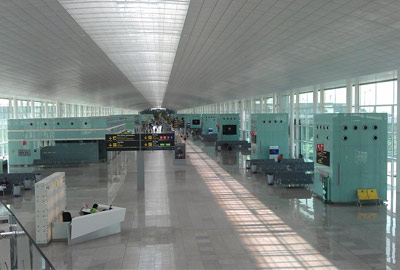 ---
Alternative Airlines to LEVEL
---
LEVEL Airlines Flight Discount Code
Save big on your next LEVEL airline ticket with Alternative Airlines promo codes! See all our great offers and get a LEVEL discount with all our flight voucher codes when paying with PayPal.
---
Buy Now Pay Later LEVEL flights
When you book through Alternative Airlines you can book ANY LEVEL flight ticket we offer and spread the cost over time. We offer a range of Buy Now, Pay Later options that enable you to pay back over a weekly, bi-weekly or monthly basis. This includes Klarna, Uplift, Clearpay, TendoPay and more. Please note the payment plan available to you will depend on the country you reside in.