Kam Air Tickets and Reservations with Alternative Airlines
Book Your Kam Air Flight Tickets and Find Some Amazing Deals
---
About Kam Air
Kam Air is an airline headquartered in Kabul, Afghanistan which was founded in August 2003. The airline operates scheduled domestic passenger services and regional international services from its main base at Kabul International Airport (KBL) and secondary base Kandahar International Airport (KAF).
Kam Air flies to the following destinations: Fyzabad, Tarinkot, Kandahar, Herat, Mazar-i-Sharif, Zaranj, Almaty, Kuwait City, Islamabad, Dushanbe, Ankara, Istanbul, Sharjah, Tashkent, Delhi and Dubai.
Kam Air was Afghanistan's first private commercial airline and is owned by its founder, Mr Zamaray Kamgar, a renowned Afghan businessman. As of January 2018, Kam Air operated 90 per cent of domestic flights in Afghanistan and was one of the biggest taxpayers in the country
Kam Air's main line of business is the carriage of passengers on regularly scheduled flights in domestic as well as regional flights and it's fleet consists of Boeing 767-200, McDonnell Douglas MD87 and McDonnell Douglas MD83.
---
Economy Class
What facilities are available in economy class?
Kam Air offers passengers comfortable economy seating within its only cabin class. During the flight, passengers will receive a complimentary meal box. There is currently no in-flight entertainment or Wi-Fi onboard.
What seats are available?
The airline offers comfortable leather seats with an ample amount of legroom.
---
Kam Air Baggage Allowance
Carry-on Baggage
Kam Air passengers are permitted one piece of hand luggage, weighing a maximum of 10kg and measuring no more than 23 x 40 x 55cm.
Checked Baggage
Passengers flying on domestic routes are permitted 1 piece of 20 kg luggage.
International Flights: 1 Piece 30Kg
Passengers flying to or from the U.S. or Canada are permitted 2 pieces of checked luggage, each weighing a maximum of 23 kg.
---
Kam Air Check-In
Online Check-In
Online check-in can be completed through the airline online check-in page. Simply click the check-in tab and enter your PNR number and full name to find your booking and check-in. Online check-in is available between 24 hours to 3 hours before flight departure.
Airport Check-In
Passengers who are unable to check-in online must check-in at the airport of departure. Passengers are advised to reach the airport 2 hours before departure of international flights and one hour before departure of domestic flight
---
Fleet
As of November 2019, Kam Air has a total of 11 aircraft:
4 x Airbus A340-300
2 x ATR 42-500
1 x Boeing 737-300
1 x Boeing 737-500
1x Boeing 767-300ER
2 x McDonnell Douglas MD-87
---
Destination
As of November 2019, Kam Air operates 7 domestic flights as well as 10 international destinations in 8 countries.
Domestic Destinations
| AIRPORT | CITY AND COUNTRY |
| --- | --- |
| Fayzabad Airport (FBD) | Fayzabad, Afghanistan |
| Herat International Airport (HEA) | Herat, Afghanistan |
| Hamid Karzai International Airport (KBL) | Kandahar, Afghanistan |
| Kandahar International Airport (KDH) | Mazar-i-Sharif, Afghanistan |
| Mazar-i-Sharif Airport (MZR) | Tarinkot, Afghanistan |
| Tarinkot Airport (TII) | Zaranj Capital, Afghanistan |
| Zaranj Airport (ZAJ) | Kabul, Afghanistan |
International Destinations
| AIRPORT | CITY AND COUNTRY |
| --- | --- |
| Indira Gandhi International Airport (DEL) | Dehli, India |
| Almaty International Airport (ALA) | Almaty, Kazakhstan |
| Kuwait International Airport (KWI) | Kuwait City, Kuwait |
| Islamabad International Airport (ISB) | Islamabad, Pakistan |
| Dushanbe International Airport (DYU) | Dushanbe, Tajikistan |
| Ankara Esenboğa Airport (ESB) | Ankara, Turkey |
| Istanbul Airport (IST) | Istanbul, Turkey |
| Dubai International Airport (DXB) | Dubai, United Arab Emirates |
| Sharjah International Airport (SHJ) | Sharjah, United Arab Emirates |
| Tashkent International Airport (TAS) | Tashkent, Uzbekistan |
---
HUB Airport
Hamid Karzai International Airport (KBL)
Hamid Karzai International Airport (KBL) is located 5 km (3.1 miles) from the city centre of Kabul in Afghanistan. It serves as one of the nation's main international airports and as one of the largest military bases, capable of housing over one hundred aircraft.
Airlines that fly from and to Hamid Karzai International Airport (KBL) include Air India, Spicejet, Emirates, Ariana Afghan Airlines, Air Arabia, Mahan Air, Pakistan International Airlines, Turkish Airlines and flydubai.
---
Kam Air Route Map
International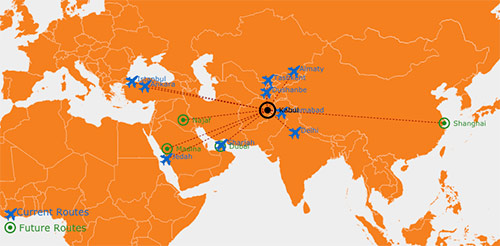 Domestic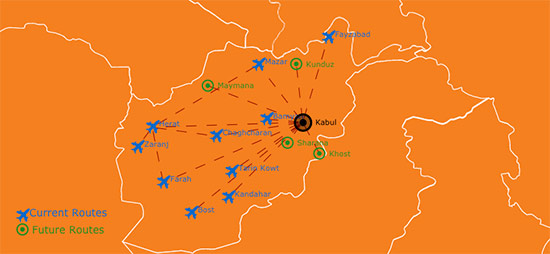 Popular Routes
Kandahar

Dubai
Bost

Kabul
Dubai

Herat
Herat

Delhi
---
Frequent Flyer Program
Kam Air has a frequent flyer program called Corporate Flyer. Passenger can earn miles and use these earnt miles to purchase company products and services. As a general rule, the higher the annual volume, the higher the corporate loyalty points.
---
Special Services
Kam Air offers a variety of special services to its passengers. Please see below the following services it offers:
Wheelchairs
If you require wheelchair assistance at the airport, you must inform Kam Air of this at the time of your booking. You can ask for this service by getting through to the airline's offices; or the Alternative Airlines customer service team if you have booked through our website. For more information on this please see our wheelchair assistance page.
Unaccompanied Minors
The airlines don't offer the unaccompanied minors service at this current time.
Expectant Mothers
Kam Air allows 27th-week expectant mothers to fly as normal. After that, you will need to provide a medical report or letter stamped/signed by your doctor stating the exact number of weeks you have been pregnant, your expected delivery date, the pregnancy is normal and that you are fit to fly for the duration of the booked flights. The medical report or letter needs to be written in English or Dari and the date it is issued is required not to be more than 7 days before the departure date. After 35th week of pregnancy, Kam Air will not permit you to fly with them for the safety of your child.
---
Airline Alliance
Kam Air is not part of any airline alliance at this current time.
---
Alternative Airlines