Mauritania Airlines Reservations with Alternative Airlines
Make a Mauritania Airlines Booking and Find Some Amazing Deals
---
About Mauritania Airlines
Mauritania Airlines (formerly known as Mauritania Airlines International) is an airline based in Nouakchott, Mauritania and the flag carrier of the country. The airline flies to over 10 destinations in 10+ countries. After being set up in December 2010 in response to the demise of Mauritania Airways, the airline now flies to many destinations including Abidjan, Bamako, Casablanca, Conakry, Dakar, Nouakchott Airport and Zouerate Airport. The airline's hub is at Nouakchott-Outounsy International Airport (NKC). The airline's fleet consists of 6 aircraft and is a member of the International Air Transport Association (IATA), African Airlines Association (AFRAA) and Arab Air Carriers' Organisation (AACO).
---
Destinations
As of August 2022, Mauritania International Airlines flies to 3 domestic destinations within Mauritania as well as 10+ destinations in over 10 countries.
Domestic Destinations
| AIRPORT | CITY AND COUNTRY |
| --- | --- |
| Nouadhibou International Airport (NDB) | Nouadhibou, Australia |
| Nouakchott–Oumtounsy International Airport (NKC) (HUB) | Nouakchott, Indonesia |
| Tazadit Airport (AUZ) | Zauerat, Indonesia |
International Destinations
| AIRPORT | CITY AND COUNTRY |
| --- | --- |
| Cadjehoun Airport (COO) | Cotonou, Benin |
| Maya-Maya Airport (BZV) | Brazzaville, Republic of the Congo |
| Port Bouet Airport (ABJ) | Abidjan, Côte d'Ivoire |
| Conakry International Airport (CKY) | Conakry, Guinea |
| Bamako-Sénou International Airport (BKO) | Bamako, Mali |
| Tunis–Carthage International Airport (TUN) | Tunis, Tunisia |
| Mohammed V International Airport (CMN) | Casablanca, Morocco |
| Blaise Diagne International Airport (DSS) | Dakar, Senegal |
| Lungi International Airport (FNA) | Freetown, Sierra Leone |
| Gran Canaria Airport (LPA) | Las Palmas de Gran Canaria, Spain |
---
Baggage
Carry on Baggage
Mauritania Airlines offers a carry-on baggage allowance of 3 bags, each of 23kg / 51lbs, for passengers travelling in the cabin Business and 2 pieces of luggage, each 23 kg / 51 lbs, for passengers travelling in Economy Cabin.
For domestic flights, carry-on baggage is 30kg / 66lbs for passengers travelling in the Business cabin and 20kg / 44lbs for passengers travelling in Economy Cabin.
Checked Baggage
Passengers will be permitted one piece of cabin baggage at a maximum weight of 7kg / 15lbs and overall dimensions of 53 x 35 x 20cm (21 x 14 x 8cm).
---
Check-in Information
Online Check-in
Unfortunately, Mauritania International airlines don't provide online check-in. However, we'll keep you updated when this is available to you.
Airport Check-in
For all flights, it's necessary to physically go to an official counter of Mauritania Airlines, at your departure airport or your stopover's airport to check in. Mauritania International airlines open its airport check-in desk 2 hours before the flight departure time. You're boarding pass will be printed at check-in.
---
Economy Class
Economy Class Facilities
Snacks and beverages are available in-flight. Universal USB ports are available at each seat. The airline currently has no inflight entertainment, meals or Wi-Fi onboard in the economy. Back-of-seat trays, air-con and overhead storage are available.
Economy Class Seating
Seats are configured in a standard 3-3 formation. Enjoy comfortable seating, with reclining padded grey seats.
---
Business Class
Business Class Facilities
Enjoy complimentary snacks, drinks and/or meals depending on the length of the flight. Back-of-seat trays, air-con and overhead storage are available.
Business Class Seating
Seats are configured in a 2-2 formation. Business is located at the front of the craft and separated by a partition for extra comfort. Enjoy comfortable leather upholstered seating, with wider seats and greater recline compared to economy.
---
Airline Alliance
The airline currently does not partake in an airline alliance.
---
Frequent Flyer Program
The airline doesn't currently have a frequent flyer program.
---
Special Services
Wheelchair Assistance
If you require wheelchair assistance getting to and from flights, please contact Alternative Airlines. We'll inform the airline straight away that you or a member of your booking requires wheelchair service. You can also request airport wheelchair assistance if you have impaired or reduced mobility.
---
Route Map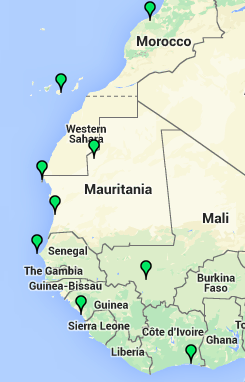 ---
The Fleet
The Mauritania Airlines fleet consists of 6 aircraft:
1 x Boeing 737-700
1 x Boeing 737-800
1 x Boeing 737 MAX 8
1 x Embraer ERJ 145LR
2 x Embraer 175LR
---
Popular Routes
Nouakchott

Abidjan
Nouakchott

Bamako
Nouakchott

Casablanca
Nouakchott

Conakry
Nouakchott

Las Palmas
Nouakchott

Dakar
---
Hub Airport
Nouakchott International Airport
Nouakchott International Airport (NKC) is an international airport located in Nouakchott, the capital of Mauritania serving the region of Nouakchott. The airport is situated around 25km north of the city. The airport has 2 runways - runway 06/24 is 2,400m long and rrunway 16/34 is 3,400m. Nouakchott International Airport is the largest project in Mauritania since the 60's. The Government of Mauritania approved this project in 2011 and a local company Najah for Major Works (NMW) began construction the month after.
Airlines that fly from and to Nouakchott International Airport (NKC) include Tunisair, Turkish Airlines, Transair, Royal Air Maroc, Senegal Airlines, Air Algerie, ASKY Airlines, Binter Canarias and Air France.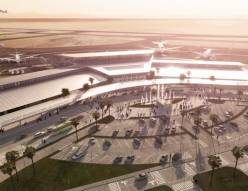 ---
Alternative Airlines to Mauritania Airlines
---
FAQ's
Who own's Mauritania International Airlines?
In the late 60's Mauritania International Airlines was reorganised. The shareholding was split between the government of Mauritania (60%), Air Afrique (20%) and Union de Transports Aériens (UTA) (20%).
Can I buy Mauritania International Airlines flights on finance?
Of course! When you book with Alternative Airlines you can buy Mauritania International Airlines flights and spread the cost over time. We have partnered with many payment plan providers that let you pay in weekly or monthly instalments, completely interest-free. Payment plan providers include TendoPay, Klarna, Zip, Affirm, Tabby and more. Please note that that payment plan provider available to you will depend on country you reside in.