Varsity Express Reservations with Alternative Airlines
Make a Varsity Express Booking and Find Some Amazing Deals
---
About Varsity Express
Varsity Express was a regional airline that was based at London Oxford Airport in the United Kingdom. Varsity Express was never licensed but sold ticket on flights that were operated by Linksair and operated 11 scheduled flights during one week in 2010. The company was originally set up under the name AlphaOne Airways by Martin Halstead in 2005 when he was 18 years old. The airline received a lot of publicity due to the young age of its owner but eventually had to stop all operations due to a lack of funding.
---
Varsity Express Destinations
Varsity Express flew from London Oxford Airport to Edinburgh Airport.
---
Alternative Airlines to Varsity Express
Unfortunately, Varsity Express no longer flies. Please click on the logos below to find out more about airlines that fly similar routes to Varsity Express.
---
Varsity Express Hub Airport
London Oxford Airport
Varsity Express was based at Oxford Airport (often referred to as London Oxford Airport). Oxford Airport is 6.9 miles away from Oxford and 62 miles away from central London. The airport is mainly used by the Oxford Aviation Academy for trainee pilots.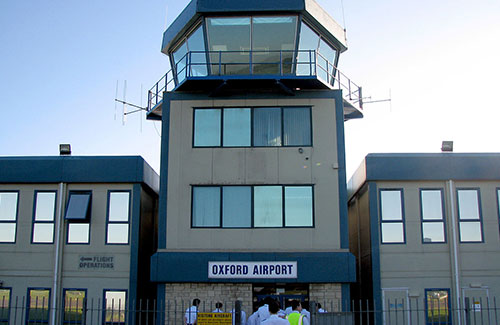 Photo credit: Tom Loze-Thwaite
---