Skywork Airlines Reservations with Alternative Airlines
Make a Skywork Airlines Booking and Find Some Amazing Deals
---
Update
Skywork Airlines ended operations in 2018. Find flights with similar routes.
Alternative Airlines to SkyWork Airlines
---
About SkyWork Airlines
SkyWork Airlines was a Swiss airline in Bern and is based at Bern Airport, Switzerland. The airline operated scheduled and chartered flights to destinations across Europe and more specifically Austria, Croatia, France, Germany, Italy, Netherlands, Spain, Switzerland and United Kingdom.
SkyWork Airlines started its first scheduled flight to Rotterdam with a Dash 8 Q400. SkyWork Airlines strengthens its sales activities in the charter business and in 2015, the Bernese regional airline expanded its service offering by adding two new destinations Heringsdorf and Jersey and increasing the frequency of flights to London City.
---
Destinations
SkyWork flew to many destinations including Basel, Vienna, Rijeka, Split, Zadar, Paris, Figari, Berlin, Cologne, Hamburg, Heringsdorf, Munich, Cagliari, Elba, Olbia, Amsterdam, Barcelona, Ibiza, Mahon, Palma de Mallorca, Basel, Bern and London City Airport. Here's a list of destinations that SkyWork flies to.
Austria
Vienna - Vienna International Airport
Croatia
Rijeka - Rijeka Airport
Zadar - Zadar Airport
France
Paris - Charles de Gaulle Airport
Figari - Figari Sud-Corse Airport
Germany
Berlin - Berlin Tegel Airport
Hamburg - Hamburg Airport
Heringsdorf - Heringsdorf Airport
Munich - Munich Airport
Italy
Cagliari - Cagliari-Elmas Airport
Elba - Marina di Campo Airport
Olbia - Olbia – Costa Smeralda Airport
Netherlands
Amsterdam - Amsterdam Airport Schiphol
Spain
Barcelona - Barcelona–El Prat Airport
Ibiza - Ibiza Airport
Mahón - Menorca Airport
Palma de Mallorca - Son Sant Joan Airport
Switzerland
Basel - EuroAirport Basel–Mulhouse–Freiburg
Bern - Bern Airport Base
United Kingdom
London - London City Airport
---
Baggage Allowance
SkyWork offered the following baggage policies:
Economy Light
You are entitled to 1 piece of hand baggage of up to 8 kg and no checked baggage.
Economy
You are entitled to 1 piece of hand baggage of up to 8 kg and 1 checked baggage of up to 23 kg
Business Class
Business Class passengers, 2 pieces of hand baggage of up to 8 kg and 2 pieces of checked baggage of up to 23 kg.
---
Online Check-in
Web check-in was available for SkyWork airlines. Once you made your SkyWork reservation with Alternative Airlines, you could check-in online on SkyWork Airline's online check-in page. You can check-in between 48 and 3 hours before departure and download your boarding pass to your digital wallet to save time and paper. Check out our online check-in page for more information.
---
Route Map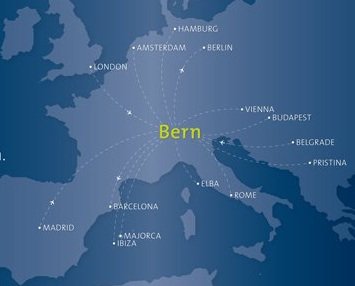 ---
Popular Destinations
Bern

Amsterdam
Bern

Berlin
Bern

Rome
Bern

Madrid
Bern

Ibiza
Bern

Budapest
---
Fleet
Dornier 328-110
Saab 2000
---
Hub Airport
Bern Airport
Bern Airport, is an airport serving Bern, the capital of Switzerland. The airport is a small getaway to many popular European Destinations with four main airlines serving the airports. Airlines that fly from and to Bern Airport include BMI Regional, Germania Flug (now chair airline) and Helvetic Airways.
---
News
18th May 2018
SkyWork Airlines expand fleet
SkyWork Airlines is planning to expand its fleet adding yet another Saab 2000 turboprop. The new Saab 2000 turboprop will be the airline's sixth aircraft of the type and will be used to fly domestic routes from its base in Berne.
The order of the new aircraft shows how far the airline has come since its period of uncertainty in the second half of last year. Unfortunately, SkyWork Airlines had to cancel all operations between 29th October and 31st October last year due to the airline being unable to present essential financial documents when asked by authorities. However, the airline managed to provide the documents by the end of the month and resumed regular services in early November.