Trusted Choice
Secure Booking
Airlines will always try to sit children with their parents (subject to check-in)
Some airlines will allow travel for unaccompanied minors. Please email us to check.
The fare is based on the child's age on the date of travel.
More detailed information can be found here Traveling with children
Most airlines will let infants travel with their parent(s) for free. However some airlines will charge up to 10% of the adult ticket price. Click on 'Price Breakdown' to find out more.
If you are pregnant, but due before the flight departure date, please contact us once your baby is born and has a name. We can then add him/her to your ticket.
Infants will not be given a seat. The airlines expect parents to travel with them on their lap.
Airlines regard infants as being under 24 months old.
The fare is based on the child's age on the date of travel.
More detailed information can be found here Traveling with children
Search & Book Flights

With SkyWork Airlines
Cancellation Protection
Protects
Trusted Choice
65,000 happy customers
Rated 4.5 Stars. Based on 3,581 service ratings over the past year
Dedicated customer service team on hand to help
Secure payments
Cancellation Protection
Protects
Trusted Choice
65,000 happy customers
Rated 4.5 Stars. Based on 3,581 service ratings over the past year
Dedicated customer service team on hand to help
Secure payments
Buy
SkyWork Airlines

Flights
Skywork Airlines Reservations with Alternative Airlines
Make a Skywork Airlines Booking and Find Some Amazing Deals
Skywork Airlines ended operations in 2018. Find flights with similar routes to Skywork Airlines:
Alternative Airlines to SkyWork
About SkyWork Airlines
SkyWork Airlines was a Swiss airline in Bern and is based at Bern Airport, Switzerland. The airline operated scheduled and chartered flights to destinations across Europe and more specifically Austria, Croatia, France, Germany, Italy, Netherlands, Spain, Switzerland and United Kingdom.
SkyWork Airlines started its first scheduled flight to Rotterdam with a Dash 8 Q400. SkyWork Airlines strengthens its sales activities in the charter business and in 2015, the Bernese regional airline expanded its service offering by adding two new destinations Heringsdorf and Jersey and increasing the frequency of flights to London City.
---
SkyWork Airlines Destinations
SkyWork flew to many destinations including Basel, Vienna, Rijeka, Split, Zadar, Paris, Figari, Berlin, Cologne, Hamburg, Heringsdorf, Munich, Cagliari, Elba, Olbia, Amsterdam, Barcelona, Ibiza, Mahon, Palma de Mallorca, Basel, Bern and London City Airport. Here's a list of destinations that SkyWork flies to.
Austria
Vienna - Vienna International Airport
Croatia
Rijeka - Rijeka Airport
Zadar - Zadar Airport
France
Paris - Charles de Gaulle Airport
Figari - Figari Sud-Corse Airport
Germany
Berlin - Berlin Tegel Airport
Hamburg - Hamburg Airport
Heringsdorf - Heringsdorf Airport
Munich - Munich Airport
Italy
Cagliari - Cagliari-Elmas Airport
Elba - Marina di Campo Airport
Olbia - Olbia – Costa Smeralda Airport
Netherlands
Amsterdam - Amsterdam Airport Schiphol
Spain
Barcelona - Barcelona–El Prat Airport
Ibiza - Ibiza Airport
Mahón - Menorca Airport
Palma de Mallorca - Son Sant Joan Airport
Switzerland
Basel - EuroAirport Basel–Mulhouse–Freiburg
Bern - Bern Airport Base
United Kingdom
London - London City Airport
---
SkyWork Airlines Baggage Allowance
SkyWork offered the following baggage policies:
Economy Light
You are entitled to 1 piece of hand baggage of up to 8 kg and no checked baggage.
Economy
You are entitled to 1 piece of hand baggage of up to 8 kg and 1 checked baggage of up to 23 kg
Business Class
Business Class passengers, 2 pieces of hand baggage of up to 8 kg and 2 pieces of checked baggage of up to 23 kg.
---
SkyWork Airlines Online Check-in
Web check-in was available for SkyWork airlines. Once you made your SkyWork reservation with Alternative Airlines, you could check-in online on SkyWork Airline's online check-in page. You can check-in between 48 and 3 hours before departure and download your boading pass to your digital wallet to save time and paper. Check out our online check-in page for more information.
---
SkyWork Airlines Route Map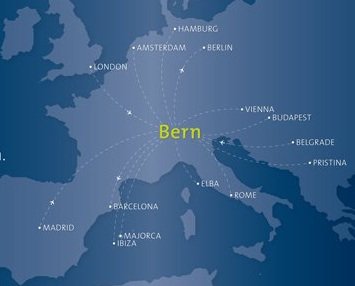 SkyWork Airlines Popular Destinations
Bern

Amsterdam
Bern

Berlin
Bern

Rome
Bern

Madrid
Bern

Ibiza
Bern

Budapest

---
The Fleet
---
SkyWork Airline's Airport Hub
Bern Airport
Bern Airport, is an airport serving Bern, the capital of Switzerland. The airport is a small getaway to many popular European Destinations with four main airlines serving the aiports. Airlines that fly from and to Bern Airport include BMI Regional, Germania Flug, Helevetic Airways and Skywork Airlines.

---
SkyWork Airlines News
18th May 2018
SkyWork Airlines expand fleet
SkyWork Airlines is planning to expand its fleet adding yet another Saab 2000 turboprop. The new Saab 2000 turboprop will be the airline's sixth aircraft of the type and will be used to fly domestic routes from its base in Berne.
The order of the new aircraft shows how far the airline has come since its period of uncertainty in the second half of last year. Unfortunately, SkyWork Airlines had to cancel all operations between 29th October and 31st October last year due to the airline being unable to present essential financial documents when asked by authorities. However, the airline managed to provide the documents by the end of the month and resumed regular services in early November.
3rd June 2018
SkyWork Airlines will no longer launch Berne—Elba service
The scheduled launch of a new service flying between Berne Airport (BRN) and Marina di Campo Airport (EBA), Elba, will no longer happen due to the fact that the planned runway extension at Marina di Campo is still awaiting approval. The runway extension was put in place to allow SkyWork's Saab 2000 aircraft to safely operate to the airport. However, because the runway development plan is not expected to receive approval for at least another few weeks, SkyWork would only be able to carry a maximum of 35 passengers on the aircraft at once. Consequently, it would not be financially sustainable for SkyWork Airlines to operate the service with limited passenger capacity.
SkyWork first announced its intention to launch a service between Berne and Elba in late May 2018, but now the service will have to wait a little longer. Instead, SkyWork Airlines will operate a service from Berne to Grosseto Airport (GRS) and offer a ferry service from Grosseto to Elba. Unfortunately, this will add a considerable amount of time to the journey.
31st May 2018
SkyWork Airlines appeal against the sale of Darwin fleet
SkyWork Airlines have put in an official appeal to the Swiss Federal Supreme Court to stop the purchase of ex-Darwin Airline's fleet of Saab 2000s by Jetstream Aviation Capital.
In a statement, Skywork Airlines stated that they have tried consistently to get the bankruptcy trustee to confirm the details of the bankruptcy estate, but every time they ask, Skywork Airlines are given different information. Additionally, SkyWork believes there is evidence that the information on the bankruptcy has been different for companies involved and, despite asking the bankruptcy trustee, they have still not been given an answer.
Skywork Airlines are looking to purchase two of Saab 2000 aircraft, but the supreme court keeps on blocking them from buying.
11th May 2018
SkyWork Airlines welcome new Chief Commercial Officer
SkyWork Airlines have announced that Peter Reichert will become their new Chief Commercial Officer (CCO) as of 1st June 2018. At 53 years old, Peter Reichert will be replacing current CCO, Oliver Furrer, who will leave the airline at the end of May.
Peter Reichert is no stranger to SkyWork. He has been employed by the Swiss airline for three years, previously working as Key Account & Sales Manager and has years of experience in the aviation industry prior to his arrival at SkyWork. His new role will include responsibility of marketing, sales, and revenue management, as well as customer service.
30th March 2018
SkyWork Airlines flies Berlin to Graz
SkyWork Airlines will be taking on the connection to Graz as part of their new flight plan from Berlin. Every day at 4:10pm, except Saturdays, they will be flying from Berlin-Tegel towards Styria.
The route is part of the new so called W flights: The plane takes off in Bern, towards Berlin-Tegel, flies from there to Graz, back to Berlin and finally back to the capital of Switzerland. The airline is doubling its range of flights from Berlin. The route will be flown using a Saab 2000.
Graz is also known as "little Vienna". The capital of Styria is a shining example of a city, full of Habsburg tradition. Old, stately buildings line the streets and squares. Most of them can be found in the city centre, for example the late Gothic cathedral or Graz Castle, which was erected in the 15th century. Coffee houses attract both tourists seeking a bit of tradition and a young, hipster crowd. The Murinsel (Island in the Mur), the city's second landmark, stands in stark contrast to the city's Baroque splendour. The floating, almost natural looking, platform was built to mark Graz's award of European Capital of Culture in 2003 and houses a café, an amphitheatre and a children's playground. However, Graz is not only a tourist hotspot. Since 2011, the city has held the UNESCO title of the "City of Design", to mark its outstanding innovation and creative achievements.
Hikers and wine lovers will get real bang for their buck in Styria. This particularly green region is a popular travel destination and is well known for its mountains, forests, culinary experiences and of course its outstanding wine. The world-famous pilgrimage site of Mariazell, located in north Styria, attracts more than one million people every year.
'Flights made in Switzerland' is the motto and guiding principle of the Swiss airline with its head office in Bern Airport. This summer, SkyWork Airlines will be flying to 22 destinations with their fleet of Saab 2000s. True to its guideline, all flights and both booking classes include 23kg of free baggage allowance, as well as drinks and a snack during the flight.
---