Safi Airways Reservations with Alternative Airlines
Make a Safi Airways Booking and Find Some Amazing Deals
---
About Safi Airways
The airline, which was founded in 2006, flew three domestic and four international routes. It was Afghanistan's second-largest airline after national carrier Ariana Afghan Airlines. Safi Airways transported many expatriates and benefits from the presence of non-governmental organisations , private security companies and other foreign entities in Afghanistan.
In September 2016, Safi Airways was grounded over debt. Afghanistan's largest private airline was made to suspend operations after it failed to clear outstanding debt and taxes. The Afghan civil aviation authority ordered Safi Airways on Sunday to pay 1.15 billion Afghani ($1.7 million) before it could regain permission to resume services and sell tickets.
Unfortunately, Safi Airlines no longer flies. Please see below for airlines that fly similar routes to Safi Airways.
---
Alternative Airlines to Safi Airways
Unfortunately, Safi Airways has now stopped flying. Please click on the logos below to find out more about airlines that fly similar routes:
---
Safi Airways Frequent Flyers Program
Safi Airways currently have a frequent flyer program called Saffron Rewards. Saffron Rewards is a very simple yet rewarding program. It offers incentives such as, collect 7 boarding card stubs from Safi Airways flights and receive a free one way ticket.
---
Safi Airways Route Map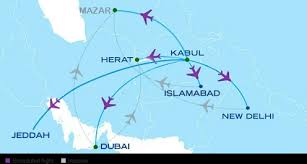 ---
Safi Airways Popular Routes
Kabul

Jeddah
Herat

Kabul
Dubai

Kabul
Delhi

Kabul
Mazar-i-Sharif

Kabul
Kabul

Islamabad
---
Safi Airways Fleet
The Safi Airways fleet included Airbus A319-100, Airbus A320-200 and Boeing 767-200ER aircraft.
---
Safi Airways Hub Airport
Hamid Karzai International Airport
Safi Airways was based at Hamid Karzai International Airport, which is located 5 kilometers (3.1 mi) from the city center of Kabul in Afghanistan. It serves as one of the nation's main international airports and as one of the largest military bases, capable of housing over one hundred aircraft. Airlines that fly from and to Hamid Krzai International Airport include Ariana Afghan Airlines, Air India, Spicejet, Emirates and Flydubai.