Primera Air Scandinavia Reservations with Alternative Airlines
---
Primera Air Scandinavia Update
Primera Air have suspended operations as of 1st October 2018.
Take a look at our list of alternative airlines to Primera Air below, or search for airlines that fly to your chosen destination at www.alternativeairlines.com
---
Alternative Airlines to Primera Air Scandinavia
---
About Primera Air Scandinavia
Primera Air Scandinavia, or also known as Primera Air, was an Icelandic owned Airline which was founded in 2003.
Primera Air Scandinavia was headquartered in Riga, Latvia and flies to over 70 destinations.
Primera Air Scandinavia had grown steadily over the recent years and now has established services to the Middle East, Asia, Mediterranean, the Caribbean and Atlantic. The parent company is the Primera Travel Group and in 2004 Primera Air Scandinavia added a Lativian operating license under the name of Primera Air Nordic. Originally Primera Air Scandinavia was founded as JetX in Iceland and operated under an Icelandic AOC. In 2008 it rebranded itself as Primera Air.
Primera Air Scandinavia operated round-way flights from Scandinavia to many holiday destinations including Turkey, Madeira, Bulgaria, the Canary Islands and along the Mediterranean coastline of Europe. Primera Air Scandinavia maintains winter and summer season schedules.
Primera Air Scandinavia operated charter flights from Stockholm to Antalya and Gothenburg Landvetter. It maintained operations with a fleet of two B737-800s.
From 2014, Primera Air Scandinavia introduced 10 new winter direct flights from Iceland, including: Tenerife, Las Palmas, Alicante, Salzburg, Malaga, Mallorca and Barcelona, Bologna, Crete and Bodrum. From 2016 Primera Air Scandinavia began flying to Croatian destinations (pula and Dubrovnik), from Billund to Nice and Venice; Turkey (Antalya). In 2017, Primera Air Scandinavia plan to expand routes fly to Kalamata, Ponta Delgada and Madeira. Checked Baggage is not included in the ticket price.
---
Primera Air Scandinavia Baggage
Passengers were required to purchase checked baggage separately. Checked baggage had to weigh up to a maximum of 23kg, with any excess baggage charged at the airport.
---
Primera Air Scandinavia Fleet
Primera Air Scandinavia's fleet consisted of a Boeing 737-700 and Boeing 737-800
---
Primera Air Scandinavia Route Map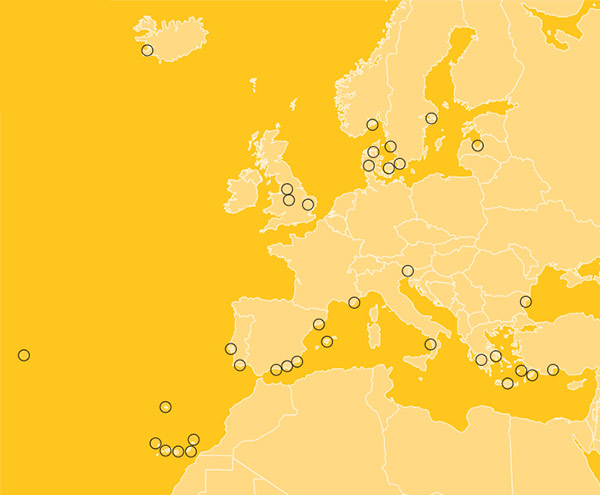 ---
Primera Air Scandinavia News
1st October, 2018
Struggling Primera Air to cease operations
Northern European carrier Primera Air is to cease operations, after failing to secure financing to maintain services. The carrier states that its Primera Air Scandinavia and its Latvian arm Primera Air Nordic will stop flying from midnight on 2 October (2018). Primera Air's board is blaming "unforeseen" and unfortunate events over the last two years for the financing crisis.
The company says it had to bear the cost last year of withdrawing an aircraft from service owing to severe corrosion, and that this contributed to losses of more than €10 million.
While it underwent a fleet modernisation with Airbus A321neo and Boeing 737 Max jets, delays in delivery of some aircraft resulted in the airline having to cancel a number of flights, leading to loss of revenues.