Search & Buy PAWA Dominicana Flights
Airlines will always try to sit children with their parents (subject to check-in)
Some airlines will allow travel for unaccompanied minors. Please email us to check.
The fare is based on the child's age on the date of travel.
More detailed information can be found here Traveling with children
Most airlines will let infants travel with their parent(s) for free. However some airlines will charge up to 10% of the adult ticket price. Click on 'Price Breakdown' to find out more.
If you are pregnant, but due before the flight departure date, please contact us once your baby is born and has a name. We can then add him/her to your ticket.
Infants will not be given a seat. The airlines expect parents to travel with them on their lap.
Airlines regard infants as being under 24 months old.
The fare is based on the child's age on the date of travel.
More detailed information can be found here Traveling with children
Buy
PAWA Dominicana

Flights
Search and Buy PAWA Dominicana Flights Online with Alternative Airlines
Make an PAWA Dominicana reservation and find some amazing deals with discounted Pawa Dominicana tickets at Alternative Airlines
---
About PAWA Dominicana
PAWA Dominicana ceased operation in 2018 and no longer offers any flights.
Established in 2002, PAWA Dominicana was the international flag carrier of the Dominican Republic and a subsidiary airline of Pan American Airways. The airline was based at Santo Domingo-Las America with the aim to position Santo Domingo as the Latin American hub for Caribbean travel.
One of the airline's most popular routes was a service that connects the Dominican Republic capital and South Florida with daily flights offered every day of the week. PAWA Dominican routes allowed for quick connections to other popular Caribbean destinations like Curacao, St. Maarten, Antigua, Port Au Prince, Aruba, Puerto Rico and Havana.
In 2007 PAWA Dominicana received its Air Carrier Certification 121 from the Dominican Institute of Civil Aviation that authorizes it to conduct domestic and international transport operations, in regular and non-regular (charter) flights. Authorization in hand, and with a technical and human team prepared for the challenge, on 1st October 2007, PAWA Dominicana it started operating regular flights to Port-au-Prince (Haiti) and charter flights to Providenciales, Turks and Caicos Islands, in the Caribbean.
That same year, it was given Category 1 by the Federal Aviation Administration of the United States Of America (FAA) authorization its flights to that country and acquires its first plane, a DC-9 (30) with which it opened operations to this new destination.
PAWA Dominicana inaugurated the first regular flight for a Dominican airline to the United States in the year 1993. From that point on, PAWA went on to expand its operations in the region, adding flights to the cities of San Juan and Ponce in the neighbouring island of Puerto Rico and connecting important tourist destinations.
As a milestone in its operations, under new experienced management with a successful career over 25 years in international airlines, PAWA Dominicana focused on recertifying the airline and starting flight operations, thus combining the necessary technical, strategic, financial and management support to ensure a successful operation.
With a significant investment in equipment and infrastructure, under the most strict international standards, PAWA Dominicana restarted its operations in August 14th 2015, following a Strategic Plan that included routes to Curacao, Aruba, Saint Maarten, Miami, Havana, San Juan (Puerto Rico) and New York. The service between Miami and Santo Domingo was the first commercial Dominican airline to offer flights to the United States in over 20 years.
According to the Dominican Republic Office of Tourism in Miami, the city of Miami is one of the busiest destinations to and from Santo Domingo, so the opening of this route was greatly anticipated by passengers. New York was the next destination in the airline's expansion plan, which included new direct flights to San Juan, Puerto Rico, from Punta Cana. However, in February 2018, PAWA Dominicana unfortunately ceased operations. Other Dominican airlines include flycana and Liat.
---
Pawa Dominicana News
December 27th 2017
PAWA Dominicana recognised as the "Airline of the Year" at the 17th South Florida Gala Awards
The award was granted for becoming an international airline and the response of the passengers on the Miami-Dominica Republic route as well as offering a different service committed to excellent customer service. The gala honours people who work tirelessly to strengthen and promote diversity in the local and international business sector.
"On behalf of PAWA Dominicana we thank the organizers of The Minority Chamber of Commerce (MCC) for taking us into account to be part of the celebration of the seventeenth edition of this important event. Undoubtedly this distinction inspires us to continue striving to offer our customers the best flight experience, and a reliable, efficient and profitable air transport service. Thank you very much for pushing us to raise the wings of PAWA Dominicana, "said Lesly Simon, representative of the airline, who received the award.
May 2017
Winair Selects PAWA Dominicana As Operating Partner
Winair marketing, sales and customer service director Claudio Buncamper told ch-aviation in an e-mail statement that the regional airline has concluded a collaboration agreement with PAWA Dominicana.
Under the terms of the agreement, PAWA Dominicana will operate a twice-weekly MD-82 / MD-83 service from Curacao through St. Maarten to Port-au-Prince beginning June 3. The flights will operate for Winair under lease and will replace a similar service previously operated by financially ill InselAir.
March 2017
PAWA Dominicana And Aruba Airlines Seek To Concretize Negotiations
PAWA Dominicana is negotiating with Aruba Airlines with the objective to carry out commercial strategies and actions of mutual benefit.
The information was confirmed by a senior executive of the Dominican airline, who did not want to be identified, after several days of intense rumors about an alleged purchase of shares from PAWA Dominicana.
The executive said that Aruba Airlines has always been a friendly airline with which they have traditionally had strong ties with. So it should not come as a surprise the genuine interest in the growth and development of both companies to strengthen the region's air connectivity.
The source added that during the negotiations, talks have been held on the possibility of carrying out fleet and technology exchanges, which will be known in the coming weeks, as they become concrete.
PAWA Dominicana travels daily to San Juan, Puerto Rico, Miami, Cuba, San Martin, Curaçao, Haiti, Antigua and Aruba.
The growth of the operation of this Dominican airline has definitely been very accelerated.
Archives

Pawa Dominicana eyes B767s to increase fleet size!
Pawa Dominicana eyes B767s to increase fleet size!

Pawa Dominicana starts Santo Domingo - Port Au Prince flights
Pawa Dominicana starts Santo Domingo - Port Au Prince flights   Pawa Dominicana announced the start of the Santo Domingo Port-au-Prince route, with eight flights per week on Monday, Wednesday, Friday and Sunday.
---
Pawa Dominicana Route map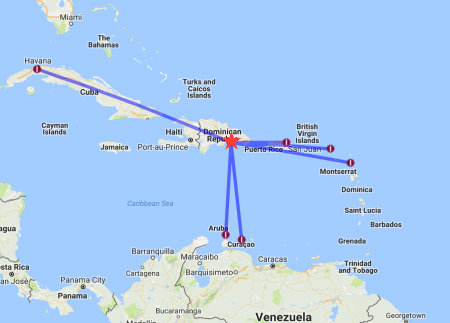 Popular Routes
Santo Domingo

Aruba
Santo Domingo

Curacao
Santo Domingo

St. Maarten
Santo Domingo

Havana
Santo Domingo

Antigua
Santo Domingo

San Juan

---
The Fleet
---
Pawa Dominicana Hub Airport
Las Americas International Airport
Las Americas International Airport (Spanish: Aeropuerto Internacional Las Américas, or AILA) (IATA: SDQ, ICAO: MDSD) is an international airport located in Punta Caucedo, near Santo Domingo and Boca Chica in the Dominican Republic. The airport is run by Aeropuertos Dominicanos Siglo XXI (AERODOM), a private corporation based in the Dominican Republic under a 25-year concession to build, operate, and transfer (BOT) six airports of the country's airports.
Las Américas usually receives a wide variety of many long-, mid-and short-haul aircraft.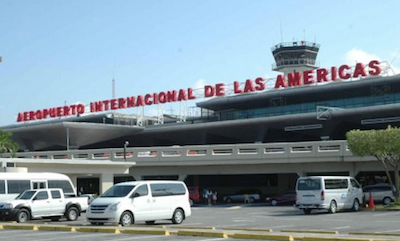 Alternative Airlines to Pawa Dominicana
---