PAWA Dominicana has now ceased operations.
PAWA Dominicana ceased operations in 2018 and so no longer operates any flights. Please can we suggest looking at these alternative airlines that fly similar routes to PAWA Dominicana, by clicking on their logos.
---
About PAWA Dominicana
Established in 2002, PAWA Dominicana was the international flag carrier of the Dominican Republic and a subsidiary airline of Pan American Airways. The airline was based at Santo Domingo-Las America with the aim to position Santo Domingo as the Latin American hub for Caribbean travel. Other Dominican airlines include flycana and Liat.
One of the airline's most popular routes was a service that connects the Dominican Republic capital and South Florida with daily flights offered every day of the week. PAWA Dominican routes allowed for quick connections to other popular Caribbean destinations like Curacao, St. Maarten, Antigua, Port Au Prince, Aruba, Puerto Rico and Havana.
In 2007 PAWA Dominicana received its Air Carrier Certification 121 from the Dominican Institute of Civil Aviation that authorises it to conduct domestic and international transport operations, in regular and non-regular (charter) flights. Authorisation in hand, and with a technical and human team prepared for the challenge, on 1st October 2007, PAWA Dominicana it started operating regular flights to Port-au-Prince (Haiti) and charter flights to Providenciales, Turks and Caicos Islands, in the Caribbean.
That same year, it was given Category 1 by the Federal Aviation Administration of the United States Of America (FAA) authorisation its flights to that country and acquires its first plane, a DC-9 (30) with which it opened operations to this new destination.
PAWA Dominicana inaugurated the first regular flight for a Dominican airline to the United States in the year 1993. From that point on, PAWA went on to expand its operations in the region, adding flights to the cities of San Juan and Ponce in the neighbouring island of Puerto Rico and connecting important tourist destinations.
As a milestone in its operations, under new experienced management with a successful career over 25 years in international airlines, PAWA Dominicana focused on re-certifying the airline and starting flight operations, thus combining the necessary technical, strategic, financial and management support to ensure a successful operation.
With a significant investment in equipment and infrastructure, under the most strict international standards, PAWA Dominicana restarted its operations in August 14th 2015, following a Strategic Plan that included routes to Curacao, Aruba, Saint Maarten, Miami, Havana, San Juan (Puerto Rico) and New York. The service between Miami and Santo Domingo was the first commercial Dominican airline to offer flights to the United States in over 20 years.
According to the Dominican Republic Office of Tourism in Miami, the city of Miami is one of the busiest destinations to and from Santo Domingo, so the opening of this route was greatly anticipated by passengers. New York wasthe next destination in the airline's expansion plan, which included new direct flights to San Juan, Puerto Rico, from Punta Cana. However, in February 2018, PAWA Dominicana unfortunately ceased operations.
---
PAWA Dominicana Route Map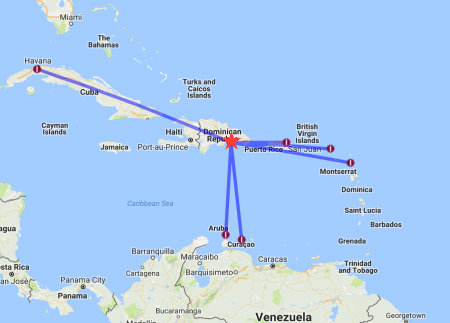 ---
PAWA Dominicana Popular Routes
Santo Domingo

Aruba
Santo Domingo

Curacao
Santo Domingo

St. Maarten
Santo Domingo

Havana
Santo Domingo

Antigua
Santo Domingo

San Juan
---

The Fleet
Airbus A319-100
Airbus A320-200
Airbus A321-200
---

PAWA Dominicana Hub Airport
Las Americas International Airport
Las Americas International Airport (Spanish: Aeropuerto Internacional Las Américas, or AILA) (IATA: SDQ, ICAO: MDSD) is an international airport located in Punta Caucedo, near Santo Domingo and Boca Chica in the Dominican Republic. The airport is run by Aeropuertos Dominicanos Siglo XXI (AERODOM), a private corporation based in the Dominican Republic under a 25-year concession to build, operate, and transfer (BOT) six airports of the country's airports.
Las Américas usually receives a wide variety of many long-, mid-and short-haul aircraft.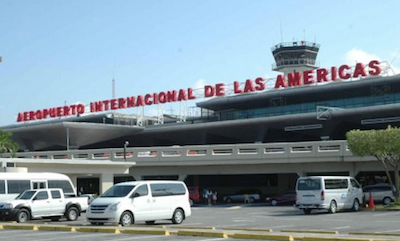 ---