Onur Air Reservations with Alternative Airlines
Make an Onur Air Booking and Find Some Amazing Deals
---
Alternative Airlines to Onur Air
Onur Air ceased operations in 2021 due to bankruptancy. Please click on the logos below to find out more about airlines that fly similar routes to Onur Air:
---
About
Onur Air was a Turkish low-cost airline headquartered in Istanbul, Turkey. Onur Air flew to many destinations across Asia and Europe, reaching over 50 destinations across more than 10 countries.
The airline was based at Istanbul Airport (IST) and had a secondary base at Antalya Airport. The airline was previously based at the old Istanbul Atatürk Airport. However, it moved over to the new Istanbul Airport when Istanbul Atatürk closed down.
The airline was founded in 1992 and flew its first-ever flight in the same year with a service from Istanbul to Ercan, Cyprus, using an Airbus A320. The Turkish word 'onur' translates from Turkish to English as 'proud', giving the airline the meaning 'proud air'.
Onur Air had one subsidiary airline, named Holiday Europe, for which it provided aircraft and crew for.
Since December 2021, Onur Air was forced to suspend all its operations until further notice and in April 2022 the airline was declared bankrupt.
---
Fleet
Onur Air had a fleet that was comprised entirely of Airbus aircraft. The airline had more than 35 aircraft that were within the Airbus A320 family, including the A320-200, A321-200, A321neo and A330-200. Onur Air's largest aircraft was the Airbus A330-200 with a total passenger capacity of 358.
---
Destinations
Onur Air flew to over 50 destinations in more than 10 countries, with domestic flights within Turkey and across Europe and Asia.
Domestic Destinations
| CITY | AIRPORT |
| --- | --- |
| Adana | Adana Airport (ADA) |
| Antalya | Antalya Airport (AYT) |
| Bodrum | Milas–Bodrum Airport (BJV) |
| Dalaman | Dalaman Airport (DLM) |
| Elazig | Elazig Airport (EZS) |
| Gaziantep | Gaziantep Oguzeli International Airport (GZT) |
| Gazipasa | Gazipasa Airport (GZP) |
| Istanbul | Istanbul Airport (ISL) |
| Izmir | Izmir Adnan Menderes Airport (ADB) |
| Kayseri | Kayseri Erkilet International Airport (ASR) |
| Malatya | Malatya Erhaç Airport (MLX) |
| Samsun | Samsun Çarsamba Airport (SZF) |
| Trabzon | Trabzon Airport (TZX) |

International Destinations
COUNTRY
CITY
AIRPORT
Austria
Vienna
Vienna International Airport (VIE)
Azerbaijan
Baku
Baku Heydar Aliyev International Airport (GYD)
Nakhchivan
Nakhchivan International Airport (NAJ)
France
Paris
Paris Charles de Gaulle Airport (CDG)
Germany
Berlin
Berlin Tegel Airport (TXL)
Düsseldorf
Düsseldorf Airport (DUS)
Frankfurt
Frankfurt Airport (FRA)
Munich
Munich Airport (MUC)
Münster
Münster Osnabrück International Airport (FMO)
Nuremberg
Nuremberg Airport (NUE)
Stuttgart
Stuttgart Airport (STR)
Iran
Isfahan
Isfahan International Airport (IFN)
Tabriz
Tabriz International Airport (TBZ)
Tehran
Tehran Imam Khomeini International Airport (THR)
Iraq
Erbil
Erbil International Airport (EBL)
Netherlands
Amsterdam
Amsterdam Schiphol Airport (AMS)
Northern Cyprus
North Nicosia
Erban Airport (ECN)
Russia
Anapa
Anapa Airport (AAQ)
Chelyabinsk
Chelyabinsk Airport (CEK)
Grozny
Grozny Airport (GRV)
Kazan
Kazan Airport (KZN)
Moscow
Moscow Sheremetyevo Airport (MOW)
Moscow Sheremetyevo Airport (SVO)
Nalchik
Nalchik Airport (NAL)
Rostov-on-Don
Platov International Airport (ROV)
Samara
Kurumoch International Airport (KUF)
Volgograd
Volgograd International Airport (VOG)
Voronezh
Voronezh International Airport (VOZ)
Yekaterinburg
Koltsovo International Airport (SVX)
Ukraine
Odessa
Odessa International Airport (ODS)
---
Domestic Route Map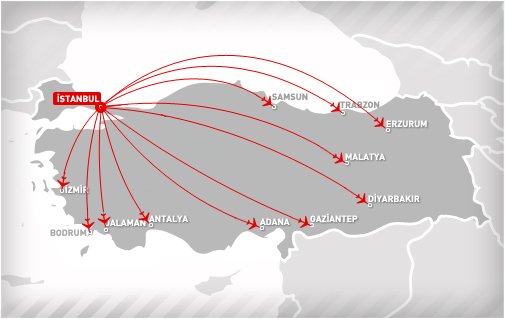 ---
Baggage
Carry-on Baggage
Passengers were permitted to carry one item of carry-on baggage onboard the aircraft. This item could not measure more than 25 cm x 45 cm x 56 cm (9.8" x 17.7" x 22") and weigh no more than 8kg.
Checked Baggage
The checked baggage allowance depended on which route you wer flying on, and which fare package you had purchased. Take a look at our table below:
CITY
DOMESTIC FLIGHTS/
FLIGHTS TO NORTHERN CYPRUS
INTERNATIONAL FLIGHTS
Plain Package
15 kg
20 kg
Standard Package
20 kg
25 kg
Premium Flex Package
25 kg
30 kg
Infant Ticket
10 kg
---
Check-In Information
Online Check-In
Passengers could check-in online via the Onur Air web check-in page, mobile site and mobile app. This service opened 24 hours before scheduled flight departure time and closed 180 minutes before the flight. The airline asks that passengers who had checked-in online to arrive at the gate at least 60 minutes before scheduled flight departure time for domestic flights and at least 90 minutes before scheduled flight departure time on international flights.
Airport Check-In
Passengers who were not able to complete check-in online must do so at the airport. To do this, passengers had to head to the airport and allow plenty of time to complete check-in and all the other necessary stages of the airport such as security and boarding.
The deadline to check-in was 90 minutes before your scheduled flight departure for domestic flights and 120 minutes before your flight departure for international flights.
---
Class Information
Onur Air only offered one type of class in their cabins. Although everyone is provided with the same great level of service and same comfortable seats, there's scope for personalisation of your flight. This is through the different fare types which can be purchased, called 'packages'.
Plain Package
The Plain Package was the most basic of the packages, which indulged either standard baggage (15 kg domestic, 20kg international and 5kg carry-on) and no added extras.
Standard Package
On the Standard Package, passengers were given an extra 5kg of checked luggage for domestic flights, and 10kg for international flights. In addition, passengers could choose their seats and receive a cold meal on board.
Premium Flex Package
This premium package provided passengers with even more baggage; 5kg extra, in addition, the plain package, as well as an item from the cold meal menu on board. Passengers also had a wider selection of seats to choose from and could make changes to the ticket up to two hours before the flight time without a fee from the airline.
Seats
Seats in the Economy Class cabin were comfortable, with 76 cm (29.9") of seat pitch. Economy Class seats are set out in a 3 x 3 configuration.
---
In-Flight Entertainment
There was no in-flight entertainment system onboard. The airline did offer each passenger the airline in-flight magazines, which had a new issue every month
---
Food
Passengers could purchase from a selection of hot meals and hot and cold drinks, with alcoholic and non-alcoholic options. In addition to this, passengers could purchase sandwiches, sweets, confectionery and other sweet or salted light snacks from the cafeteria Onair menu.
If passengers required a special meal type, they could contact us and put in a request or contact the airline directly and put in a request. Special meals were subject to availability.
---
WIFI
There was no WIFI network on Onur Air flights.
---
Frequent Flyer
Onur Extra
Onur Air rewarded its passengers with its OnurExtra frequent flyer program.
OnurExtra allowed passengers to earn points on every domestic and international flight and use those points to purchase flights in the future. OnurExtra was the most generous program in Turkey which bought reward points for all Onur Air flights. The number of points that a passenger earned for each flight would depend on the route and the fare purchased.
---
Airline Alliance
Onur Air wasn't part of any airline alliance. However, it did have an interline agreement with the following airlines:
---
Hub Airport
Istanbul Airport
Istanbul Airport (IST) is the main international serving Istanbul, Turkey and is the hub airport Onur Air.
Istanbul Airport was opened in 2018, replacing the old Istanbul Artürk Airport. The airport is the biggest in Turkey by the total number of passengers and has four runways.
Istanbul Airport is also the hub for AtlasGlobal, Tailwind Airlines and Turkish Airlines.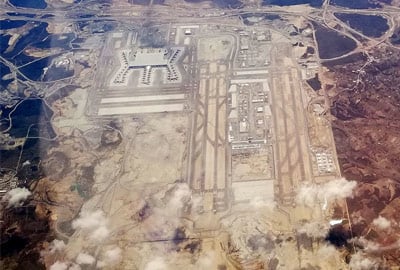 Credit: Jekader on Wikimedia Commons
---
Book Onur Air Flights in English
Make an Onur Air reservation in English with Alternative Airlines. We offer a smooth and stress-free booking with the opportunity to book Onur Air flights in English and to book using the currency of your choice. Please note that Onur Air has ceased its operations.