Search & Buy Onur Air Flights
Airlines will always try to sit children with their parents (subject to check-in)
Some airlines will allow travel for unaccompanied minors. Please email us to check.
The fare is based on the child's age on the date of travel.
More detailed information can be found here Traveling with children
Most airlines will let infants travel with their parent(s) for free. However some airlines will charge up to 10% of the adult ticket price. Click on 'Price Breakdown' to find out more.
If you are pregnant, but due before the flight departure date, please contact us once your baby is born and has a name. We can then add him/her to your ticket.
Infants will not be given a seat. The airlines expect parents to travel with them on their lap.
Airlines regard infants as being under 24 months old.
The fare is based on the child's age on the date of travel.
More detailed information can be found here Traveling with children
Buy
Onur Air

Flights
Onur Air Reservations with Alternative Airlines
Make an Onur Air Booking and Find Some Amazing Deals
---
About Onur Air
Onur Air is a Turkish low-cost airline headquartered in Istanbul, Turkey.
Onur Air flies to many destinations on scheduled services including Nakhicvan, Moscow, Kazan, Nalchik, Vienna, Paris, Berlin, Dusseldorf, Frankfurt, Stuttgart, Adana, Antalya, Bodrum, Dalaman, Elazig, Ercan, Gaziantep, Istanbul, Izmir, Kayseri, Malatya, Samsun, Sanlirufa, Trabzon and Odessa.
Onur Air is the largest privately owned company in Turkey, serving over 80 destinations in 20 countries and 15 to domestic destinations on both scheduled and chartered services. Currently operating domestic scheduled services around Turkey as well as a wide range of charter flights the Turkish carrier live under their company slogan, 'Fly Turkey, fly!' Onur Air's main base and hub is located in Istanbul Ataturk Airport.
Onur translates to English from Turkish as 'proud' giving the airline a literal meaning of 'Proud Air'. Onur Air was originally established in 1992 and commenced operations on a wet-leased Airbus A320 with a flight from their base to Ercan, Cyprus. Growing in size and being acquired by Ten Tour in 1996, Onur Air now stands where they are now with a fleet of 30 aircraft serving 30 destinations internationally and domestically.
Onur Air currently employs 1500 personnel and operates 30 aircraft, a fleet of Airbus family. The company operates to 14 major domestic and more than 120 international destinations in 25 countries. Onur Air has carried more than 85 million passengers safely since 1992. Onur Air has two-way flights from: Istanbul to Adana, Antalya, Bodrum, Diyarbakır, Elazığ, Erzurum, Gaziantep, İzmir, Malatya, Samsun, Şanlıurfa and Trabzon. The company has been organised at destination points by either setting up its own offices or through the General Sales Agency channel.
---
Onur Air Baggage
Carry-on Baggage
Passengers are permitted 1 item of hand baggage to be carrier with the passengers on board the aircraft. This item should measure no more than 25 x 45 x 56cm, and weigh no more than 8kg.
Checked Baggage
The checked baggage allowance depends on which route you are flying on, and which fare package you have purchased:
For domestic flights, passengers on the simple baggage are permitted 15kg, on the standard package 20kg and on the premium flex package 25kg.
For international flights, passengers on the simple baggage are permitted 20kg, on the standard package 25kg and on the premium flex package 30kg.
---
Onur Air Check-In Information
Online Check-In
Passengers can check in on line via the Onur Air website, mobile site and mobile app. This service opens 24 hours before your flight, and will close 90 minutes before the flight for international flights or 60 minutes before for domestic fights in Turkey.
Airport Check-In
Passengers who have not been able to complete check-in online must do so at the airport. To do this, passengers must head to the airport with plenty of time to complete check in and all the other necessary stages of the airport such as security and boarding.
The deadline to check in is 90 minutes before your scheduled flight departure for domestic flights, and 120 minutes before your flight departure for international flights.
---
Onur Air Fleet
Onur Air currently has a total fleet size of 30 aircraft operating on exclusively only Airbus fleet. Onur Air's largest aircraft is the Airbus A330-300 with a total passenger capacity of 358.
In addition, the airline also operates using 8 x A330-200's, 9 x A321-200/100's and 9 x Airbus A320-200 aircraft. Onur Air has seen rapid expansion since deregulation of Turkish domestic air transport in 2003, having grown through a combination of scheduled and charter bases openings fuelled by consumer demand for low cost air travel.
---
Book Onur Air Flights in English
Make an Onur Air reservation in English with Alternative Airlines. We offer a smooth and stress-free booking with the opportunity to book Onur Air flights in English and to book using the currency of your choice.
---
Domestic Route Map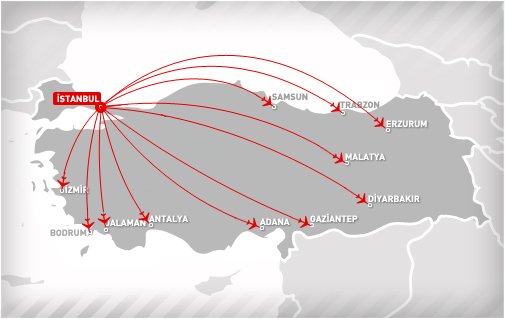 ---
Alternative Airlines to Onur Air
Please click on the logos below to find out more about airlines that fly similar routes to Onur Air:
---
Class Information
Currently, Onur Air only offers one type of class in their cabins. This means that although everyone is provided with the same great level of service and same comfortable seats, there is some scope for personalisation of your flight. This is through the different fare types which can be purchased, called 'packages'
Plain Package
The plain package is the most basic of the packages, which indulges either 15kg checked baggage (domestic) or 20kg (international) in addition to 8kg of hand luggage.
Standard Package
On the Standard Package, passengers are given an extra 5kg of checked luggage for domestic flights, and 10kg for international flights. In addition, passengers can choose their seats and receive a cold meal on board.
Premium Flex Package
This premium package provides passengers with even more baggage; 5kg extra in addition the the plan package, as well as an item from the cold meal menu on board. Passengers also have a wider selection of seats to choose from, and can make changes to the ticket up to 2 hours before the flight time without a fee from the airline itself.
---
Loyalty Program
Onur Air rewards its passengers with OnurExtra Airline loyalty program by Onur Air Tasimacilik A.S. based on the system that grants passengers reward points for every domestic and international Onur Air Flight they take through the website and online travel agents and enables them to spend these reward points on domestic and international Onur Air Flights. OnurExtra is the most generous program in Turkey which brings reward points for all Onur Air flights.
---
On-board Service
Onur Air offers a monthly corporate in-flight magazine named On Air. Also, passengers flying with Onur air can enjoy hot and cold drinks, alcoholic beverages, sandwiches, sweets, confectionery and other snacks are available on flights and can be purchased from the cafeteria Onair menu.
---
Popular Routes
Istanbul

Izmir
Antalya

Istanbul
Odessa

Istanbul
Amsterdam

Erbil
Frankfurt

Antalya
Izmir

Frankfurt
---

Onur Air Hub Airport
Istanbul Airport
Istanbul Airport is the main international serving Istanbul, Turkey and is the biggest airport in Turkey by total number of passengers. The airport serves as a hub for Atlasglobal, Onur Air, Pegasus Airlines and Turkish Airlines.
Istanbul Ataturk Airport has three runaways and has a passenger capacity of 60 million per year. Airlines which fly to and from Istanbul Ataturk Airport include Aegean Airlines, Aeroflot, Air Canada, Atlasglobal, Delta Airlines, EgyptAir, Iberia, KLM, Korean Air, Lufthansa, Malaysia Airlines, TAROM, Tajik Air, Turkish Airlines and Uzbekistan Airways.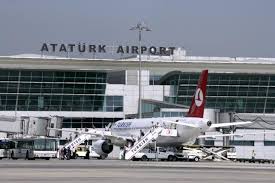 ---
Onur Air News
25th June 2018
Onur Air will fly between Istanbul and Cologne
Onur Air will begin flying between Istanbul Ataturk and Cologne early next month. The airline is scheduled to fly between Istanbul Atatürk Airport and Cologne Bonn Airport (CGN) four times a week until 1st October 2018. Onur Air will use an Airbus A320 to carry passengers on the service and will depart Istanbul once on Monday, once on Wednesday and once on Friday, flying back from Cologne the following day.
---