NIKI Reservations with Alternative Airlines
Make a NIKI reservation and find some amazing deals with Alternative Airlines
NIKI ceased flying operations in December 2017
Search alternative airlines to NIKI via www.alternativeairlines.com
Alternative airlines to NIKI, see our list of alternative airlines below.
---
Alternative Airlines to Niki
---
About
NIKI was an Austrian low-cost airline based in at Vienna International Airport, Vienna. NIKI was a subsidiary of Air Berlin, and also partly owned by the well known, ex-Grand Prix World Champion racing driver, Niki Lauda.
The airline was described as a hybrid airline in all senses of the word: part charter, part low cost, part scheduled service operator.
NIKI 's fleet consisted of 24 aircraft, made up of Airbus aircraft, more specifically A319's and A321's with a maximum capacity of 212 seats.
NIKI's Airbus and Embraer fleet and list of destinations have been growing steadily ever since the company's foundation in November 2003. In late 2011, Niki Lauda sold his state in NIKI to fellow shareholder Air Berlin, creating Europe's 1st low-fare alliance. NIKI, however, remains an independent company with its own management.
---
Destinations
The airline operated scheduled and direct flights from Vienna to the following destinations: Innsbruck, Zurich, Munich, Frankfurt, Paris, Nice, Milan, Rome, Belgrade, Bucharest, Sofia, Copenhagen, Stockholm, Barcelona, Palma de Mallorca, Olbia, Cagliari and Moscow. Charter flights by NIKI are mainly operated to Greece, Turkey, Egypt and Morocco from Vienna, Salzburg, Graz, Linz and Innsbruck.
---
Travel Class
Enjoy NIKI's top class service on board. Whether you're flying Business or Economy Class, you'll have a warm and affordable crew at your service on all routes.
---

Economy Class
Passengers can choose up to 138 seats in NIKI's Economy Class. The window seat towards the front of the cabin, the pitch is 30 inches. Pillows, blankets and amenity kits are provided free of charge for all passengers. The pillows are nice and soft, the blanket keeps me reasonably warm, and the amenity kit has the usual suspects – a toothbrush and toothpaste, earplugs, a sleeping mask and socks. NIKI is classed as a low-cost airline, however, the comfort trimmings are on par with full-service carriers.
---
Business Class
There were 8 seats in business class with a 2-2 configuration. Onboard, you can relax in the spacious seat with an ample amount of leg space. Business class passengers are given iPads with an inflight program. Movies are shown on shared screens on longer flights. Stay connected with family and friends with access to Wi-Fi. The halal-certified menu is changed four times a year and breakfast choices comprise of a spinach omelette with beef sausage, hash brown and beans or a baked egg atop a chickpea, tomato, onion and eggplant concoction. Enjoy a luxury fruit salad and yoghurt with mango compote to top it off in the end.
---
Frequent Flyer Program
NIKI offered the frequent flyer program, Topbonus.
Topbonus is the same program offered by Air Berlin. Topbonus miles can be redeemed against a large selection of travel accessories, electronics, sports, leisure items and lots more.
---
Baggage
NIKI allows passengers to take 1 item of hang baggage into the cabin, not to exceed 8 kg.
In addition, NIKI also permits passengers to take either a laptop case, a ladies handbag, a ladies purse or a gentleman's handbag free of charge (not to exceed 2kg). The number of free baggage items varies according to the fare booked.
1 item of baggage may weigh up to 23 kg, or up to 32 kg in Business Class.
Baggage allowance includes checked baggage, depending on the fare.
Checked-in baggage

The number of free baggage items varies according to the fare booked. One item of baggage may weigh up to 23 kg, or up to 32 kg in Business Class.
The free baggage allowance for children up to 11 years old includes a checked bag weighing up to 23 kg except in Economy Light.
Carry-On Baggage
On each flight, you can take one item of hand baggage into the cabin, which may weigh up to 8 kg. The dimensions may not exceed 55 cm x 40 cm x 23 cm. Please check the size of your hand baggage in the racks provided at check-in.
In addition one of the following items (max. 40 cm x 30 cm x 10 cm; 2 kg) may be taken into the cabin free of charge:
a lady's handbag, a lady's purse or a gentlemen's handbagAdditional hand baggage

Storage:
For your own comfort and to speed up the boarding process we kindly ask you to stow your labelled hand luggage in the overhead bins.
Personal items (max. 2kg) must be stowed under the seat in front of you.
In case of an (almost) fully booked aircraft and due to limited space available in the cabin it might happen that your hand luggage must be checked-in and will be carried in the hold.
You have to follow the instructions of the ground staff and flight crew at any time.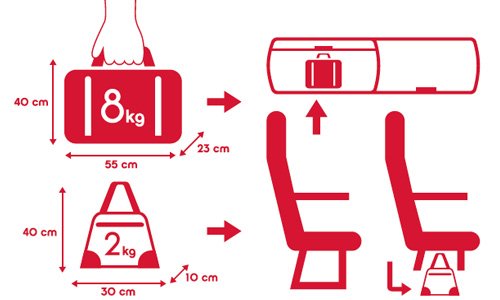 ---
Popular Routes
Zurich

Dusseldorf
Berlin

Vienna
Palma De Mallorca

Dusseldorf
Madrid

Berlin
Dusseldorf

London
Berlin

Corfu
---
Fleet
Airbus A319-100
Airbus A320-200
Airbus A321-200
---
Vienna International Airport
HUB Airport
Vienna International Airport was the Hub for Niki Airlines and is currently the hub for Austrian Airlines. Also, it is the largest airport of Vienna and passengers can travel on domestic, international and European destinations.
Airlines that fly from and to Vienna International Airport include British Airways, Condor, Germanwings, Emirates and KLM