Unfortunately, MyAir ceased operations in 2009.
Please can we suggest looking at these alternative airlines that fly similar routes to MyAir, by clicking on their logos.
---
About MyAir
MyAir.com was the operating name of My Way Airlines. This low-cost airline was based in Torri di Quartesolo, Vicenza, Italy and operated domestic flights within Italy and also to destinations in France, Romania, Bulgaria, Turkey, Morocco, Spain, Belgium and the Netherlands.
The airline was established and commenced its operations in 2004, but unfortunately had its license suspended in 2009, after which the airline filed for bankruptcy in 2010.
---

MyAir Hub Airport
Orio al Serio International Airport
MyAir had its main base at Orio al Serio International Airport, which is located in Milan and is Italy's third-busiest airport. This airport is now a hub for Ryanair, but operates flights to destinations around the world with airlines such as Lauda, Blue Panorama Airlines, British Airways and Air Arabia Maroc.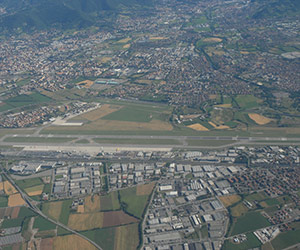 "File:Bergamo Orio al Serio airport - Aerial view.jpg"by Fringio is licensed under CC BY-SA 2.0
---
MyAir Destinations
MyAir flew to destinations across Europe from its bases in Venice and Bergamo. These included destinations in Austria, France, Bulgaria, Romania, Spain, Turkey and of course elsewhere in Italy.
---
MyAir Fleet
The following aircraft have previously been in the MyAir fleet:
Airbus A320-200
Bombardier CRJ900
McDonnell Douglas MD-82
Saab 2000
---