Airlines will always try to sit children with their parents (subject to check-in)
Some airlines will allow travel for unaccompanied minors. Please email us to check.
The fare is based on the child's age on the date of travel.
More detailed information can be found here Traveling with children
Most airlines will let infants travel with their parent(s) for free. However some airlines will charge up to 10% of the adult ticket price. Click on 'Price Breakdown' to find out more.
If you are pregnant, but due before the flight departure date, please contact us once your baby is born and has a name. We can then add him/her to your ticket.
Infants will not be given a seat. The airlines expect parents to travel with them on their lap.
Airlines regard infants as being under 24 months old.
The fare is based on the child's age on the date of travel.
More detailed information can be found here Traveling with children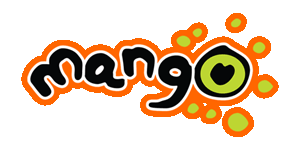 Search & Book Flights

With Mango Airlines
Cancellation Protection
Protects
Trusted Choice
Rated 4.5 Stars. Based on 3,581 service ratings over the past year
Dedicated customer service team on hand to help
Secure payments
Cancellation Protection
Protects
Trusted Choice
Rated 4.5 Stars. Based on 3,581 service ratings over the past year
Dedicated customer service team on hand to help
Secure payments
Buy
Mango Airlines

Flights
Mango Airlines Reservations with Alternative Airlines
Make a Mango Airlines Booking and Find Some Amazing Deals
Unfortunately, Mango ceased operations in July 2021. Click on the logos below to see airlines that operate similar routes to Mango.
---
About Mango Airlines
Mango Airlines SOC Ltd. was a state-owned South African low-cost airline. Mango operated flights to Johannesburg, Cape Town, Durban and many other destinations across South Africa. Mango was based near Johannesburg at OR Tambo International Airport and was a subsidiary of South African Airways. Formed in 2006, Mango quickly became one of the success stories of African Aviation. The airline had a fleet of four matched new generation Boeing 737-800 aircraft with a seating capacity of 186 passengers and offered a purchase on-board service for snacks and drinks. With a vibrant Orange colour scheme and a passion for making low cost flying fun, Mango also took pride in being a major part of making domestic air travel available to more ordinary South Africans.
---
Fleet
The Mango Airlines fleet included Boeing 737-300 and Boeing 737-800.
---
Destinations
Mango Airlines mainly flew within South Africa, including to destinations such as Cape Town, Durban, George, Bloemfontein, Johannesburg, East London and Port Elizabeth. As well as this, the airline flew one international flight to Zanzibar.
COUNTRY
CITY
AIRPORT
South Africa
Bloemfontein
Bram Fischer International Airport
Cape Town
Cape Town International Airport
Durban
King Shaka International Airport
George
George Airport
Johannesburg
OR Tambo International Airport
Lanseria International Airport
East London
East London Airport
Port Elizabeth
Port Elizabeth Airport
Tanzania
Zanzibar
Zanzibar International Airport
---
Route Map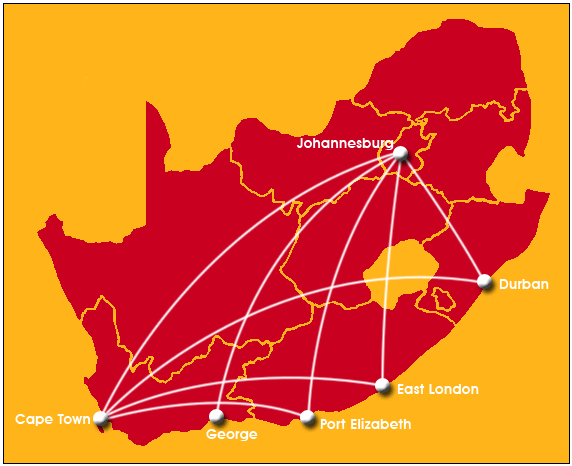 ---
Baggage
Carry-on Baggage
Passengers on Mango Airlines flights were given a free carry-on baggage allowance of 7kg, with a maximum size limit of 36 cm x 23 cm x 56 cm. In addition to this, Mango Airlines passengers were allowed to bring a personal item with them on the plane, such as a handbag, laptop or a small rucksack.
Checked Baggage
Passengers on Mango Airlines flights were given a free checked baggage allowance of 20kg, unless they were flying on Mango Plus, in which case they were given 30kg of checked baggage.
Passengers could purchase additional baggage for their Mango Airlines flight, however, no single piece of baggage was allowed to weigh more than 32kg.
---
Check-In
Online Check-In
Mango Airlines passengers could check in for their Mango Airlines flight online by visiting the Mango Airlines online check-in page. Mango Airlines online check-in was available from 24 hours up until two hours before the scheduled departure time of the flight. If a passenger wanted to make a modification to the booking and their flight was departing in 24 hours or less, they would have to check in at the airport for their Mango Airlines flight.
Airport Check-In
Passengers could check in for their Mango Airlines flight by visiting the Mango Airlines check-in counter at the airport that their flight was departing from. Check-in opened two hours before the scheduled departure time of the flight and closed 40 minutes before.
Self-Service Check-In
Alternatively, passengers could use the self-service check-in kiosks to check in for their Mango Airlines flight at the airport of departure. Self-service check-in opened 12 hours before the scheduled departure time of the flight and closed 40 minutes before.
---
Economy Class
Mango Airlines only offered one class in its cabins; economy class. Their aircraft had recently been updated, giving new and improved seats with greater legroom. However, this was only available on select aircraft as it was slowly being rolled out to all planes in the fleet. Passengers could opt to select a seat for their flight for a small fee.
---
In-Flight Entertainment
MangoTV was the airline's in-flight entertainment system. Passengers could enjoy a range of different entertainment, including travel shows, news, sport and more, available to watch on shared screen in the aisle of the cabin. Each passenger was given a pair of headphones, which they could plug into their seat for audio.
---
Food
Mango offered a wide range of snacks and drinks. From fresh sandwiches to crisps, nuts and chocolate, the airline had something for passengers who are looking for a light bite or something to nibble. In addition to this, the airline offerde a variety of beer, wine spirits, hot and soft drinks.
---
Frequent Flyer Program
South African Airways Voyager members could redeem SAA Voyager miles with Mango, but were not yet able to earn SAA Voyager miles with Mango. No other SAA Voyager benefits, such as additional baggage, upgrades or lounge access were applicable when using SAA Voyager miles to pay for a Mango flight.
Mango Airlines were set to join Star Alliance as a Connecting Partner in the third quarter of 2016. Star Alliance is the largest global airline alliance by passenger count. Star Alliance's 27 member airlines operate a fleet of about 4,000 aircraft, serve more than 1,000 airports in 194 countries and carry 637.6 million passengers per year on more than 18,000 daily departures.
---
Airline Alliance
Star Alliance is the leading global airline network, which has 27 member airlines. Star Alliance was founded in 1997 with the five founding airlines: Scandinavian Airlines, Thai Airways International, Air Canada, Lufthansa and United Airlines. The alliance has grown considerably now to airlines which fly to 1,321 airports and 193 countries, carrying 637 million passengers every year. Being a member of Star Alliance would help you get discounts on Mango ticket prices.
---
Hub Aiport
O.R. Tambo International Airport
O. R. Tambo International Airport is a major international airport in Kempton Park, Ekurhuleni, Gauteng, South Africa] near the city of Johannesburg. It serves as the primary airport for domestic and international travel to/from South Africa and is Africa's busiest airport with a capacity to handle up to 28 million passengers annually with non-stop flights to all continents except Antarctica.Airlines that fly from and to Tambo International Airport include British Airways, Ethiopian Airlines and South African Airways.
---
Alternative Airlines to Mango Airlines
---
News
8th August 2022
Mango Airlines licence suspended
Mango Airlines has had its licence suspended for at least 2 years. The airline ceased operations at the end of July 2021 over a lack of funding to rescue the business and has been grounded since then.
27th July 2021
Mango Airlines ceases operations over a lack of funding
Mango Airlines has officially ceased operations due to the lack of funding required for its business rescue. The airline has been grounded since July 2021.
25th March 2020
Mango Airlines continues to fly within South Africa
Mango Airlines is continuing to offer domestic flights within South Africa. The airline previously stopped flying to its one international destination, Zanzibar, Tanzania after a government travel band but it will remain operating all flights internally within South Africa as normal.