Search & Buy Mango Airlines Flights
Select your payment method to view total prices including any payment fees:
Airlines will always try to sit children with their parents (subject to check-in)
Some airlines will allow travel for unaccompanied minors. Please email us to check.
The fare is based on the child's age on the date of travel.
More detailed information can be found here Traveling with children
Most airlines will let infants travel with their parent(s) for free. However some airlines will charge up to 10% of the adult ticket price. Click on 'Price Breakdown' to find out more.
If you are pregnant, but due before the flight departure date, please contact us once your baby is born and has a name. We can then add him/her to your ticket.
Infants will not be given a seat. The airlines expect parents to travel with them on their lap.
Airlines regard infants as being under 24 months old.
The fare is based on the child's age on the date of travel.
More detailed information can be found here Traveling with children
Buy
Mango Airlines

Flights
Mango Airlines Reservations with Alternative Airlines
Make an Mango Airlines Booking and Find Some Amazing Deals
---
About Mango Airlines
Mango Airlines SOC Ltd. is a state-owned South African low-cost airline. Mango currently operates flights to Johannesburg, Cape Town, Durban and many other destinations across South Africa. Mango is based near Johannesburg at OR Tambo International Airport and is a subsidiary of South African Airways. Formed in 2006, Mango has quickly become one of the success stories of African Aviation. The airline has a fleet of four matched new generation Boeing 737-800 aircraft with seating capacity of 186 passengers and offers a purchase on-board service for snacks and drinks. With a vibrant Orange colour scheme and a passion for making low cost flying fun, Mango also prides itself on being a major part of making domestic air travel available to more ordinary South Africans.
---
Mango Airline's Frequent Flyer Program
South African Airways Voyager members can redeem SAA Voyager miles with Mango, but are not yet able to earn SAA Voyager miles with Mango. No other SAA Voyager benefits, such as additional baggage, upgrades or lounge access are applicable when using SAA Voyager miles to pay for a Mango flight.
Mango Airlines will join Star Alliance as a Connecting Partner in the third quarter of 2016. Star Alliance is the largest global airline alliance by passenger count. Star Alliance's 27 member airlines operate a fleet of about 4,000 aircraft, serve more than 1,000 airports in 194 countries and carry 637.6 million passengers per year on more than 18,000 daily departures.
When you make a mango flight booking with Alternative Airlines, it is really easy to collect frequent flyer points. Just put in your frequent flyer number before you pay! If you want more information, check out our frequent flyer step-by-step guide.
Mango's Airline Alliance
Star Alliance Star Alliance is the leading global airline network, which has 27 member airlines. Star Alliance was founded in 1997 with the five founding airlines: Scandinavian Airlines, Thai Airways International, Air Canada, Lufthansa and United Airlines. The alliance has grown considerably now to airlines which fly to 1,321 airports and 193 countries, carrying 637 million passengers every year. Being a member of Star Alliance may help you get discounts on Mango ticket prices, so check which alliance your airline loyalty program is with before you book a flight with Mango.
---
Mango Airlines Baggage
Carry-on Baggage
Passengers on Mango Airlines flight are given a free carry-on baggage allowance of 7kg, with a maximum size limit of 36 cm x 23 cm x 56 cm. In addition to this, Mango Airlines passengers are allowed to bring a personal item with them on the plane, such as a handbag, laptop or a small rucksack.
Checked Baggage
Passengers on Mango Airlines flights are given a free checked baggage allowance of 20kg, unless they're flying on Mango plus, in which case they're given 30kg of checked baggage.
Passengers can purchase additional baggage for their Mango Airlines flight, however, no single piece of baggage is allowed to weigh more than 32kg.
---
Mango Airlines Check-In
Online Check-In
Mango Airlines passengers can check-in for their Mango Airlines flight online by visiting the Mango Airlines online check-in page.Mango Airlines online check-in is available from 24 hours up until two hours before the scheduled departure time of the flight. If a passenger makes a modification to the booking and their flight is departing in 24 hours or less, they will have to check-in at the airport for their Mango Airlines flight.
Airport Check-In
Passengers can check-in for their Mango Airlines flight by visiting the Mango Airlines check-in counter at the airport that their flight is departing from. Check-in opens two hours before the scheduled departure time of the flight and closes 40 minutes before.
Self-Service Check-In
Alternatively, passengers can use the self-service check-in kiosks to check-in for their Mango Airlines flight at the airport of departure. Self-service check-in opens 12 hours before the scheduled departure time of the flight and closes 40 minutes before.
---
Mango Airlines Route Map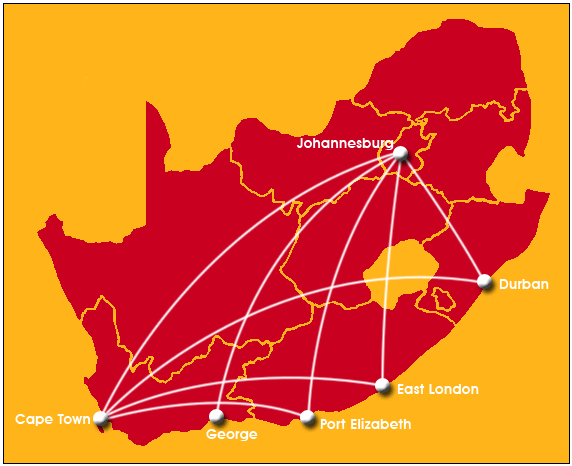 ---
Mango Airlines Popular Destinations
Johannesburg

Durban
Cape Town

Johannesburg
Port Elizabeth

Cape Town
George

Johannesburg
---
Mango Airlines Fleet
The Mango Airlines fleet includes Boeing 737-300 and Boeing 737-800.
---
Mango Airlines Airport Hub
O.R. Tambo International Airport
O. R. Tambo International Airport is a major international airport in Kempton Park, Ekurhuleni, Gauteng, South Africa] near the city of Johannesburg. It serves as the primary airport for domestic and international travel to/from South Africa and is Africa's busiest airport with a capacity to handle up to 28 million passengers annually with non-stop flights to all continents except Antarctica.Airlines that fly from and to Tambo International Airport include British Airways, Ethiopian Airlines and South African Airways.
---
Buy Discounted Mango Airlines Tickets at Alternative Airlines
---
Alternative Airlines to Mango Airlines
---
Mango Airline News
21st June 2018
Mango Airlines, SA Express and South African Airways to unite as one
Mango Airlines, SA Express and South African Airways will unite as one airline. The decision was made by the state as each airline flies very similar routes, causing heavy saturation in the South African aviation market. Public Enterprises Minister Pravin Gordhan stated that all three airlines are essentially offering the same service to their customers and the state needs to be more strategic about where they position each airline, otherwise they run the risk of running them into bankruptcy. Gordhan seems confident that if the airlines come together as one, the state will be able to better distribute aircraft and routes to he singular airline, making sure all equipment and services are being run accordingly and in the right place and right time.
While it's yet to be announced what name the three airlines will run under, it's likely that South African Airways will keep its name with Mango and SA Express abandoning theirs, as Mango isn't as much of a recognisable brand as South African Airways is.
17th May 2018
Mango Airlines in the top 30 cheapest airlines in the world
According to a study realised by business tech, Mango Airlines has made it into the top 30 cheapest airlines in the world. For domestic flights, South African carriers lead the pack, with FlySafair, who along with Mango, featured among the top 30 airlines at a cost of $0.13/km. The data was collated by Rome2rio, a travel planning website, who published the 2018 edition of its Global Flight Price Ranking which highlights the cheapest airlines in the world for cost per kilometre. Australia's Tiger Air is seen as the cheapest airline at a cost of $0.06/km, "likely due to the large distances covered by the budget airline". From an international perspective, when Rome2rio measured the top 200 airlines by average price ($) per kilometre on international flight searches, it found Asian and Indian carriers dominated the top of the list, with Air Asia X taking top spot, followed by Air India Express and Indonesia AirAsia. Of course, this information should be taken with a pinch of salt, as the price of airlines depends of a lot of other external factors. This is the reason this airline has been featured on our own blog about the best value and cheapest airlines in the world!
27th February 2018
Mango Airlines inspires St Ansgar's school children
Working with the students of St Ansgar's is the new social initiative of the low-cost airline, Mango. St Ansgar's school received some gifts from Mango Airlines: items necessary to ease the workload of teachers and staff. This hand-over follows an initiative last year where a number of learners from the school were treated to a morning at Lanseria Airport.Nic Vlok, acting CEO at Mango Airlines explains, "The moment the school children's faces lit up as they stepped on-board a trademark orange Mango aircraft, Boeing 737-800, it became apparent that this was far more than a CSI initiative.
"It was an opportunity to give these children wings! And by that I mean, options for their future. For most, the fascinated and happy faces indicated it was their first time on an airplane so it was our opportunity to introduce the possibility of a career in the airline industry. The Mango and St Ansgar's partnership will continue with more opportunities for the school to learn more about a career in the airline. In fact, we hope that for some learners it is just the beginning of a love affair with flying." Good Job, Mango airlines!
4th December 2017
Lufthansa Technik sign contract with Mango Airlines
Lufthansa Technik AG and Mango Airlines from South Africa have signed an exclusive contract for the maintenance of CFM56-7B engines, which power the airline's fleet of ten Boeing 737NG aircraft.
Within the framework of the agreement, Lufthansa Technik will provide overhaulservices for the engines at its German locations until 2022.
Mango Airlines' parent company, South African Airways, has been receiving exclusive support from Lufthansa Technik for the CFM56-7B engines of its Boeing 737NG fleet for more than 15 years already.
This new agreement now comprises at least 19 overhaul events over the next five years, with billing on a power-by-the-hour basis.
"We are very pleased to expand our footprint in South Africa by adding Mango Airlines to our customers," said Robert Gaag, Vice President Corporate Sales Europe, Middle East & Africa at Lufthansa Technik. "Lufthansa Technik has a long lasting presence in thisregion and this agreement is a further proof that our services can betailor-made to the different needs of this market."
The newly signed contract with Mango Airlines means that Lufthansa Technik is adding another South African customer to its base and now has long-term maintenance contracts with all major airlines in the country. Besides South African Airways (SAA) and SAA-Technical, its customers also include the airlines Comair and Safair.