Unfortunately, Hellas Jet ceased operations in 2009. Click on the logos below to see airlines that operate similar flights to Hellas Jet.
---
About
Hellas Jet was a Greek scheduled and charter airline. The airline was based at Athens International Airport (ATH) and offered scheduled flights to several destinations across Europe, as well as charter flights to/from Heraklion and Rhodes to several other destinations in Europe.
The airline launched in 2002 as a subsidiary of Cyprus Airways and flew its inaugural flight in 2003. In 2006, Cyprus Airways sold Hellas Jet to Trans World Aviation. After long-running financial difficulties, Hellas Jet ceased operations in 2010.
---
Fleet
The airline had a fleet that was made up of narrowbody Airbus A320 aircraft and Fokker 50 regional jets. The airline had a total of 6 aircraft within its fleet at the time that it ceased operations.
---
Destinations
Hellas Jet operated scheduled flights from Athens to Paris, Brussels, London and Zürich over the time that it was active. It also flew charter from Heraklion and Rhodes to St.Petersburg, Moscow, Amsterdam, Düsseldorf and Paris.
Domestic
| CITY | AIRPORT | IATA |
| --- | --- | --- |
| Athens | Athens International Airport | ATH |
| Heraklion | Heraklion International Airport | HER |
| Rhodes | Rhodes International Airport | RHO |
International
COUNTRY
CITY
AIRPORT
IATA
Belgium
Brussels
Brussels Airport
BRU
France
Paris
Charles de Gaulle Airport
CDG
Germany
Düsseldorf
Düsseldorf Airport
DUS
Netherlands
Amsterdam
Amsterdam Schiphol Airport
AMS
Russia
Moscow
-
-
St.Petersburg
Pulkovo Airport
LED
Switzerland
Zurich
Zürich International Airport
ZRH
United Kingdom
London
Gatwick Airport
LGW
Heathrow Airport
LHR
Manchester
Manchester Airport
MAN
---
Hub Airport
Athens International Airport
Athens International Airport (ATH) is an international airport in Athens, Greece and was the hub airport for Hellas Jet. Athen International is the largest airport in Greece and the main airport used for flying in and out of the country. The airport has two terminals, two runways and handles more than 24 million passengers each year.
Hellas Jet used Athens International as a hub for all of its scheduled flight. For its charter flights, the airline was based at Heraklion and Rhodes.
Today, Aegean Airlines, Ellinair, Olympic Air, Ryanair and Sun Express use Athens International as a main or secondary hub.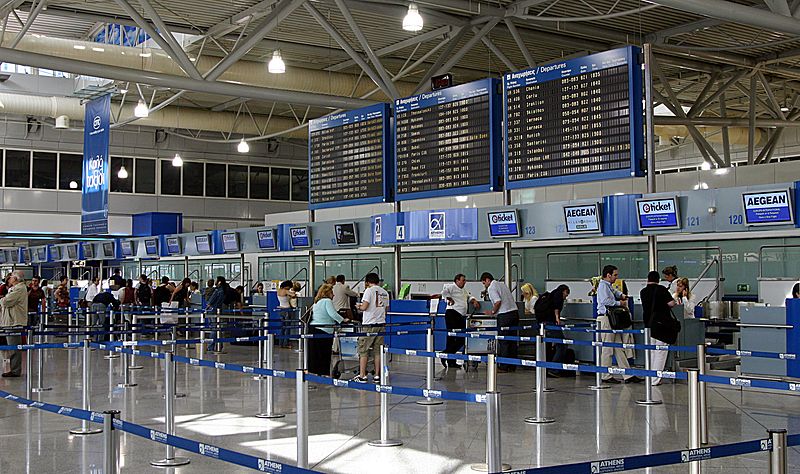 Credit: Leonid Mamchenkov on Flickr