Heli Air Monaco Reservations with Alternative Airlines
Make a Heli Air Monaco Booking and Find Some Amazing Deals
---
About Heli Air Monaco
Heli Air Monaco is the flag carrier of Monaco and offers regular helicopter service in France, especially between Nice and Monaco. Heli Air Monaco also has an interline e-ticketing agreement with APG whereby 114 airlines can be ticketed through YO airline code. These airlines include Hainan Airlines, Air Bagan, Airline PNG (also known as PNG Air), Air Astana, Aerogal, Jet Airways, Hong Kong Airlines, Fiji Airways, Cambodia Angkor Air and many others.
Along with Monacair, Heli Air Monaco is one of the two airlines of Monaco.
---
Heli Air Monaco Destinations
Heli Air Monaco has a scheduled flight to Nice from Monaco Heliport every 20 minutes.
Heli Air Monaco Baggage
Carry-on Baggage
Passengers are permitted one small piece of carry-on baggage each.
Checked Baggage
Heli Air Monaco passengers are permitted to take one piece of hold baggage weighing no more than 23kg. The maximum size for Heli Air Monaco baggage is 55cm x 40cm x 23cm.
Heli Air Monaco Check-in
Airport Check-in
You can check-in for your Heli Air Monaco flight at the airport.
---
Book Heli Air Monaco Flights in English
Find Heli Air Monaco flights in English with Alternative Airlines. We help you to have the easiest booking process possible by offering you flights around Monaco in English.
---
Heli Air Monaco Discounts and Deals
Save money off any Heli Air Monaco flight reservation when booking with PayPal. Search through all our flight ticket promos and coupons.
---
Heli Air Monaco Hub Airport
Monaco Heliport
Monaco Heliport, also known as Monte Carlo Heliport, which is the only aviation facility within Monaco. The only destination that flies to the airport is Nice Côte d'Azur Airport in Nice.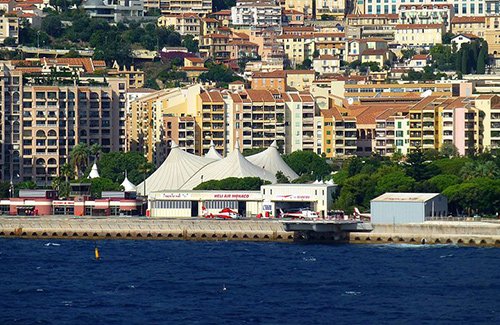 Photo credit: Panoramio
---