Hawaii Island Air Reservations with Alternative Airlines
Make a Booking and Find Some Amazing Deals
---
Unfortunately, Hawaii Island Air ceased operations in November 2017.
Take a look at Hawaiian Airlines for similar routes.
---
About
Hawaii Island Air, also known as Island Air, was a commuter airline based in Hawai and more specifically in Honolulu. Hawaii Island Air was Hawaii's second oldest carrier with routes to six of Hawaii's major airports, with direct and nonstop services between five islands in Hawaii. In-Flight Services included refreshments and Kikaha magazine.
The airline operated scheduled inter-island passenger services in Hawaii. Its main base was at Honolulu International Airport on Oahu, with a hub at Kahului Airport on Maui. Island Air flew to many destinations including Lanai, Maui and Oahu and operates a codeshare and frequent flyer agreement with United Airlines. Island Air also had an interline agreement with American Airlines. Aloha Airlines was formerly an airline partner until it discontinued passenger operations.
Hawaii Island Air maintained a codeshare and frequent flyer agreement with United Airlines. Hawaiian Airlines halted its commercial relationship with Island Air in 2012 when it announced plans to begin operating ATR-42s in the islands under its own brand. Island Air also operated its own frequent flyer program, Island Miles (formerly Cloud 9).
On April 14, 2016, Island Air announced its plans to restart service between Honolulu and Kona starting June 14 with five daily round-trip flights. The last time Island Air served Kona was in December 2012. This service restoration is estimated to create 25 new airport-related jobs. Island Air president and CEO Les Murashige stated that Hilo is also being evaluated. In 2017, Island Air ceased all operations.
---
Fleet

At the time that it ceased operations, Island Air's fleet consisted of Bombardier Q400 turboprop aircraft. In its history, the airline flew a number of different aircraft, including the ATR 42, ATR 72, and Saab 340 turboprop, which was leased from American airline, PenAir.
---
Frequent Flyer Program
Hawaii Island Air had a codeshare agreement with United Airlines and Mileage Plus members can earn and redeem Mileage Plus miles on Island Air flights. Island Air also operated its own frequent flyer program called Island Miles with benefits and rewards.
The commuter carrier offered flights to Hawai - Kona International Airport, Kauai-Lihue Airport, Maui-Kahului Airport and Oahu-Honolulu International Airport.
---
Discount and Offers
Save money on your next Hawaii Island Air flight reservation with any flight promo code and Alternative Airlines. Pay with PayPal to get a discount on any Hawaiian airlines by using a discount code via www.alternativeairlines.com. Save today on any flight with Hawaii!
---
Route Maps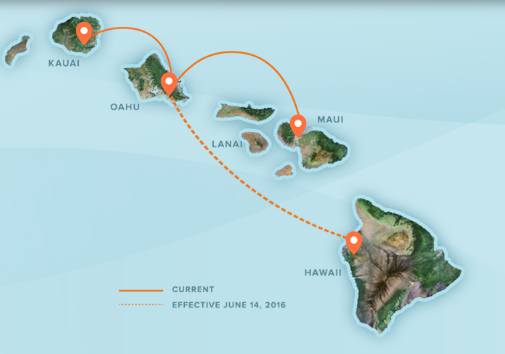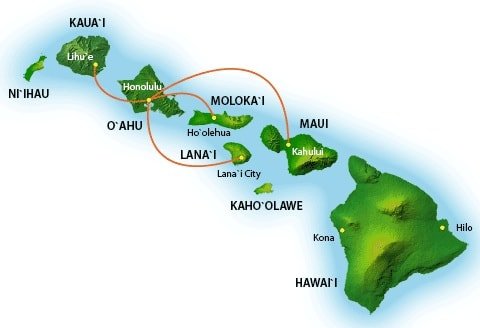 ---
Alternative Airlines to Hawaii Island Air
---
News
15th November 2017
Island Air, Hawaii's second-largest airline, shut down Friday after operating for 37 years.
The airline, which shuttled passengers between islands, closed after falling short of its revenue expectations for the last four years. Island Air filed for bankruptcy protection on October 16, according to the Associated Press