Search & Buy FMI Air Flights
Airlines will always try to sit children with their parents (subject to check-in)
Some airlines will allow travel for unaccompanied minors. Please email us to check.
The fare is based on the child's age on the date of travel.
More detailed information can be found here Traveling with children
Most airlines will let infants travel with their parent(s) for free. However some airlines will charge up to 10% of the adult ticket price. Click on 'Price Breakdown' to find out more.
If you are pregnant, but due before the flight departure date, please contact us once your baby is born and has a name. We can then add him/her to your ticket.
Infants will not be given a seat. The airlines expect parents to travel with them on their lap.
Airlines regard infants as being under 24 months old.
The fare is based on the child's age on the date of travel.
More detailed information can be found here Traveling with children
Buy
FMI Air

Flights
FMI Air Reservations with Alternative Airlines
Make an FMI Air Booking and Find Some Amazing Deals
---
About FMI Air
FMI Air was a scheduled airline based at Yangon International Airport in Yangon, Myanmar. FMI Air operated 72 domestic flights a week to Myanmar's Capital Nay Pyi Taw, Bagan, Heho, Mandalay, Sittwe, Thandwe, Kawthaung, Myitkyina. FMI Air offered a Premium Service to both the growing corporate and leisure sectors which include complimentary access to lounges and concierge services. FMI Air has its own APP (FMI AIR) to assist international travellers. FMI Air commenced business in September 2012 as a charter operation under the banner of FMI Air Charter, operating about 19 flights a week chartering turboprop aircraft from other local carriers to provide a service between the commercial hub, Yangon and the capital city Nay Pyi Taw.
After successfully building this market, late in 2013 FMI Air Charter decided to apply for an AOC to begin operating its own aircraft. In March 2015, FMI Air officially launched its own operations with a scheduled service featuring an all jet fleet of CRJ 200 aircraft, expanding its network beyond the original Yangon to Nay Pyi Taw route. FMI Air operated daily flights (17 x weekly) between the commercial hub, Yangon International Airport and Naypyidaw International Airport and also offered Charter flight services to over 20 airports around Myanmar. Unfortunately, FMI Air ceased all operations in August 2018 and is no longer flying. Please see below for airlines that fly similar routes.
---
Alternative Airlines to FMI Air
Unfortunately, FMI Air stopped flying in August 2018. Please click on the logos below to find out more about airlines that fly similar routes to FMI Air:
---
FMI Air Fleet
The FMI Air fleet included two ATR 42/72 and three Bombardier CRJ-100 aircraft.
---
FMI Air Baggage
Carry-on Baggage
FMI Air passengers are permitted one piece of hang baggage with dimensions no greater than 55cm x 35cm x 25cm per person.
Checked Baggage
FMI Air allows two pieces of checked baggage up to 20kg total weight per ticketed audit or child passenger at no charge. If the two bags combined weight exceeds 20 kg, a charge of $3 per kg will be charged. Any additional bags are charged at a flat rate of USD 3 per kg.Infants have no baggage allowance. A fully collapsible stroller or pushchair and carry-cot or car seat may be checked in without charge. Bags over 32 kg will not be accepted.
---
FMI Air Destinations
Nay Pyi Taw International Airport
Sittwe Airport
Mandalay International Airport
Heho Airport which services Inle Lake
Nyaung U Airport which service Bagan
Thandwe Airport which serves Ngpali Beach
---
FMI Air Frequent Flyer Program
The FMI Air Loyalty Program awards redeemable points to our customers based on the amount of flights they book with FMI Air. Every dollar spent is worth 10 points. After signing up for the membership, accumulate points by buying tickets. Customers qualify for varying levels of membership that offer exclusive perks and benefits. Customers also have exclusive access to flash promotions announced via our website, social media and newsletters, as well as sponsored deals from our partners. There are two membership levels, Gold Club and Platinum Club.
---
FMI Air Hub Airport
Yangon International Airport
Yangon International Airport is the main airport serving Myanmar. It is located 15km from the centre of Yangon. It normally welcomes around five million passengers a year.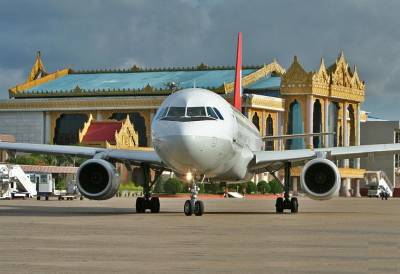 Photo credit: Sky89
---
FMI Air News
News
16th April 2018
Good news for FMI Air! Myanmar creates new destinations to attract tourists.
Myanmar's Hotels and Tourism Ministry is striving to encourage tourism by developing new avenues of tourism programs and creating new tourist destinations. The ministry has permitted about 1,628 hotels and guest houses with some 65,470 rooms to operate as of March 31, official Global New Light of Myanmar reported. As of December 2017, the ministry had also granted over 2,676 travel agencies, issuing 4,503 tour guide licenses, 3,449 regional tour guide licenses and 2,564 transport licenses. The ministry is also striving to promote eco-tourism, cultural tourism and community-based tourism in resource-rich areas, including historical landscapes, rivers, lakes, beaches, islands and forests.
Foreign tourists visit Myanmar mostly through three international airports, the border checkpoints as well as via luxury cruise liners. Therefore, Myanmar based airlines, such as FMI Air, can expect to reap the consequences of international passengers on flights.
1st March 2018
Myanmar: The Next Asian Dragon
Myanmar's Aviation Industry is at a serious juncture in its evolvement and no longer sustainable in its current and present shape.
Over the past five years Myanmar has approved the start-up of four new domestic airlines and revamp and rebrand of its national airline, " Myanmar National Airlines", to stimulate both domestic and international air travel. Myanmar is set to become one of Asia new rising stars over the next decade. This is further reflected in a commitment to building a safe , reliable and affordable modus of transportation for the people of Myanmar as well as support a rapidly growing international travel market – 6 Million in 2017 and which is expected to grow at 7-8% in 2018.
Over the past 5 years, Myanmar Aviation has successes witnessed the implementation of the following visible milestones:-
– EIS of 16 new ATR72-600s
– EIS of 4 new Boeing 737- 800s
– New Domestic / International Terminal at RGN to cater to 20M PAX a year
– Opening of NYT to serve the Capitol and seat of government
– Improved and upgraded terminal facilities at MDL.
– Runway/ Terminal improvements at HEH, AKY, SNW, MYT
– Improved awareness of safety compliance through international safety audits.
– Improving airport infrastructure will now be a priority to maintaining the growing and unstoppable appetite for domestic air travel and supporting domestic carriers improve aircraft utilization which remains low by industry standards.
As stated, the above reflects Myanmar's commitment to building and developing an " aviation infrastructure" to support Myanmar's vision of becoming the next Asian Dragon. However, to build a sustainable aviation industry, we must look outside and challenge and possibly disrupt the status quo.
It can no longer be just "business as usual".
Aviation has always played a key role in a country's economic development and has often been the catalyst for stimulating growth in developing new markets and business opportunities.
Myanmar Aviation is at the next stage of its evolution. With more Airports set to be privatized with improved operational capability, plus a more liberal attitude to upgrading existing domestic airports to "international" status, this will automatically stimulate new travel patterns between new city pairs for both business and leisure and at the same time provide greater access to foreign registered carriers to serve new city pairs.
The momentum has already started and Myanmar Aviation must be ready and fit for purpose to compete. Organic growth is no longer the driver in this next stage of the industry's evolution. Myanmar has the talent, but still requires the capability, International expertise and financial muscle to be relevant for 2020 and beyond.
The economic indicators and outlook are positive with GDP set to grow at an average of 7.5% per annum. The new foreign investment laws being implemented later this year reflects Myanmar's endorsement to globalization. Aviation plays a key catalyst in stimulating this change.
FMI Air intends to remain relevant and committed to building a sustainable aviation industry. We believe the next stage of growth is through consolidation and/ or JV acquisition. The success of our neighboring countries, i.e. Thailand has been through developing strategic and JV partnerships with airlines such as Scoot from Singapore, Air Asia from Malaysia and Lion Air from Indonesia. All three JVs are successful and continue to play a critical role in developing Thai Aviation and supporting the economic development of the country.
A leap of faith is required to play catch up and remain relevant and to ensure survival of the fittest. The winners will be those who embrace change and are early adopters in embracing change through consolidation, JV or acquisition. It's just a matter of time and finding the right partner to disrupt and take the industry to the next level of the evolutionary curve.
15th February 2018
Mandalay Int'l Airport received over 1 million passengers last year
More than a million local and foreign passengers entered Mandalay International Airport last year exceeding the number of 2016, according to sources from the Department of Civil Aviation.
In 2017, domestic airlines such as Myanmar National Airlines, Air Mandalay, Air KBZ, Asian Wings Airways, Myanmar Airways International, Yangon Airways, Shwe Myanmar Airlines (now Golden Myanmar Airlines), Mann Yadanabon Airlines and FMI Air conducted regular flights to Mandalay International Airport.
Those airlines transported 890,000 passengers to the airport last year while just over 70,000 entered the airport in 2016.
The number of international passengers arrived at the Mandalay airport last year was 430,000 bringing the total number to 1.29 million when that of domestic passengers is added.
"In 2017, 1.29 million of local and foreign air passengers entered the Mandalay airport, exceeding the number of 2016," said Ye Htut Aung, deputy director general of the Civil Aviation Department.
Myanmar's international airports in Yangon, Mandalay and Nay Pyi Taw were upgraded with the help of local and foreign private sectors.
Moreover, discussion is underway with the tender winning foreign company to build Hanthawady International Airport, which will be the biggest one in Myanmar, in Bago Region. The airport will accommodate 12 million passengers.
April 2017
FMI Air launches maiden flight to Kawthuoung
FMI Air launched its maiden flight to Kawthoung on March 29. It currently flies aslo to Mandalay, Heho, Nyaung-U, Nay Pyi Taw, Sittwe, Thandwe, Myitkyina and Yangon. FMI Air is currently offering one direct flight to and from Kawthoung. Passengers can now fly from Yangon to Kawthoung at 11.40am or to fly out from Kawthoung at 13.55pm four days a week on Tuesdays, Wednesdays, Fridays and Sundays. FMI Air launched its new flight route to Myitkyina yesterday. The airlines was inaugurated in September 2012 after its chairman Serge Pun realised that the travel time from Yangon to capital Nay Pyi Taw could be reduced if a commuter class route airline was introduced. It has been operating 20 flights a week.
March 2017
FMI Air currently operates 72 domestic flights a week. Over the next 3 months FMI Air will accept another 2 CRJ 200 aircraft and expand service to 163 weekly departures to 6 cities. In addition to scheduled flights FMI Air also provides bespoke charter services to over 20 airports within Myanmar. International service is expected to be launched this year, as well.
Myanmar is experiencing rapid economic growth as it opens up to direct foreign investment. Meaningful capital is flowing into the country, with the largest investors from Singapore, Hong Kong, Britain and China. Foreign direct investment is expected to rise substantially in 2015 above the US $4.11 billion figure for the previous year.*
According to the British Chamber of Commerce Myanmar, between 2012-13 UK goods exported to Myanmar increased 244%, and goods imported to the UK from Myanmar increased 48%. And just last November, Li Keqiang, Premier of the State Council of the People's Republic of China and his Myanmar counterparts signed deals amounting to US$7.8 billion in energy and infrastructure, agriculture, telecoms and finance.**
FMI Air CEO Bruce Nobles, stated in a recent interview, "As Myanmar opens up to foreign investment and tourism, the need for a world-class air service capability is readily apparent. With more and more foreign travelers coming here, and with their expectations shaped by traveling on the world's best airlines, it is imperative that our standards of service, safety and seamless operations meet those of best-in-class carriers."
He continues, "We sought partners who shared our unwavering focus on adhering to these high standards, which is why we chose Radixx International to manage our reservation and departure control systems. There is no margin for error in the execution of these critical functions, and Radixx was able to design customized solutions that help us ensure the reliability and on-time performance on which our customers depend."
"It is a privilege and an honor for Radixx International to be a part of a country's economic development and growth," says Ron Peri, CEO of the Orlando, FL-based company. "FMI Air will be a major driver in Myanmar's build-out and modernization. Contributing to FMI Air's operational and strategic success has been a rewarding experience. This success is directly benefiting the people of Myanmar, and we are eager to build upon the momentum."