FlyViking Tickets and Reservations with Alternative Airlines
Book Your FlyViking Flight Tickets and Find Some Amazing Deals
---
Update
Unfortunately, FlyViking is no longer in operation. The ariline ceased flying in January 2018. Please click on the logos below to find out more about airlines that fly similar routes to FlyViking:
---
About FlyViking
FlyViking was a Norwegian regional airline that was based in Tromsø. The airline was founded in 1989 as Loftofly and flew as Fly Taxi Nord until it was taken over in 2015 by Ola O.K Giæver J in 2015 and renamed as FlyViking. FlyViking operated regional flights in the northern parts of Norway, serving 4 destinations in total. FlyViking flew to Hammerfest, Bodo, Tromsø and Alta. In February 2017, the airline was awarded a new AOC from the NCAA, the new AOC allowing FlyViking to transport more than 20 passengers one each flight.
In 2016, FlyViking lost the competition for a five-year contract by the Norwegian Ministry of Transport and Communications to operate 13 of Norway's Public Service Obligation routes starting in April 2017. FlyViking's goal was to provide scheduled operations on regional airports in Norway that can only be handled by regional aircrafts (aircrafts up to approx. 78 seats). FlyViking's initial fleet was built on DHC8 which is a set of aircraft models very well adapted to regional airports runway lengths and topografi. FlyViking offered a FullFlex ticket which is fully refundable up to 1 hour prior departure. Unfortunately, in January 2017 FlyViking ceased operations and all of its flights were taken over by Widerøe, a competing Norwegian airline. Please see below for alternative airlines to FlyViking.
---
FlyViking Fleet
The FlyViking fleet included three Dash 8-100 & Q100 aircraft.
---
FlyViking Baggage
Carry-on Baggage
All Fly Viking passengers over the age of two years old were allowed to carry one piece of hand baggage with dimensions 55cm x 40cm x 23cm with a maximum weight of no more than 8kg. In addition to one piece of carry-on baggage passengers were allowed to bring one small purse or a small computer which (25cm x 33cm x 20cm).
Checked Baggage
Prepaid check baggage, with a maximum weight of 20 kg, could be purchased for a fee of NOK 120.
---
FlyViking Check-in Information
Online Check-in
As FlyViking has ceased operations, we are unable to provide up-to-date online check-in information for the airline.
Airport Check-in
FlyViking has now stopped flying, we are therefore unable to provide check-in information for the airline.
---
Economy Class
The airline offered economy seating. It only operated one type of aircraft, the Dash 8-100 & Q100, which had a maximum capacity of 39 passengers. Passengers could enjoy comfortable seating, with reclining padded seats and plenty of legroom.
Seats were in a 2-2 formation.
---
FlyViking Hub Airport
Tromsø Airport
FlyViking was based at Tromsø International Airport in the city of Langnes in Troms County, Norway. Other airlines that operate flights from Tromsø Airport include Lufthansa, Norwegian Air Shuttle, Scandinavian Airlines, Thomas Cook, Widerøe, Wizz Air and previously NextJet before its rebranding to Air Scandic.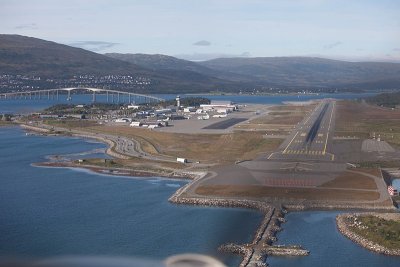 Photo credit: Jeroen Komen