Avianca Brasil Reservations with Alternative Airlines
Make a Booking and Find Some Amazing Deals
---
About
Avianca Brasil is a Brazilian airline which operates passengers services within Brazil and South America, on behalf of Avianca. The airline's legal name of the airline remains OceanAir, however, it has been rebranded as Avianca since it is owned by Synergy Group, which owns Avianca Holdings. Avianca Brasil's main bases are Brasilia and Sao Paulo-Guarulhos Airports. Avianca Brasil operates passenger services from 25 destinations.
Avianca also has other brands, such as Avianca Costa Rica (previously known as LACSA Airlines), Avianca Argentina and Aerogal Avianca Ecuador.
---
Destinations
Avianca Brasil flies to many destinations including: Alta Foresta, Aracaju, Belo Horizonte, Brasilia, Campo Grande, Chapeco, Cuiaba, Curitiba, Florianopolis, Fortaleza, Goiania, Illheus, Ji-Parana, Joao Pessoa, Maceio, Natal, Passo Fundo, Petrolina, Porto Alegre, Porto Velho, Salvador, Bogota and Mexico City.
---
Economy Class
Currently, Economy class is the only fare offered on Avianca Brasil flights. It offers passengers a simple yet enjoyable flying experience, with a good balance between amenities and price.
Economy Class Facilities
On board your flight you will receive complimentary food and drinks as part of the service (subject to the flight schedule and duration). In the seats, there are power and USB outlets and on-board headphones for passengers to use their personal devices. There is also a selection of on-board entertainment, with TV shows, music and audio, documentaries and newspapers. To watch the provided entertainment, passengers will either have a personal screen or a communal suspended screen (depending on the aircraft type).
Economy Class Seats
This airline provides comfortable seats no matter the aircraft flying on. Seats on this airline will have at least a working space of 73cm, with even more in the emergency exit rows.
Passengers are also able to purchase an extra seat to have extra room to enjoy your flight. Alternatively, passengers can upgrade to a 'Favourite Seat', which are located in the exit rows and emergency exits. These offer priority boarding and additional comforts on board the plane.
---
Frequent Flyer Programme
Programa Amigo to reward regular passengers with Avianca Brasil.
---
Avianca Brasil Baggage
Carry-on Baggage
One item with a maximum weight of 10kg and with maximum dimensions of 35xm x 55cm x 25cm and one small personal item.
Checked Baggage
The maximum weight for checked baggage is 23kg for a child or adult and 10kg for a child younger than 23 months.
---
Avianca Brasil Check-In Information
Airport Check-In
For domestic flights, passengers must check in 60 minutes before departure. For international flights, check-in must be done two hours before departure.
---
Avianca Brasil Sports Equipment
No need to leave your sports equipment behind when you travel with Avianca Brasil. Sporting* equipment must be booked and confirmed prior to the flight (min 2 hours prior) and fees apply. Sports equipment includes golfing equipment, skis, surfboard, skateboard, bicycle, diving, fishing, bowling, archery.
---

Avianca Brasil Hub Airport
São Paulo Guarulhos International Airport
São Paulo Guarulhos International Airport, known locally as Cumbica Airport, is one of the busiest airports in Latin America. Airlines that fly to and from the airport include Air France, Alitalia, American Airlines, British Airways, Lufthansa, Boliviana de Aviacion and Klm.
---
Route Map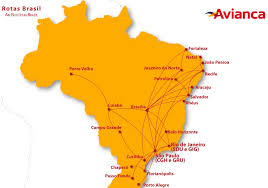 Popular Routes
Sao Paulo

Aracaju
Goiania

Sao Paulo
Natal

Sao Paulo
Sao Paulo

Passo Fundo
Sao Paulo

Petrolina
Porto Alegre

Sao Paulo
---
The Fleet
Airbus A318-100
Airbus A330-200F
Airbus A319-100
Airbus A320-200
---
Alternative Airlines to Avianca Brasil
There are many other airlines that fly similar routes to Avianca Brasil. These are Copa Airlines, GOL Airlines, LATAM Brasil Airlines and more.