Alma de Mexico A
lma de Mexico is a domestic Mexican low cost carrier based in Guadalajara.
---
Alma de Mexico flights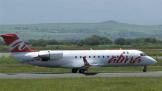 Alma de Mexico is a fast growing regional carrier currently serving 28 cities throughout Mexico.
Alma de Mexico stops flying.
Sadly Alma de Mexico has ceased trading, another casulty of these extremely difficult times for the aviation industry, even the low cost carriers suffer. Low prices do not mean full planes and Alma did not fill their planes and ran out of cash! We have left their list of destinations on this page to enably enquiries to be made to establish which alternative airlines operate on their old routes.