Unfortunately, Air Méditerranée has now ceased operations.
Please can we suggest looking at these alternative airlines that fly similar routes to Air Méditerranée, by clicking on their logos.
If you are looking for flights with the Greek airline, Air Mediterranean, click the link.
---
About Air Méditerranée
Air Méditerranée was a French airline which operated chartered passenger and cargo flights from its hub at Paris Charles de Gaulle Airport.
Air Méditerranée flew to many destinations including Luxor, Varna, Bordeaux, Lyon, Marseille, Montpellier, Nantes, Ibiza, Jerez de la Frontera, Majorca, Malaga and Seville. Air Méditerranée was headquartered at Le Fauga, which is close to Toulouse.
The airline was founded and began flying operations in 1997, but unfortunately ceased operations in 2016 after they experienced financial difficulties.
---
Route Map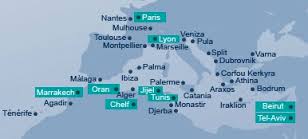 ---

Destinations
Varna,
Bulgaria
Luxor,
Egypt
Bordeaux,
France
Lyon,
France
Marseille,
France
Montpellier,
France
Nantes,
France
Ibiza,
Spain
Jerez de la Frontera,
Spain
Majorca,
Spain
Málaga,
Spain
Seville,
Spain
---

Air Méditerranée Hub Airport
Chales de Gaulle Airport
Charles de Gaulle Airport is France's largest airport and is the hub airport for Air France and XL Airways France. It has four runaways and can handle nearly 65 million passengers.
Other airlines which fly to and from Charles de Gaulle include Adria Airways, Aegean Airlines, ASL Airlines France, Aer Lingus, Air China, Air Europa, Joon, TAM Airlines, Thai Airways, Tunisair, Turkish Airlines, Turkmenistan Airlines, United Airlines, Ukraine International Airlines and many others.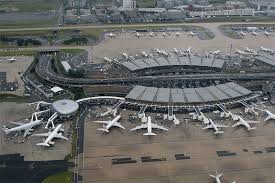 ---

Fleet
Airbus A321-100
Airbus A321-200
Boeing 737-500
---