Search & Buy LC Perú Flights
Let's fly!

Select your payment method to view total prices including any payment fees:

Buy
LC Perú

Flights

Search and Buy LC Perú Flights Online with Alternative Airlines
Make a LC Perú reservation and find some amazing deals with discounted LC Perú tickets at Alternative Airlines.
Book LC Perú Flights with Alternative Airlines
---
About LC Perú
LC Perú is an airline based in Lima, Perú.
The airline flies to many destinations including Andahuaylas, Ayacucho, Cajamarca, Huanuco, Huarez, Iquitos, Jauja, Leticia, Lima and Tingo Maria.
LC Perú operates scheduled domestic flights and is based is Jorge Chávez International Airport.
Founded in 1993 with the slogan 'Our Airline', the Peruvian carrier has grown in size to now serve 16 destinations in Peru. The airline plans to expand its international route network to Ecuador and Bolivia in early 2016, followed by Miami late in 2016 and intends to add 3 Boeing 737-500 aircraft for the South American services and 2 Boeing 737-900ER aircraft for the United States service.
LC Perú's fleet is made up of 13 aircraft including a Dash 8-20, 5 x Boeing 737-500, 2 x Bombardier Q400 and it is also believed that they have an additional 5 Boeing 737 aircraft on order to add to their fleet. LC Perú connects travellers from all over the world to the amazing sites Peru has to offer.
Whether travellers are there to see the 15th Century Inca Citadel - Machu Picchu or visiting to see the unexplored destinations like Nazca Lines. Daily flights with LC Perú to Pisco connect the Nazca Lines from Lima offering simplexity and ease for all travellers.
In 2017, LC Peru acquired 6 Boeing 737-500 with capacity for 120 passengers and 2 Bombardier Dash 8- Q400 aircraft with capacity for 76 passengers.
---
News
15th May 2018
LC Perú plans a huge promotion
To celebrate a quater of a decade in the industry, LC Peru are giving away tickets to 12 destinations for anyone that downloads their new mobile app.The challenge is to download the application between Tuesday 15, Wednesday 16 and Thursday 17 May until 22: 30h. Once the download is made, on Thursday at 23:00 , the first 500 people who enter the application and book a flight will win a ticket to any destination of LC Peru. To make the reservation, it will only be necessary to reach the step where the reservation code is generated, it is not necessary to make the purchase . Winners will receive a notification in the application or a message via email indicating how to redeem their prize.
6th April 2018
Copa Airlines, LC Perú and Peruvian undergo a code-share agreement
Copa Airlines airline will operate under the code-sharing system with the national carrier LC Peru and Peruvian airlines starting from June of this year, said José Agüero, general manager of the Panamanian company.An agreement was signed at the beginning of last year in order to boost the traffic of their flight to Chiclayo and connect Peruvians with more remote regions. In this regard, the executive said that this initiative is in the implementation phase. So far, they have moved a little faster with LC Peru, with those already in the testing phase.
"It is a process of some complexity, with an 'upgrade' in the system of them, so that everything can be interconnected and so travelers can buy their tickets at once," said Aguero, in statements to the newspaper El Comercio . In a second phase, they will work with travel agencies. Copa is determined to generate more traffic towards its Chiclayo-Panama route and connect it with the other destinations that cover the LC Peru and Peruvian nationals in the country, through a single purchase.
For the time being, Copa Airlines will focus on consolidating the routes where it is operating. Agüero said that the possibility of incorporating new routes is not on the radar, but he does consider evaluating a new frequency from Chiclayo to Panama. The changes have already attracted travelers directly to the northern cities. According to Agüero, many of the tourists who visit Peru for the second time travel to the north of the country. At the end of 2018, Copa Airlines aims to transport more than 500,00 passengers.
21st February 2018
LC Peru plan flights to Chachapoyas
LC Peru will fly to Chahcahpoyas from April this year, as well as readying its digital conversion plan. 2017 was a fantastic year for the airline. It registered a growth of 25.88% in the aeronautical sector of Peru, becoming the airline with the highest growth in the entire market, in terms of passengers transported. According to the head of e-commerce of LC Peru, the airline airms to continue growing in 2018 by opening up new destinations, as well as continuing of their most successful campaigns and commencing the digital transformation of the company.
"As a company we have had (in 2017), an interesting market share, with almost 10% of the market and placing us in fourth place," he said. During 2017, LC Peru reported that 30% of tickets sold, were flights booked through their digital platforms, such as their website, thus exceeding the 26% registered in 2016. "For this 2018 we have different strategies to continue growing, last year we focused on putting new frequencies and closing 2017 we had a new frequency to Chiclayo, to have three and this year we have started offering flights to Arequipa in the morning," he said. .
However, he said that the biggest novelty in new routes will be the flight to Chachapoyas (Amazonas), which could begin in April after the end of the rainy season in the area. The town, named after the remarkable tribe will be a very successful route for the airline. In terms of e-commerce, LC Peru aims to increase the percentage of sales of tickets through the digital channel to 35% or 40%.
"But we are going to focus on taking care of our current client and for that we have different strategies, the first one, which we are going to announce very soon, is that in March we will be launching our mobile application, which will help us get closer to the customer and to a segment that we are aiming, which is 18 to 25 years and we want to build loyalty, "he told Gestion.pe.
"The customer of LC Peru is a consumer, as is the Peruvian market, which wants very fast answers and contacts us through different channels, whether it is Facebook, call center or Twitter, so with the mobile application, better communication through networks social and a better web page, it is much easier to avoid mistakes of purchase on the Internet, we will make a simple communication, "he said.
He said that the call center channel is still the one that customers use most to make their claims or inquiries but the overall vision of the company is that this becomes channeled mainly into the website and with faster responses in the upcoming months.
November 2017
LC Peru announce it was looking at starting operations on the Chiclao - Jaen route
In November 2017, LC Peru announced it was expressing an interest in starting operations on the Chiclayo - Jaen route. The Minister of Transport and Communications, Bruno Giuffra, informed today that the airline Viva Air Peru is interested in starting interregional flights from 2018, for which it will acquire two more aircraft before the end of the year. With this, both companies join Latam Airlines in the coverage of direct interregional flights that avoid going through Lima. Last July, Latam began operating on the Cusco-Trujillo route and next year it will unite the cities of Cusco and Iquitos. The holder of the MTC stressed that his portfolio is driving the generation of interregional flights in order to decongest the Jorge Chávez International Airport.
October 2017
LC Peru announce it will increase fleet and routes next year
LC Peru will assimilate two Boeing 737 aircraft and one Q 400 Dash making nine in total. LC Peru in 2018 will fly to Chachapoyas, Tarapoto and Tumbes. The airline LC Peru - fourth in the domestic market with 1.1 million passengers transported between January and September - will increase its fleet next year, with two Boeing 737 aircraft for 146 passengers each, and a Dash Q 400 ship for 76 passengers.
In addition, the airline is increasing a second frequency to its operation to Arequipa and Pucallpa, a third frequency to Chiclayo, and a sixth to Cusco, permanently. Carmona projects that consolidated 2017 will be closed in fourth place in the ranking of airlines in the local market, with 11% of the market share and flying to 12 destinations in the interior of the country. "We have achieved an important evolution during the last three years, going from 2.1% of the market share and 174 thousand passengers transported in 2014, to 11% of the cake and 1.1 million passengers transported between January and September.
6th October 2017
Peruvian Airlines and LC Peru team up with Copa Airlines
Codeshare agreement to allow Copa passengers to connect with LC Peru and Peruvian Copa Airlines has signed a codeshare agreement with Peruvian Airlines and LC Peru to offer lower fares and better domestic connections for international flights. The Panamanian airline offers international flights to Lima and Chiclayo via their hub in Panama City, where it provides connections with major airports in North America and Europe.
Copa expects to bring more customers into their direct flights to Chiclayo with the new agreement, which is the first to focus on secondary cities in Peru. The initiative will allow the airline to offer better domestic connections and expand to other Peruvian cities in the near future. The airline is doubling down efforts to avoid the fate of their direct flight to Iquitos—which never gained enough traction to become economically viable and was eventually suspended. Codeshare flights under this agreement will be offered by Copa and only available for purchase through their commercial channels.
"Twenty years ago, our services were seen as a luxury for a privileged few. Nowadays, commercial flights are a mass transportation industry that requires an evermore efficient and customized service," Copa Airlines CEO Pedro Hebron told El Comercio, pointing out the pressure Latin American airlines are experiencing to step up their competitiveness, both in service and airfares. The international flight market in Peru is growing; according to a report by the General Directorate of Civil Aeronautics (DGAC), the number of international passengers has increased 13.6% between January and July compared to the same period in 2016, for a total of 5,830,185 passengers going in or out of the country.
In the same period, Peruvian Airlines and LC Peru transported 23.9% of all domestic passengers while Copa flew 9.4% of all international passengers. This alliance could help the three parties increase their slice of the cake in an emerging market dominated by LAN Peru and Taca Peru, which provided their services to 69.4% of domestic and 40.2% of all international passengers over the same period.
April 2017
LC Perú annonuced that it was normalising its operations to Jauja and programs additional flights to Chiclayo
LC Perú normalizes its operations to Jauja and programs additional flights to Chiclayo. After the reopening of the Francisco Carle de Jauja Airport (Junín), which was closed since Tuesday by the fire of an aircraft, the airline LC Perú reported that from today all flights to and from said city will be operated normally. Likewise, LC Perú announced that it has scheduled additional flights to the city of Chiclayo on 01 and 02 April, in support of our compatriots who suffer the onslaught of nature.
August 2016
According to El Comercio the Peruvian Airline is looking to offer flights to Ecuador, Bolivia and the United States
The Peruvian airline LC Peru will now begin to offer flights to Ecuador, Bolivia and the United States. The airline will begin flights to Ecuador and Bolivia in the first quarter of 2016 and will start with the United States in the last quarter of 201. LC Perú is striving to send 1.5 million passengers on these flights over the course of 2016. LC Peru will also use Chicalyo as the hub for visitors to make their way to final destinations such as Tarapoto, Iquitos and Chachapoyas starting in October. The only Q400 customer in the region is LC Perú, which operates two of the 75- to 90-seat turboprop.
November 2016
LC Perú announced that it will not use a pricing strategy to face the entry of low-cost airlines in the country in 2017
LC Peru offers trunk routes within the country such as Cusco, Arequipa, Trujillo, Chiclayo and Cajamarca. In December, LC Perú will start flying to the city of Pucallpa with a daily flight. LC Perú is now ranked the fourth biggest airline in Peru, replacing Star Peru as fourth largest in Peru. LC Perú announced that the Peruvian domestic and regional operator is set to transition into a Low-Cost Carrier (LCC) given the impending launch of VivaAirPerú. LC Perú said it would aim to defend the 10% Peruvian marketshare it has won thus far by reducing its cost structures.
Among the steps to be taken over the coming quarter include fleet homogenization wherein its two remaining Dash 8-200s will be retired leaving four B737-500s and two Dash 8-400s. New and additional services to smaller centres will also be opened up, highlighting cities such as Pucallpa, Ayacucho, Cuzco, and Chachapoyas. For its part, VivaAirPeru is an Irelandia Aviation-backed budget carrier looking to launch in May with flights from Lima Int'l to each of Piura, Iquitos, Cuzco, Trujillo Carlos Martinez de Pinillos, Tarapoto, Chiclayo, Arequipa, and Tacna.
In 2015, LC Perú acquired 6 Boeing 737-500 with capacity for 120 passengers and 2 Bombardier Dash 8-Q400 aircraft with capacity for 76 passengers. LC Perú has opened the following routes: Cusco, Arequipa, Chiclayo and Trujillo. Cajamarca passes of Dash Q-202 fleet to Boeing 737-500. Huánuco, and Jauja passes of fleet Dash Q-202 to Dash Q-400.
Baggage
All passengers that travel with LC Perú are entitled to bring into the airplane one piece of hand luggage and one personal item. LC Perú has different hand luggage restrictions depending on the aircraft. For example,on LC Perú Dash 5 KG (11 pounds)of hand luggage is allowed and on Boeing 9 KG (20 pounds).On Hold luggage standard weight of 15kg on Dash aircraft applies and maximum allowed weight is 23 kg for Boeing.

Passengers can also earn miles through LC Perú's Frequent Flyer Program named Destino, every time they fly with LC Perú.Also the airline has safety excellence with two certifications of IOSA (IATA Operational Safety Audit) and BARS (Basic Aviation Risk Standard). LC Perú offers Web Check-In.

In 2015,LC Perú

acquired 6 Boeing 737-500, with capacity for 120 passengers and 2 Bombardier Dash 8 - Q400, aircraft with capacity for 76 passengers,. LCPerú vision is to become one of the best airlines in Peru with the most versatile and efficient fleet of the Peruvian market also with the best connectivity.LC Perú has increased its route network with new destinations including Cusco, Arequipa, Chiclayo, Trujillo.
---
Route Map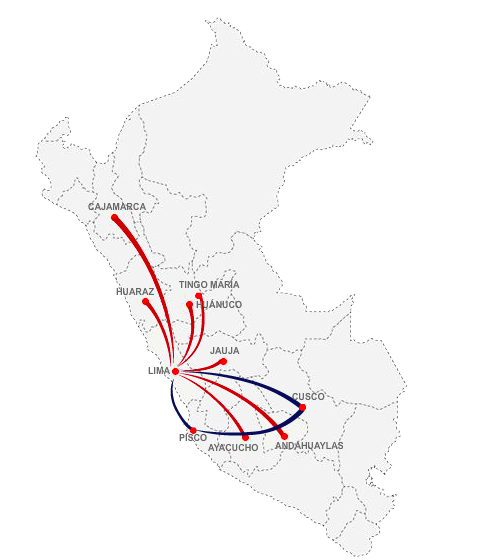 Popular Routes
Lima

Cajamarca
Lima

Cusco
Lima

Pisco
Lima

Ayacucho
Lima

Jauja
Lima

Tingo Maria

---
The Fleet
Dash 8-202
Boeing 737-300
Bombardier Q400
Boeing 737-900
---
Hub Airport
Jorge Chávez International Airport
Jorge Chávez International Airport known as Aeropuerto Internacional Jorge Chávez in Spanish, is Peru's main international and domestic airport. It is located in Callao, 11 kilometers from the Historic Centre of Lima and 17 km from Miraflores. Callao is the port city now fully integrated with Lima, the nation's capital. In 2008, the airport handled 8,288,506 passengers and 98,733 aircraft movements.Airlines that fly from and to Jorge Chávez International Airport include Avianca, KLM, Iberia and TAM airlines.

Alternatie Airlines
---
---
Search and Buy Flights with Lc Perú
Make a LC Perú reservation and find some amazing deals with discounted LC Perú tickets at Alternative Airlines. LC Perú flies to many destinations worldwide, offering a cost effective and safe service to all its passengers. Let Alternative Airlines help find you cheap LC Perú tickets and make international and domestic flight reservations on LC Perú today.
Browse the most popular LC Perú flight routes to cities worldwide. Alternative Airlines can help you make reservations on LC Perú for international flights to lots of destinations. Use the following list of routes to help you plan your next flight. Book LC Perú flights on Alternative Airlines to save big! Alternative Airlines is an online travel agency, specialising in booking lesser known airlines and remote destinations.
---
About Alternative Airlines
Alternative Airlines is an online flight search complete with customer service specialising in booking flights on lesser known airlines and to remote destinations. We offer you a wider choice of airlines supported by a team of customer service and travel specialists for help and advice on your travel plans. We specialise in finding the best available fares on the widest range of airlines and making them available to you online, with prices in the currency of your choice.
Alternative Airlines handles all your travel arrangements and payments, complete with ticketed confirmation. We do not direct you to other websites or service providers. We help you through the process. This is what makes us Alternative Airlines.Check out our reviews: Alternative Airlines - Feefo Reviews
Browse for flights, find some amazing deals, make a reservation and pay in the currency of your choice today with Alternative Airlines. Let Alternative Airlines help find you the best prices and make international and domestic flight reservations with us today.
Join the Alternative Airlines Members Club and get £100.00 back on your 5th booking with Alternative Airlines. You will have insight to many benefits and exclusive deals on over 650 airlines. Click on the Members section on the Alternative Airlines website for more information and join today. We are open every day from 8am until 8pm (UK local time).
---
LC Perú, the independent airline based in Lima's main international airport has, until 2015, only flown domestic services within Peru. Previously called LC Busre, the airline was launched in 1993 and changed its name to LC Perú in 2011. The airline is 50% owned by the Universidad San Martín de Porres of Lima. Early in 2015 LC Perú announced that it will begin international flights in March 2015 with a 3x weekly service between Iquitos (Peru) to Leticia (Colombia) using one of their fleet of 6 Dash 8-200 aircraft. In a separate report LC Perú has also been recorded as looking to take delivery of two Boeing 737-500 jet before the end of 2015 in addition to its current fleet of matched six Dash 8-200s turboprop aircraft. In 2014 LC Perú flew a programme of scheuled services covering 7 domestic destinations with 70 weekly frequencies, the network includes: • Andahuaylas - Andahuaylas Airport • Ayacucho - Coronel FAP Alfredo Mendívil Duarte Airport • Cajamarca - Mayor General FAP Armando Revoredo Iglesias Airport • Cuzco - Alejandro Velasco Astete International Airport • Huánuco - Alférez FAP David Figueroa Fernandini Airport • Huaraz - Comandante FAP Germán Arias Graziani Airport • Jauja - Francisco Carle Airport • Lima - Jorge Chávez International Airport
READ MORE ABOUT LC PERú
How to pay
You can pay for your flights with LC Perú in the currency and payment method of your choice when booking through Alternative Airlines.
We accept PayPal making flight purchases with LC Perú easy and more secure for customers. PayPal is one of the leading forms of online payment, with more than 169 million accounts worldwide.