Search & Buy Dniproavia Flights
Let's fly!

Select your payment method to view total prices including any payment fees:
Airlines will always try to sit children with their parents (subject to check-in)
Some airlines will allow travel for unaccompanied minors. Please email us to check.
The fare is based on the child's age on the date of travel.
More detailed information can be found here Traveling with children
Most airlines will let infants travel with their parent(s) for free. However some airlines will charge up to 10% of the adult ticket price. Click on 'Price Breakdown' to find out more.
If you are pregnant, but due before the flight departure date, please contact us once your baby is born and has a name. We can then add him/her to your ticket.
Infants will not be given a seat. The airlines expect parents to travel with them on their lap.
Airlines regard infants as being under 24 months old.
The fare is based on the child's age on the date of travel.
More detailed information can be found here Traveling with children

Buy
Dniproavia

Flights

Dniproavia Reservations with Alternative Airlines
Flights to and from Ukraine
Make a Dniproavia Booking and Find Some Amazing Deals
---
About Dniproavia
Dniproavia was a Ukranian airline that was based at Dnipro International Airport, Ukraine. Dniproavia flew to many destinations including Vienna, Minsk, Sofia, Istanbul, Dnipropetrovsk, Ivano-Frankivsk, Kiev, Lviv and Odessa. Domestic scheduled services fly to the capital Kiev 3 x each weekday and twice at weekends. International services were also operated to Vienna, Moscow and Istanbul.
Dniproavia also operated direct scheduled flights Odessa, Burgas and Odessa. Dniproavia was established in 1933 as Dnipropetrovsk Integrated Air Squad, forming part of then Soviet national airline Aeroflot. On 22 June 1996, the airline became a joint stock company in a state-owned entity which included Dnipropetrovsk International Airport, thus giving the airline full control over its home base. Dniproavia announced a loss of just over 6 million USD for 2006, despite increasing revenues by 17 percent and carrying 54 percent more passengers. It blamed the loss on the suspension of its flights to Germany, due to a dispute with the German authorities over Lufthansa's landing rights at Dnipropetrovsk Airport. In October 2009, the airline was sold to Galtera investment group, however, it is now controlled by Ukrainian-Israeli entrepreneur Ihor Kolomoyskyi's Privat Group.
As of 25 March 2012, as a result of the Anti-monopoly committee of Ukraine's decision to allow the consolidation of the Ukrainian Aviation Group's physical and operational assets, Dniproavia started being operated by its parent company, Aerosvit. By mid of June 2012, the airline introduced their first Embraer 190. All Embraer 190 were ordered and operated by Dniproavia, but they were operated for the airline-partner AeroSvit. On the 9 January 2013 the company ceased all operations. Most of the airlines' planes were transferred to Windrose Airlines.
---
Alternative Airlines to Dniproavia
Please click on the logos below to find out more about airlines that fly similar routes to Dniproavia:
---
Dniproavia Fleet
During the time of its operation, the Dniproavia fleet included two Embraer ERJ-145 aircraft. These planes were later transferred to Windrose Airline, whose current fleet includes one Airbus A320-200, four AirbusA321-200 and seven Embraer 145 aircraft.
---
Dniproavia Frequent Flyer
Dniroavia operates a successful Bonus Club to reward frequent flyers with the airline. This is accessible via mobile devices and allows passengers to be rewarded with the airline for their frequent travel.
---
Dniproavia Route Map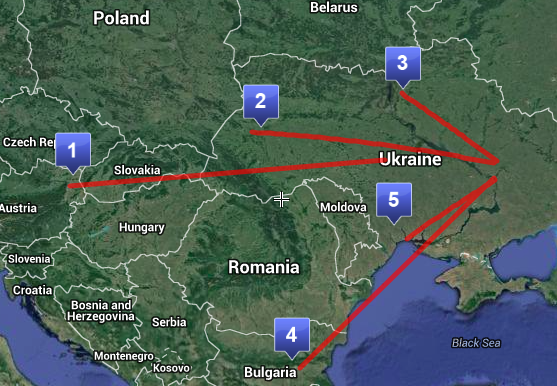 ---
Dniproavia Popular Routes
Dnepropetrovsk

Instanbul
Kiev

Dnepropetrovsk
Dnepropetrovsk

Lviv
Dnepropetrovsk

Odessa
Dnepropetrovsk

Wien
---
Dniproavia Hub Airport
Dnipropetrovsk International Airport International Airport
Dniproavia used to be based at Dnipropetrovsk International Airport, which is an airport that serves Dnipro in Ukraine. The airport has one runway and is served by airlines such as Austrian Airlines, Ellinair, Ukraine International Airlines and Windrose Airlines (which has taken over from Dniproavia).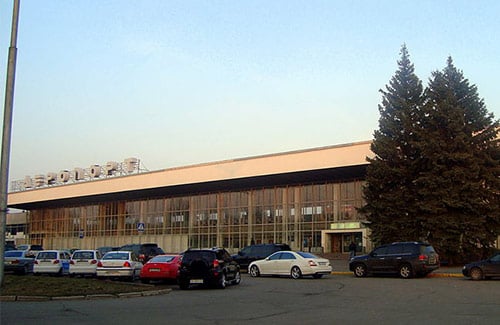 Photo credit: Gnesener1900
---
Dniproavia News
November 2017
Dniproavia no longer in service
The airline that used to be the largest Embraer ERJ145 operator in the CIS has been expired according to State Aviation Administration reports. Dniproavia has transferred all of its aircraft carries to Windrose Airlines, another Ukrainian carrier. Windrose's fleet currently includes seven Ukrainian-registered 50-seat Embraer ERJ145 jets manufactured in 1998-2003 (UR-DNG, -DNB, -DNF, -DNR, -DNT, and -DPB), all of them previously operated by Dniproavia. An Embraer source confirmed for Russian Aviation Insider that Dniproavia no longer have any Brazilian-manufactured airliners.
The move to transfer the aircraft may have had to do with the recent prisitisation of Dniproavia. The carrier is now involved in a series of litigations in Ukraine. It is quite possible that the owner of both airlines, Ukrainian businessman Ihor Kolomoysky, is thus trying to secure the airliners so as not to lose them.
March 2017
Court decides to return Dniproavia airline to state ownership
The economic court on the recommendation of the Dnipropetrovsk regional prosecutor's office on March 30 decided to return 94.5 percent of the shares in PJSC Dniproavia (Dnipro) to state ownership, Ukrainian Prosecutor General Yuriy Lutsenko has stated.
"Borys Filatov seems to have saved a lot. There won't be any need to build a new airport," he wrote on his Facebook page.
As reported, Dnipro Mayor Borys Filatov appealed to the state leadership with the request to assist in the de-monopolization of the local airport.
"There is no airport in the city with several millions of residents. It belongs to a private owner, who abuses a monopoly position. This causes absolutely clear irritation among the citizens. I would ask the government to help the city in resolving the issue with the airport," he said at a meeting of the Regional Development Council in Kyiv.
Earlier, in February, Minister of Infrastructure Volodymyr Omelyan drew attention to restriction of the market for airlines on the part of Dnipro International Airport.
"All the airports show growth, except for one in the city of Dnipro, where they decided to "play" a monopoly and limit the market," he noted.
October 2016
Dniproavia has cancelled all flights to Turkey for the duration of the upcoming winter season following a dispute between the Turkish and Ukrainian authorities over Turkish Airlines' access to Dnipro.
The suspension of Dniproavia's daily Dnipro-Istanbul Atatürk flights will run from October 30, 2016 through to March 25, 2017. Windrose Airlines (7W, Kiev Boryspil) has entered into a partnership agreement with fellow Ukrainian operator Dniproavia. In March 2017, a court decided to return Dniproavia airline to state ownership.
The economic court on the recommendation of the Dnipropetrovsk regional prosecutor's office on March 30 decided to return 94.5 percent of the shares in PJSC Dniproavia (Dnipro) to state ownership
September 2016
Dniproavia announced it will begin regular direct flights between the Georgian capital Tbilisi and Ukraine's principal Black Sea port city Odessa on 6 October.
According to Dniporavia, the autumn and winter schedule will include a two and a half hour weekly flight carried out every Thursday, serviced by a Brazilian-made twin-engine Embraer-145 jet. The move to offer direct flights between the two cities comes at a time when Georgia's former President, now Governor of Odessa, Mikheil Saakashvili, has frequently stated that he wanted to increase the number of transportation links between Odessa to Georgia.