Air Incheon FlightsReservations with Alternative Airlines
Make an Air Incheon Booking and Find Some Amazing Deals
---
About Air Incheon
Air Incheon is a South Korean airline which offers scheduled cargo services. Air Incheon Airlines is based in Seoul Incheon International Airport, and flies to 4 countries including South Korea, China, Japan and Russia.
---
Alternative Airlines to Air Incheon
Please click on the logos below to find out more about airlines that fly similar routes to Air Incheon:
---
Class Fares
Economy Class
The airline offers standard (economy) seating. Seats are comfortable, designed to offer a balance between comfort and value for money.
---

Air Incheon Hub Airport
Incheon International Airport, or Seoul Incheon International Airport is South Korea's largest airport, and one of the largest and busiest in the world. It opened in 2001 to replace the older Gimpo International Airport.
The airport features a golf course, ice skating rink, indoor gardens and casino. It currently has 3 runways and 2 terminals. In 2017, Incheon International Airport served over 62 million passengers, and 2.9 million tonnes of cargo.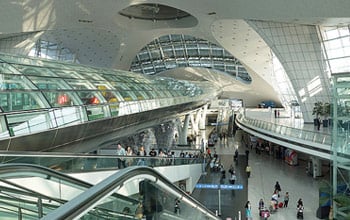 Photo Accreditiaion: Ken Eckert
---
Air Incheon Fleet
B767-300BCF
B737-800BDSF
B737-400SF
---
Air Incheon Destinations
China
Jinan
Qingdao
Yantai
Japan
Tokyo
Russia
Yuzhno-Sakhalinsk
South Korea
Seoul
Vietnam
Hanoi
---