Search & Buy Bulgaria Air Flights
Airlines will always try to sit children with their parents (subject to check-in)
Some airlines will allow travel for unaccompanied minors. Please email us to check.
The fare is based on the child's age on the date of travel.
More detailed information can be found here Traveling with children
Most airlines will let infants travel with their parent(s) for free. However some airlines will charge up to 10% of the adult ticket price. Click on 'Price Breakdown' to find out more.
If you are pregnant, but due before the flight departure date, please contact us once your baby is born and has a name. We can then add him/her to your ticket.
Infants will not be given a seat. The airlines expect parents to travel with them on their lap.
Airlines regard infants as being under 24 months old.
The fare is based on the child's age on the date of travel.
More detailed information can be found here Traveling with children
Buy
Bulgaria Air

Flights
Bulgaria Air Reservations with Alternative Airlines
Make a Bulgaria Air Booking and Find Some Amazing Deals
---
About Bulgaria Air
Bulgaria Air is the national carrier of Bulgaria whose head office and main hub is located at Sofia Airport in Sofia.
Bulgaria Air operates regular flights from Sofia, Varna and Bourgas to 28 major destinations in Europe and the Middle East. Bulgaria Air flies to London, Amsterdam, Brussels, Dusseldorf, Frankfurt, Paris, Zurich, Milan, Madrid, Barcelona, Palma de Mallorca, Rome, Varna, Bourgas, Sofia, Athens, Prague, Vienna, Berlin, Warsaw, Moscow, Larnaca, Beirut and Tel Aviv.
Bulgaria Air has codeshare agreements with many airlines including Aeroflot, Air Berlin, Air France, Air Serbia, Alitalia, Czech Airlines, Iberia, KLM, LOT Polish Airlines and TAROM. In addition, Bulgaria Air has special interline agreements with American Airlines, Brussels Airlines, Emirates, Finnair, Jet Airways, TAM Airlines and Virgin Atlantic.
In 2008, Bulgaria Air became a full member of the International Air Transport Association (IATA).
Bulgaria Air's fleet consists of Airbus A319s, Airbus A320s, AVRO RJ70, BAe 146-200 and Embraer 190.
Bulgaria Air has a private business flight programme that offers service for CIP clients with Avro RJ70 Business Jet, that can transport 26 passengers in seats with armchairs, couches, dining tables and multiple LCD displays.
---
Bulgaria Air Frequent Flyer Program
Bulgaria Air offers a frequent flyer program called FLY MORE which rewards regular passengers.
The FLY MORE program offers thee levels of membership: Basic Level, Silver Card and Gold Card.
---
Book Bulgaria Air Flights in English
Book Bulgaria Air flights in English when you choose to book with Alternative Airlines. We provide better options when searching and booking flight departures and prices, allowing you peace of mind that Alternative Airlines is the best company for its choice and trusting nature.
---
Pay Bulgaria Air flights with PayPal
Buy Bulgaria Air flights with PayPal when booking through Alternative Airlines. Simple and convenient way to pay for Bulgaria Air flights by just using your PayPal account.
---
Bulgaria Air Baggage
Bulgaria Air offers its passengers flying in business class 2 pieces of checked in baggage of up to 23kg and 158 cm each one and 1 piece when travelling in Economy Class.
Cabin baggage is restricted to 1 piece of baggage of up to 10 kg with maximum dimensions of 55 x 40 x 20cm.
---
Class Information
Unfortunately, as BVI is currently not operating flights, there is no class information available.Check back soon for information when this airline has restarted.
---
Economy Class
Economy Class is one of two cabins that the airline offers.
Economy Class Facilities
Economy Class passengers are offered food and drink during their flight. Passengers can choose from an alcoholic, non-alcoholic, hot and cold drinks, as well as a selection of sandwiches and a chocolate dessert. Those looking to pre-order a special meal can contact Alternative Airlines or the airline beforehand to see which sandwiches it offers.
There is an in-flight magazine which can be read for passengers' entertainment.
Economy Class Seats
Seats are set out in either a 2 x 2 or 3 x 3 configuration. Seats are designed to give ample width and legroom.
---
Business Class
Business Class is the airline's most premium cabin class with its best level of service.
Business Class Facilities
Each passenger is given priority baggage drop, check-in and boarding.
The Business Class service is carried out by a member of the cabin crew that exclusively serves Business Class passengers.
Onboard, passengers can enjoy a welcome drink as soon as they're seated. Hot meals are served once the plane has taken off and passengers can order a range of drinks from the airline's extensive drinks menu.
Passengers are given a selection of in-flight magazines to choose from for entertainment.
What are Avianca Business Class Seats Like?
Business Class seats are set out in a 2 x 2 formation. Seats give greater width and pitch when compared to Economy Class, designed for a more relaxed journey.
---
Bulgaria Air Route Map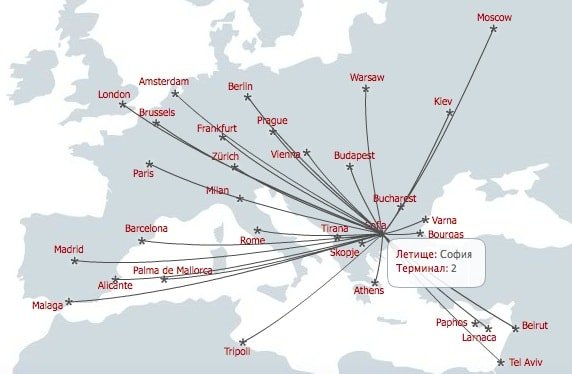 ---
Bulgaria Air Popular Routes
Sofia

Dusseldorf
Paris

Sofia
Bourgas

Moscow
Sofia

Beirut
Tel Aviv

Sofia
Berlin

Bourgas

---
Bulgaria Air Fleet
Boeing 737-300
Embraer E190
Bulgaria Air Hub Airport
Sofia Airport
Sofia Vrazhdebna Airport is the main airport of Bulgaria and also the hub of Bulgaria Air. BH Air, Bulgarian Air Charter and Wizz Air also use Sofia Airport as their hub airports too. The airport has one runaway and has a passenger capacity of 4 million passengers every year.
Other airlines which fly to and from Sofia Airport include Aegean Airlines, British Airways, Austrian Airlines, easyJet, Lufthansa, Qatar Airways, Swiss International Airlines, TAROM, Windrose Airlines, Vueling and Wizz Air.
---
Economy Class
Bulgaria Air only has two types of class; economy and business. Passengers in economy still receive services of a full-service airline, including food and drink. Food will usually consist of a sandwich and a dessert, and there will be a wide choice of drinks from soft drinks, alcoholic drinks, tea and coffee.
Economy Class Facilities
Food will usually consist of a sandwich and a dessert, and there will be a wide choice of drinks from soft drinks, alcoholic drinks, tea and coffee. In-flight entertainment will also be provided, with items such as in-flight magazines available.
---
Business Class
Business class is the premium alternative to economy class. When flying with this airline, passengers in business class will receive increased amounts of free baggage allowance, both checked and carry-on.
Business Class Facilities
Passengers flying in business class will enjoy a premium dining experience. Passengers receive a welcome drink, hot meal, with further complimentary drinks (alcoholic, hot and soft) throughout the flight. Each passenger will have their own dedicated member of staff. Passengers in business class can have access to the business lounges at the airport.
---
Alternative Airlines to Bulgaria Air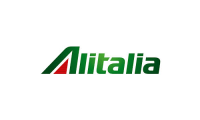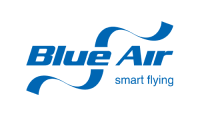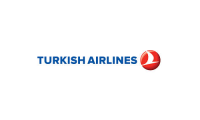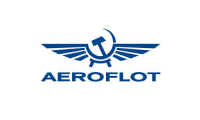 ---
Bulgaria Air News
30th April 2018
Bulgarian Air Force to hold practice flights from May 3 to 5 ahead of Armed Forces Day
If in the next few days you hear Bulgarian Air Force fighter jets roaring over Sofia and see military vehicles heading on major routes towards the city, it is nothing much to worry about – they are getting ready for May 6 2018, Armed Forces Day.
There will be practice flights of fixed-wing aircraft and helicopters over central Sofia from May 3 to 5, between 10am and 11am each day, the Ministry of Defence said. An additional time slot has been allocated from 2pm to 3pm on May 5, for practice flights if required, the ministry said.
On May 5, there will be flyovers from 6pm to 8pm over the Vassil Levski National Stadium in Sofia, part of celebrations of the 70th anniversary of the Central Sports Club of the Army, better known as football team CSKA.
Meanwhile, from May 1, military vehicles will be heading to Dobroslavtsi airfield near Sofia on national roads from the towns of Sliven, Yambol, Kazanluk, Karlovo, Assenovgrad, Stara Zagora, Pleven and Blagoevgrad.
The flyover on May 6 will be between 10am and 11am as part of the formal military parade.
The Ministry of Defence issued a reminder to the media and the public that during the practice flights and at the time of the May 6 flyover, the use of drones is forbidden for safety reasons.
Coincidentally, the Defence Ministry's announcement came as Bulgaria's traffic control authority and Sofia Airport announced that as of April 26, given the increase in air traffic at the capital city's airport, various steps had been taken – involving how runways are used, turning altitudes and other measures – to reduce noise pollution above the city.
February 1st 2018
Bulgaria Air signs agreement with FL Technics
The provider of integrated aircraft maintenance, located in Lithuania, has signed an agreement to repair and overhaul services with flag carrier with Bulgaria Air. FL Technics will provide Bulgaria Air with an extended services of base maintenance for a period of three years, FL Technics said in a statement on Friday.
"The first aircraft Airbus A319 has already arrived at FL Technics," said Zilvinas Lapinskas, CEO of FL Technics. Bulgaria Air operates a fleet of 10 aircraft and carries more than 1.2 million passengers a year, according to FL Technics. The agreement will stand the airline in good stead for a prosperous 2018.
January 2018
Bulgaria Air commences direct flights Sofia - Odessa
Bulgaria Air has started to sell direct flights between Odessa and Sofia, beginning February 2018. "Bulgaria Air has started to sell tickets for direct scheduled flights Odesa-Sofia to be operated from February 2. At the moment, the flights can be booked for Fridays and Sundays," avianews.com portal reports.
The roundtrip tickets for Odesa-Sofia flights cost $170, including fees, luggage transportation and meals.
---