Multibanco
FAQs
How do I pay for flights with Multibanco?
Select the flight that you want to buy and choose Multibanco as the payment method at checkout.
Once you've confirmed your purchase you'll be given a reference number, as shown below: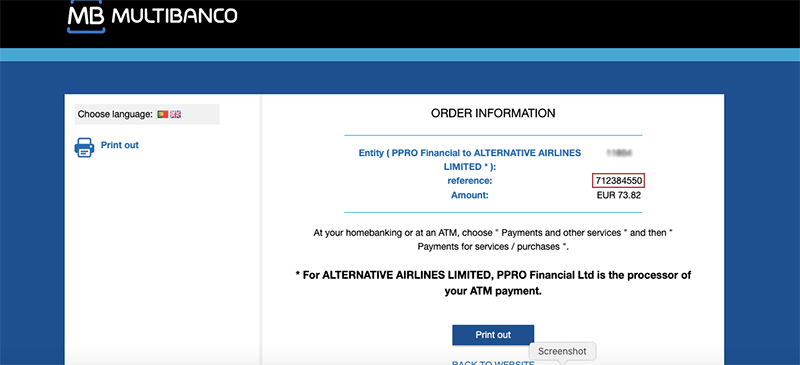 All you need to do next is select is to choose 'Payment and other services' and 'Payments for services/purchases' at an ATM or on your online banking, enter your reference number and complete the purchase.
*Please note that there is an expiry date for your purchase. If you don't pay for your flights within the set number of days stated, you'll lose your flight reservation.
Can Multibanco be used outside of Portugal?
No. Multibanco is only available as a payment method to passengers in Portugal.
Which airlines accept the payment method Multibanco?
At Alternative Airlines, you can use Multibanco to pay for your flights on more than 650 airlines. This includes the Portuguese airlines Azores Airlines, Orbest, Portugália Airlines, SATA Air Açores and TAP Portugal.