Airlines will always try to sit children with their parents (subject to check-in)
Some airlines will allow travel for unaccompanied minors. Please email us to check.
The fare is based on the child's age on the date of travel.
More detailed information can be found here Traveling with children
Most airlines will let infants travel with their parent(s) for free. However some airlines will charge up to 10% of the adult ticket price. Click on 'Price Breakdown' to find out more.
If you are pregnant, but due before the flight departure date, please contact us once your baby is born and has a name. We can then add him/her to your ticket.
Infants will not be given a seat. The airlines expect parents to travel with them on their lap.
Airlines regard infants as being under 24 months old.
The fare is based on the child's age on the date of travel.
More detailed information can be found here Traveling with children
Shoulder Season Flights
Cancellation Protection
Protects
Trusted Choice
65,000 happy customers
Rated 4.5 Stars. Based on 3,581 service ratings over the past year
Dedicated customer service team on hand to help
Secure payments
Cancellation Protection
Protects
Trusted Choice
65,000 happy customers
Rated 4.5 Stars. Based on 3,581 service ratings over the past year
Dedicated customer service team on hand to help
Secure payments


Flying in the Shoulder Season
Summertime is of course a desirable time for travel, especially for some destinations - lying on a sandy beach isn't quite the same in wet weather. However, there are many benefits that come with travelling in the off-season, which is otherwise known as the 'shoulder season'. Use our 'Shoulder Seaon Calendar' to discover which shoulder season destinations are best for each month!
What is a Shoulder Season?
A shoulder season is the period between the high and low seasons of a vacation destination. During shoulder months, outside temperatures typically fall between 45 and 65 degrees Fahrenheit. Shoulder season months will vary depending on destination, but there is usually a shoulder season for spring and fall.
The United States, Europe, and the Caribbean all have shoulder season during spring, fall, and winter - this corresponds with when children are in school. During this time, many resorts offer special discounts.
What is the origin of the term 'Shoulder Season?
Shoulder Season is an industry term which dates back to about the 60s, as a way of describing the typically lower fares that can be expected from travelling out of peak season. Today, the term broadly refers to spring and autumn.
---
Why travel in the shoulder season?
As mentioned, the cost of holiday destinations, resorts, and also flights can be lower when you travel during the shoulder season. Attractions are no less stunning, and travelling out of peak season means you get to enjoy all that a destination has to offer, just without the crowds!
Looking for inspiration? Autumn is a great opportunity to experience incredible destinations in incredible colours! Check out our blog for more travel inspiration: where to see fall colours.
Want to visit Europe? Why not plan an autumnal trip around exploring one of Europe's stunning and historical castles? Find out more in our blog: The best castles in Europe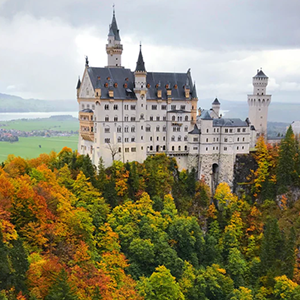 SHOULDER SEASON CALENDAR
JANUARY
North Africa: All through January. Christmas travel crowds have subsided but the weather remains warm. This is the perfect time to visit the historical and cultural hubs of Morocco or Egypt. Airlines include Royal Air Maroc, British Airways, Ethiopian Airlines and Turkish Airlines.
MARCH
Hawaii: Early March through to May. The shoulder season is definitely the time to explore Hawaii, when Hawaii and a lot of the US is at school. Hawaii's massive waves have subsided, and there are many resort bargains to be had. Airlines include Hawaiian Airlines, American Airlines, United Airlines, and Alaska Airlines
Rio de Janeiro: From early March. The carnival season has passed, which means hotel and accomodation costs will drop. Airlines include Norwegian Air, LATAM, British Airways, and Alitalia
UK and Ireland: Early March through to April. The outside temperature is warming up and the countryside is blooming with colour and spring wildflowers. Airlines include Ryanair, Aer Lingus, Flybe, British Airways, and Jet2
APRIL
North American Rockies: Through April. This is the perfect time to enjoy late season skiing. Airlines include Frontier, United Airlines, Spirit, Southwest, Alaska Airlines, Boutique Air and Delta Air Lines.
European Alps: Through April.This is the perfect time to enjoy late season skiing
Western European Cities: April through to May. There is the chance of rain (but this is true no matter which time of year you visit!) but temperatures should be comfortable, and crowds will be thin. As temperatures start to rise, cafe culture begins! The perfect time to visit cities such as Rome, Barcelona, Paris, and London. Airlines include Swiss Air, Air France, Vueling, easyJet, British Airways, and Brussels Airlines.
Australian Outback: Early April through to May. April is early autumn in Australia, meaning temperatures will start to drop - you can visit Ayers Rock without the risk of heatstroke! Visiting in April means the crowds will be thinner. Airlines include Qantas, Cathay Pacific, Emirates, and Etihad Airways.
The Caribbean: Mid April through to June. This is one of the quietest times to visit the Caribbean and enjoy the beautiful beaches. Airlines include British Airways, Virgin Atlantic, United, Avianca, and Air France.
Mexico's Riviera Maya: Mid April through to mid June. Temperatures remain warm and hurricane season is still weeks away. Airlines include WestJet, American Airlines, KLM, Delta Air Lines.
MAY
Japan: Early May. Humidity has yet to set in and hotel prices are dropping after the peak cherry blossom celebrations. Airlines include China Eastern Airlines, Cathay Pacific, Iberia, Finnair and Aeroflot
Great Barrier Reef, Australia: From mid May. If you are flying from the US, airfare is at its lowest. Especially in the north of Australia, your days should be bright and warm. Airlines include Virgin Australia Airlines, Jetstar Airways and Qantas.
JUNE
Thailand: Through June. April and May are some of the hottest months in Thailand, and temperatures can be sweltering. In June, the chance of increase rain can cool things down. The mass of tourists will start arriving in July, making June a great time to discover Thailand. Airlines include Emirates, Lufthansa, Qatar Airways, Etihad Airways, and Turkish Airlines.
SEPTEMBER
Hawaii: Early September. This is the second time Hawaii features on our list, and for similar reasons. Crowds are thinner and temperatures warm. Airlines include Hawaiian Airlines, American Airlines, Allegiant, and Alaska Airlines.
Montana: Early September. Days continue to be sunny and dry, and dude ranches are offering discounted fall rates. Airlines include Alaska Airlines, Delta Air Lines, United Airlines, and Allegiant Air.
South Africa: Early September through to October. Just off-peak, the temperatures at safari lodges are reduced. The Big Five will also be easier to spot, as many trees will still not have their leaves and foliage is less dense. Airlines include Rwandair, Emirates, Qatar Airways, and Air France.
OCTOBER
Southern Europe and the Mediterranean: Early October. Rates have started to drop, but the temperature remains mild and there is plenty of sun. The perfect time to visit the islands of Crete, Ibiza, and Sicily. Airlines include easyJet, Jet2, Iberia, Vueling, and Lufthansa
Dubai: From mid September through October. You might be able to find a bargain, as hotels try and entice travellers with bargains. Days are cooler, which will be a very welcome relief. Airlines include Wizz Air, Turkish Airlines, Emirates, and British Airlines.
Vancouver Island, Canada: October through to November. It remains warm enough to enjoy wine tasting at one (or two) of the island's many vineyards. You will find that accommodation prices also considerably drop. Airlines include Air Canada.
NOVEMBER
Fiji, Tahitii, and the South Pacific: Early November. Early November is pre-cyclone season, meaning it is the perfect time for sea sports such as diving and snorkeling. Airlines include Fiji Airways
The Caribbean: November through to mid December. Get in before the holiday rush and discover beautiful deserted beaches. Airlines include British Airways, Virgin Atlantic, United, Avianca, and Air France.
DECEMBER
North American Rockies: Late November through to December. Snow has returned to the beautiful Rockies and the winter season is just beginning.Airlines include American Airlines, United Airlines, Delta
European Alps: Late November through to December. The snow has also returned to the European Alps - get in before the peak of the winter season. Airlines include Air France, British Airways, and Swiss Air
Costa Rica: Early to mid-december. Costa Rica experiences weeks of rain, but finally the Rainy Season is subsiding and the clouds are thinning. The flocks of tourists have also yet to reach Costa Rica. Airline include Lufthansa, Air Canada, United Airlines, and Aeromexico
Shoulder Season Flights
FAQs
When is the shoulder season in Europe?
Travel in Europe can be divided into three seasons: low season (also known as off-peak or off-season), shoulder season, and high season (also known as peak season). Seasons will depend on exactly where in Europe you are travelling, but Spring usually starts in mid-March through to mid-June. Autumn runs from about mid-September to the end of November. There months are some of the best to visit some of the most coveted destinations in Europe. Crowds are thin and the weather (although often unpredictable) tends to be comfortable - the perfect combination for sightseeing.
When is the shoulder season in Australia?
In Australia, Spring is in September, October and November, and Autumn is in March, April and May. The best times to visit Australia is during the shoulder season, from September through to November and from March to May, as by doing so, you will avoid the high and low seasons and enjoy visitors comfortable temperatures and quieter tourist crowds.
When is shoulder season for backpacking?
Shoulder season backpacking is a phrase which is becoming increasingly popular! It is the time just before or just after the peak period, and in terms of backpacking, this means heading off backpacking in either the Spring or Autumn. The benefits are usually mild and comfortable temperatures (depending on where you are heading!) and the best chance of enjoying nature with some piece and quiet.
Where to backpack during the shoulder season?
In the US? You have to explore the Rocky Mountains during late fall, which is a stunning time to explore the National Park and enjoy the last of the season's colours. You can enjoy the park before the bite of winter. Or, how about enjoying the rolling hills of the UK during the Spring, as the daffodils and wild flowers start to appear? For more information, check out our guide to the best National Parks in the UK.