Manila 'is a good introduction to the Philippines'
Holidaymakers considering booking Philippine Airlines flights may find that starting their trip in Manila provides them with a good introduction to the country.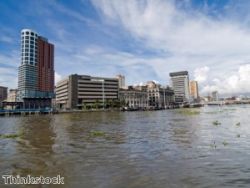 Chit Afuang, officer-in-charge at the Department of Tourism at the Embassy of the Philippines, described the capital as the "gateway" to other destinations in the Philippines.
"It is the centre of government, trade and industry, commerce, education, entertainment and the arts. It is a blend of some of the country's heritage treasures and modern metropolitan features," she asserted.
Among the attractions she recommended visiting was the Walled City, which was the centre of Spain's colonial power in the country.
Ms Afuang added that the Manila Cathedral, San Agustin Church and Fort Santiago may also prove to be illuminating and interesting locations for a visit for those who have flights to Manila booked.
Those in the city in August may want to head to the Cinemanila International Film Festival, which will feature a range of Filipino and south-east Asian movies
Use Alternative Airlines to book your cheap flights to Manila.