Book Qantas Business Class Flights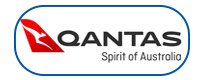 Looking to treat yourself and fly in comfort? By booking your flights today through Alternative Airlines, you can fly in Business Class with Qantas and enjoy from a range of luxury amenities.
Booking Qantas Business Class flight tickets through Alternative Airlines couldn't be easier! We've put together a handy guide that shows you exactly what to expect when flying with Qantas in Business Class, how to buy Qantas Business Class flights and some FAQs.
---
What are Qantas Business Class Tickets?
Qantas Business Class flights are flights operated by Qantas that offer a variety of luxury services during your time at the airport and on-board flights. The special services in the Business Suite aren't available in the Premium Economy or Economy Class. Travelling in Business Class with Qantas means that you can enjoy award-winning Business lounges at the airport, top-quality meal options and entertainment.
Please note that some amenities and facilities may differ depending on the aircraft you're travelling in.
---
What's included in a Qantas Business Class Ticket?
Priority Check-In & Baggage
When flying in Business Class with Qantas you'll be entitled to a number of priority services including priority check-in desks, a dedicated boarding lane and disembarkation access.
Qantas Business Class passengers are allowed to bring 2 x pieces of checked baggage up to 32kg (70lb) each. Please note that this may vary depending on the destination which you are flying to/from.
Airport Lounge Access
The Qantas Business Lounges provide a chic, serene, and peaceful setting for those looking to work or relax before takeoff. Enjoy a variety of delicious treats, and snacks. Drinks available in Qantas Business Lounges include premium wines, spirits, non-alcoholic beverages, barista coffee and more.
WiFi, USB and charging ports, wireless printing, and other forms of entertainment will be available. You'll even have the chance to freshen up with shower amenities.
In-flight Entertainment
In-flight entertainment is available on domestic and international business-class flights. Stream the latest movies, TV shows, music, podcasts, audiobooks and more.
Seats
Qantas Business Class offers modern comfort on every A330 and B787-9 aircraft. In the Qantas business suite, you'll have plenty of space and privacy. and the innovative seats allow you to recline and adjust your seat to your liking to ensure your journey is as comfortable as possible.
Business class passengers will be offered a 100% cotton duvet and mattress in every seat, as well as a European-style cushion, or you can continue to use your table for as long as you want.
Food and Beverages
The meals available when flying with Qantas in Business Class will depend on the duration of your flight journey. During international flights, you'll get to choose from a variety of locally sourced seasonal dishes. At any point during your flight, you'll be allowed to request from a selection of light-style dishes. Feeling peckish? Head over to the in-flight bar and pick from a number of snacks.
On-board Qantas Business Class flights are the 'Sommeliers in the Sky', who are keen to assist you with any type of wine service.
---
How to Book Qantas Business Class Flights
Unsure how or where to book Business Class flights with Qantas? You can do so right here at Alternative Airlines. Follow our step-by-step instructions below to see how you can easily book your Qantas Business Class tickets through Alternative Airlines:
STEP 1
First of all, navigate to the top of the page and enter the departure and arrival cities, along with the dates you plan to travel, and the number of passengers in your group. When you are entering the number of passengers, you can also select the cabin class you'd like to fly in (e.g., Business Class).
Press the 'Search Flights' button to continue with your booking.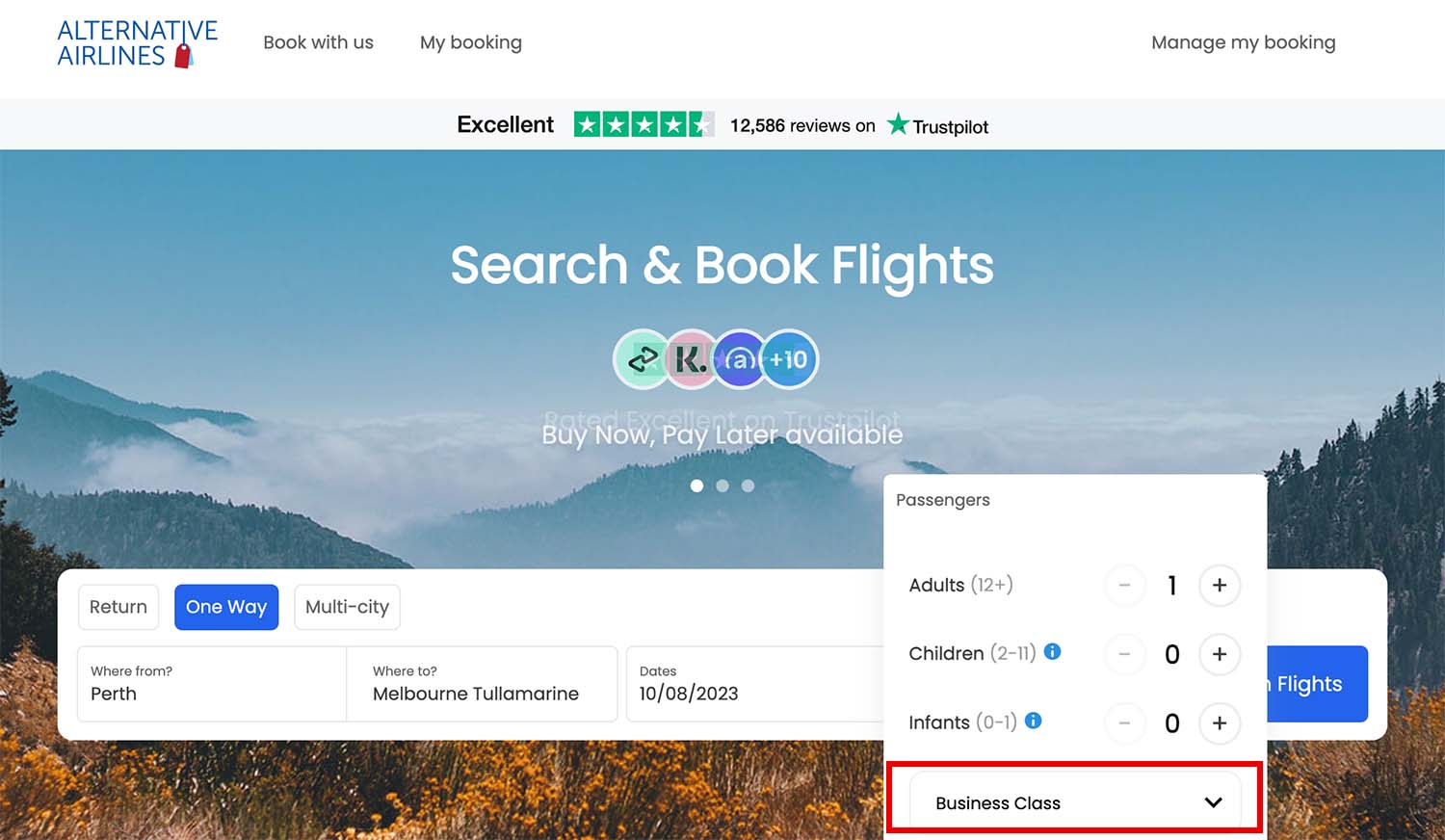 STEP 2
After the results have loaded, feel free to use the 'Airlines' filter to narrow down your search and only see flights operated by Qantas. Once you've. selected the flight that best suits you, confirm your selection and head over to the passenger details page.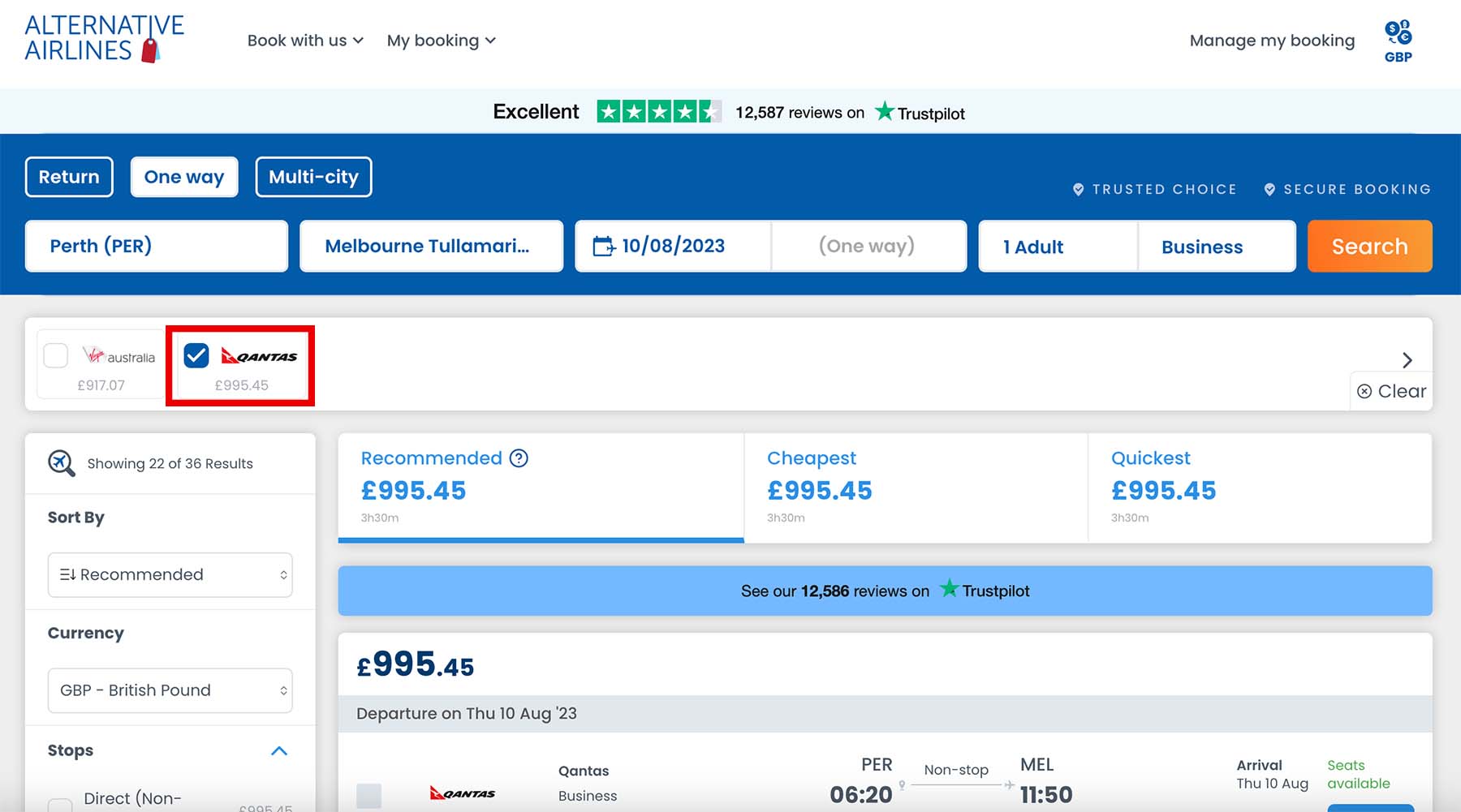 STEP 3
Click the "Explore details" tab under "Flight Details" to learn more about what to expect when travelling in Business Class with Qantas. This will show you all the details on the seating, amenities, menu choices, entertainment, and other perks provided in Qantas' Business Class cabin.
Secure your booking with one of our 40+ ways to pay, ranging from Buy Now Pay Later plans to cryptocurrencies!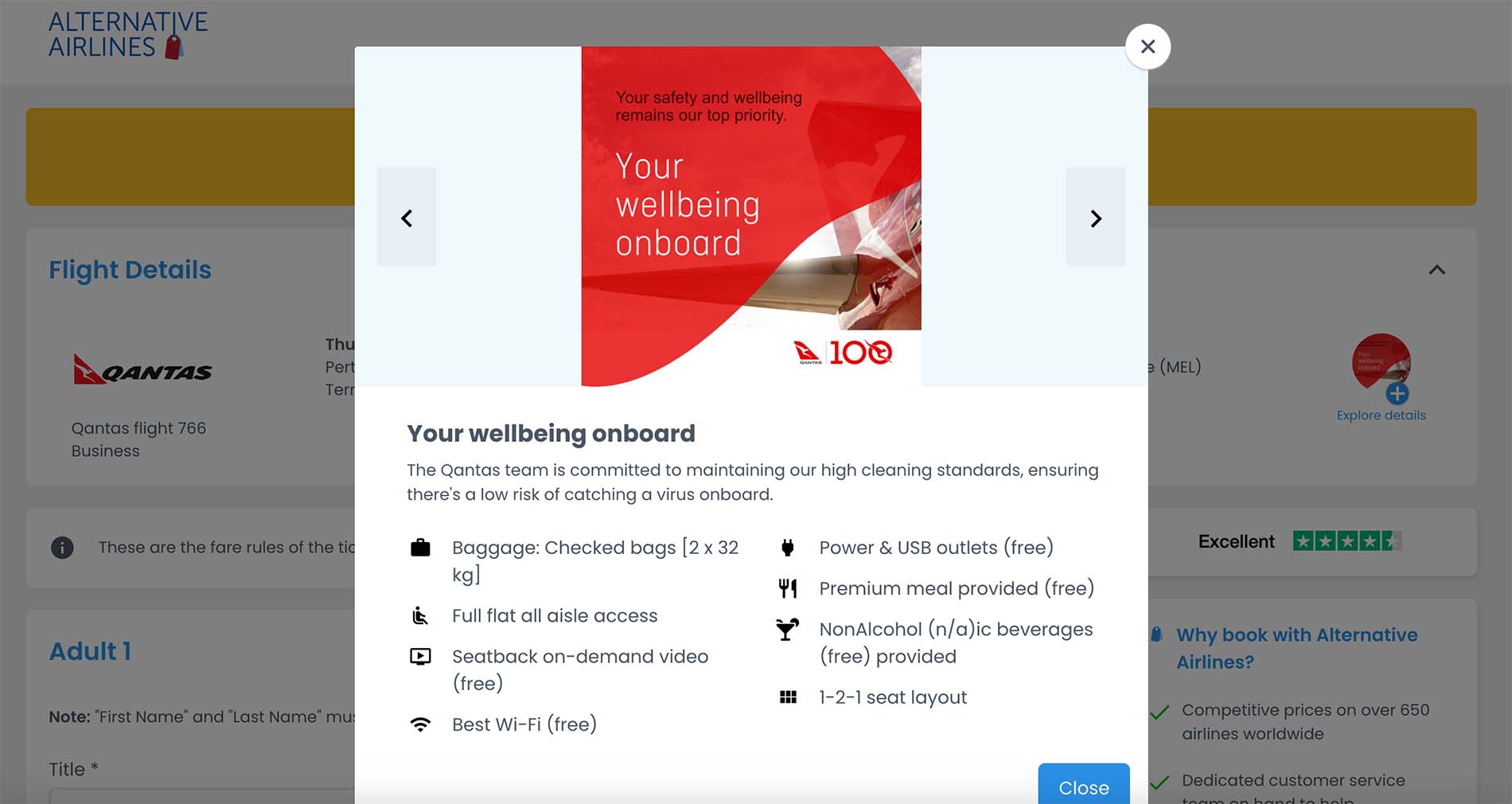 ---
Qantas Business Class
FAQs
Where can I book Qantas Business Class flights?
At Alternative Airlines, of course! Using the search tool at the top of the page, you can easily book your Qantas Business Class flights on our site. When entering the total number of people travelling, be sure to choose "Business Class" as your preferred cabin class. Based on the information you entered in the search criteria, select the Qantas flight that's ideal for you.
If you're having trouble booking Qantas Business Class flights, just follow our step-by-step guide from above.
How much does Qantas Business Class cost?
The price of your Qantas Business Class flight ticket will vary depending on the destination which you're flying to/from and the dates you're planning to fly. Please note that Business Class flights are more expensive compared to an Economy/Premium Economy ticket. So, if you're looking for cheap Qantas flights, we advise flying in Economy. The reason that Qantas charge higher prices in business class is due to the fact that you'll be offered better quality amenities both at the airport and on board.
With the help of our Buy Now Pay Later payment options, you can spread the cost of your Qantas Business Class flight ticket into easy and manageable instalments.
What other airlines offer Business Class?
If Qantas Business Class, isn't the right option for you, don't panic! At Alternative Airlines, we ticket 600+ airlines so finding the best airline to fly with isn't difficult. Just simply un-tick Qantas as your preferred airline and select a different airline that offers similar business-class services.