College Football Game

Flights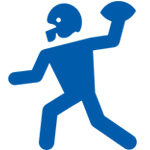 If you're hoping to go to a game (or at least tailgate a game) for your favourite college football team, it's important to make sure that you're fully prepared. You have the tickets, have booked a hotel room or Airbnb, but how to get there?
Here's where Alternative Airlines comes in. We can help you find the best way to get to the game.
After the news that United Airlines was to add more flights and bigger planes this fall to popular college football cities, we thought we'd show you what's on offer for some of the biggest college football teams in the USA.
---
Alabama Crimson Tide
College: University of Alabama
Division: Football Bowl Subdivision of the NCAA and Western Division of Southeastern Conference
Stadium: Bryant–Denny Stadium, Tuscaloosa
Closest city: Tuscaloosa, AL
Closest airport: Birmingham-Shuttlesworth International Airport
Airlines that fly there: American Eagle, Delta Airlines, Delta Connection, Frontier Airlines, Southwest Airlines, United Express


---
Ohio State Buckeyes
College: Ohio State University
Division: Football Bowl Subdivision of the NCAA, east Division of the Big Ten Conference
Stadium: Ohio Stadium
Closest city: Columbus, OH
Closest airport: John Glenn Columbus International Airport
Airlines that fly there: Air Canada Express, Alaska Airlines, American Airlines, American Eagle, Delta Airlines, Delta Connection, Frontier Airlines, Southwest Airlines, Spirit Airlines, United Airlines, United Express
Other Airports nearby: Rickenbacker, Dayton

---
Oklahoma Sooners
College: University of Oklahoma
Division: Big 12 Conference, Division I Football Bowl Subdivision NCAA
Stadium: Gaylord Family Oklahoma Memorial Stadium
Closest city: Norman, OK
Closest airport: Will Rogers World Airport
Airlines that fly there: Alaska Airlines, Allegiant Air, American Airlines, American Eagle, Delta Airlines, Delta Connection, Frontier Airlines, Southwest Airlines, United Airlines, United Express, ViaAir

---
Auburn Tigers
College: Auburn
Division: Football Bowl Subdivision of the NCAA and Western Division of the Southeastern Conference
Stadium: Jordan-Hare Stadium
Closest city: Auburn, AL
Closest airport: Montgomery Regional Airport
Airlines that fly there: American Eagle, Delta Connection, ViaAir
Other Airports nearby: Columbus Metropolitan Airport
---

Notre Dame Fighting Irish
College: Notre Dame
Division: Football Bowl Subdivision NCAA, plus 5 Atlantic Coast Conference games a year
Stadium: Notre Dame Stadium
Closest city: Auburn, AL
Closest airport: South Bend International Airport
Airlines that fly there: Allegiant Air, American Eagle, Delta Airlines, Delta Connection, United Express
---

LSU Tigers
College: Louisiana State University
Division: Football Bowl Subdivision NCAA, Western Division of the Southeastern Conference
Stadium: Tiger Stadium
Closest city: Baton Rouge, LA
Closest airport: Baton Rouge Metropolitan Airport
Airlines that fly there: American Eagle, Delta Airlines, Delta Connection, United Express, ViaAir
---
Miami Hurricanes
College: University of Miami
Division: Division I Football Bowl Subdivision, Coastal Division of Atlantic Coast Conference
Stadium: Hard Rock Stadium
Closest airport: Miami International Airport
Closest city: Miami, FL
Airlines that fly there: American Airlines, American Eagle, Avianca, Frontier Airlines, LATAM, Eastern Airlines, Delta Airlines, Delta Connection, Sun Country Airlines, United Airlines, United Express
Other Airports nearby: Fort Lauderdale International AIrport
---

Clemson Tigers
College: Clemson University
Division: Football Bowl Subdivision of NCAA, and Atlantic Division of the Atlantic COast Conference
Stadium: Clemson Memorial Stadium
Closest airport: Greenville-Spartanburg Airport
Closest city: Clemson, SC
Airlines that fly there: Allegiant Air, American Airlines, American Eagle, Delta Airlines, Delta Connection, Frontier Airlines, Southwest Airlines, United Express
---

Michigan Wolverines
College: University of Michigan
Division: Division I Football Bowl Subdivision
Stadium: Michigan Stadium
Closest city: Ann Arbor, MI
Closest airport: Detroit Metropolitan International Airport
Airlines that fly there: Aeroméxico, Aeroméxico Connect, Air Canada Express, Air France, Alaska Airlines, American Airlines, American Eagle, Delta Airlines, Delta Connection, Frontier Airlines, JetBlue, Lufthansa, Royal Jordanian, Southwest Airlines, Spirit Airlines, Sun Country Airlines, United Airlines, United Express, WOW Air
---

USC Trojans
College: University of Southern California
Division: Division I Football Bowl Subdivision (NCAA), Pacific 12 Conference
Stadium: LA Memorial Coliseum
Closest city: Los Angeles, CA
Closest airport: Los Angeles International Airport, LAX
Airlines that fly there: American Airlines, Delta Airlines, United Airlines, Alaska Airlines, Air New Zealand, Allegiant Air, Norwegian AIr Shuttle, Qantas, Southwest Airlines, Spirit Airlines, Volaris, amongst many others
Other Airports nearby: Bob Hope Airport
---

Texas A&M Aggies
College: Texas A&M University (TAMU)
Division: NCAA Football Bowl Subdivision, Western Division of the Southeastern Conference
Stadium: Kyle Field
Closest city: College Station, TX
Closest airport: College Station Easterwood Field Airport
Airlines that fly there: American Airlines, United Airlines
Other Airports nearby: Houston Bush Airport
---

Penn State Nittany Lions
College: Penn State University
Division: Division I Football Bowl Subdivision (NCAA), Pacific 12 Conference
Stadium: Beaver Stadium
Closest city: University Park
Closest airport: University Park Airport
Airlines that fly there: American Eagle, Delta Connection, United Express
---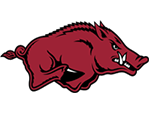 Arkansas Razorbacks
College: University of Southern California
Division: Football Bowl Subdivision (NCAA), Western Division of the Southeastern Conference
Stadium: Donald W Reynolds Razorback Stadium
Closest city: Fayetteville, AR
Closest airport: Northwest Arkansas Regional Airport
Airlines that fly there: Allegiant Air, American Airlines, American Eagle, Delta Airlines, Delta Connection, United Express
---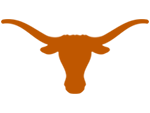 Texas Longhorns
College: University of Texas at Austin (aTexas, or UT)
Division: Division I Football Bowl Subdivision (NCAA), Big 12
Stadium: Joe Jamail Field
Closest city: Austin, TX
Closest airport: Austin–Bergstrom International Airport
Airlines that fly there: Aeroméxico Connect, Air Canada, Alaska Airlines, Allegiant Air, American Airlines, American Eagle, British Airways, Condor, Delta Airlines, Delta Connection, Frontier Airlines, JetBlue, Norwegian Air Shuttle, Southwest Airlines, Sun Country Airlines, United Airlines, United Express, ViaAir, Volaris