TAAG Angola takes delivery of first new planes
Holidaymakers heading to Africa on TAAG Angola flights will soon be able to travel on the carrier's new acquisition - a Boeing 777-300ER plane.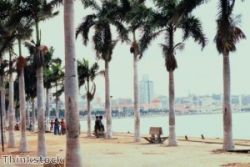 It is one of two new aircraft ordered by the firm to extend its routes globally to far-flung locations such as Rio de Janeiro and Lisbon.
There will also be more flights to Sao Paulo and the US as a result of the purchases.
Dr Antonio Luis Pimentel Araujo, chairman of TAAG Angola, said the delivery of the plane was a "proud day for Angola and its people".
The new aircraft has a lower fuel consumption than its closest competitor and is the first of its kind to be used by an African carrier.
Travellers hoping to get a taste of the country may want to visit during March as this is when the Luanda carnival is held each year.
According to the provincial government, it is hoping to make the city the continent's top carnival destination, reports afrol News.
Use Alternative Airlines to book your cheap flights to Luanda