Airlines will always try to sit children with their parents (subject to check-in)
Some airlines will allow travel for unaccompanied minors. Please email us to check.
The fare is based on the child's age on the date of travel.
More detailed information can be found here Traveling with children
Most airlines will let infants travel with their parent(s) for free. However some airlines will charge up to 10% of the adult ticket price. Click on 'Price Breakdown' to find out more.
If you are pregnant, but due before the flight departure date, please contact us once your baby is born and has a name. We can then add him/her to your ticket.
Infants will not be given a seat. The airlines expect parents to travel with them on their lap.
Airlines regard infants as being under 24 months old.
The fare is based on the child's age on the date of travel.
More detailed information can be found here Traveling with children
Search And Buy Allegiant Last Minute Flights
Cancellation Protection
Protects
Trusted Choice
Rated 4.5 Stars. Based on 3,581 service ratings over the past year
Dedicated customer service team on hand to help
Secure payments
Cancellation Protection
Protects
Trusted Choice
Rated 4.5 Stars. Based on 3,581 service ratings over the past year
Dedicated customer service team on hand to help
Secure payments

What are Last Minute Flights?
Last minute flights are flights that are purchased very close to the departure date and time of the flight. To be considered as 'last minute', the flight needs to be booked a few days or weeks prior to departure. This includes any flights booked on the same day as departure. Last minute flights are really popular with business travellers, holiday-makers looking for a spontaneous trip or those who need to travel due to emergency circumstances. These types of flights can sometimes be cheaper when airlines desperately need to fill up empty seats on a plane, but they can also be very expensive where an airline will take advantage of travellers who are willing to pay extra if they urgently need to travel.
Did you know that you can book your last minute Allegiant flights right here at Alternative Airlines? It's super easy! Use our step-by-step guide below to see how you can use our search form and apply filters to your search so you can find the perfect last minute Allegiant flight for you.
When booking through Alternative Airlines, e-tickets are sent to you immediately or within 2 hours via email. Please be aware, in some cases when booking last minute flights, it make take up to 24 hours for you to receive your e-ticket.
---
How to Book Last Minute Flights with Allegiant
STEP
1
Firstly, navigate to the top of the page and fill in our search form with your departure and arrival destinations, the date(s) you plan to fly, how many passengers will be flying and the fare type you'd like to purchase. In order for the flight to be considered last minute, your departure date needs to be close to your booking date. Hit the 'Search Flights' button when you're ready!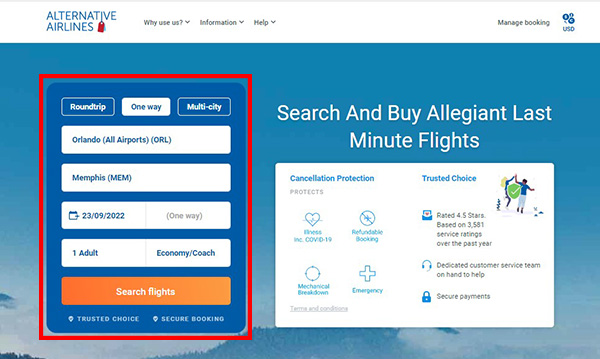 STEP
2
After the search results have loaded, you can set the 'Airline' filter to only show last minute flights operated by a particular airline, such as Allegiant Air. This can be done either above the search results or in the 'Airlines' drop-down tab to the left of the results.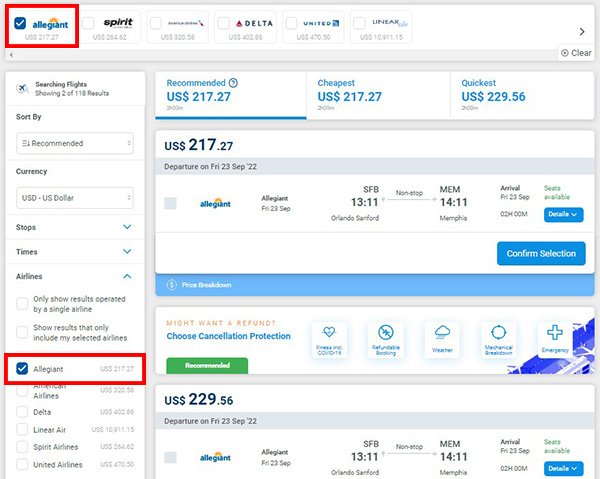 STEP
3
Once you've found the perfect last minute Allegiant flight, click the 'Confirm Selection' button to proceed with your booking. You can safely secure your booking with one of the many flexible payment methods we provide at checkout, including debit, credit, Buy Now Pay Later plans and even cryptocurrency!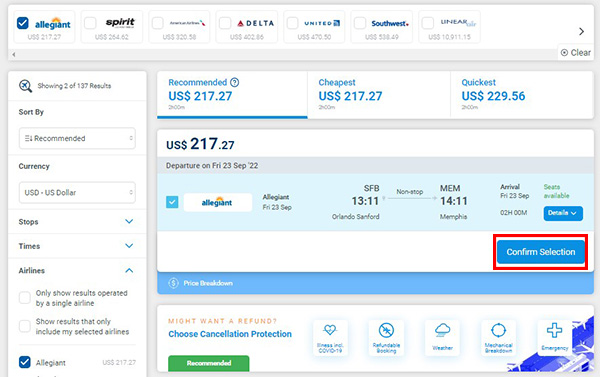 ---
Popular Last Minute Flight Routes with Allegiant
Allegiant Air is an ultra-low-cost airline in America, operating schedule and charter flights primarily to domestic destinations in the US. The airline flies to over 120 cities, including Des Moines, Fort Lauderdale, Las Vegas, Los Angeles, Orlando, Phoenix and many more. Below are a handful of the most popular last minute routes that Allegiant flies:
Orlando ✈ to Memphis
Las Vegas ✈ to Denver
Tampa ✈ to Kansas City
Phoenix ✈ to Minneapolis
---
Last Minute Flights
Tips
There are a few handy tips you can follow to help you find the best last minute flight deal with ANY airline of your choice, including Allegiant. Things to consider include the destinations you're flying to, the dates you can travel and also the time of your flight departure.
Flexible Destinations
Fancy exploring the US but not sure where to start? Don't worry - this will actually be handy for you when finding cheap last minute Allegiant flights. If you don't have your mind set on a specific destination/city, you can be as flexible as possible. Why not take this chance to fly to a city you've never visited before? Allegiant is a popular airline to fly with if you're flying domestic within the US, so we recommend choosing to fly with Allegiant if you'd like a quick trip to Miami or perhaps experience Las Vegas!
Flexible Dates
Dates play a huge factor in finding cheap last minute flights with any airline. If you have space on your calendar and you're not too fussed about where you'll be flying to, it's a great idea to book a last minute flight now, especially if you have time to spare during the off-peak seasons. Airlines can sometimes reduce the costs of their tickets if they're trying to quickly fill up empty seats on the plane.
Night Flights
Flying on overnight or red eye flights is recommended if you're trying to book the cheapest last minute flight possible with Allegiant. They're less popular than daytime flights due to the time of departure (usually very late at night between 10pm - 1am) and the time of arrival (between 5am - 7am the next day). If you don't mind feeling a little tired after this type of flight, you're sure to easily find a cheap last minute Allegiant flight. Check out our guide on red eye flights for more information.
---
Last Minute Flights with Allegiant
FAQs
Where can I book last minute flights with Allegiant?
Here at Alternative Airlines! Use our handy guide from earlier to see how you can quickly search for last minute flights with ANY airline, not just Allegiant. Please be aware that if you're booking a last minute flight through Alternative Airlines, it may take up to 24 hours for you to receive your e-ticket.
Are last minute flights cheaper?
There are mixed opinions on this. Last minute flights can be cheaper when an airline needs to fill up empty seats on the plane urgently. However, they can also be really expensive when the airline decides to make the most of travellers who are willing to pay extra for urgent travel, mainly for emergency purposes or for business.
Can I finance last minute flights?
Of course! Booking your last minute Allegiant flights and paying later couldn't be easier when you use Alternative Airlines. You can book your Allegiant flight today and split the cost of your ticket up by using one of the many flexible payment methods we offer at checkout. You'll be able to pay on a weekly, bi-weekly or monthly basis, depending on the plan you've chosen. It's ideal for those who need to travel for emergency purposes and are not financially prepared. Some of the popular Buy Now Pay Later options we offer include Afterpay, Klarna, Affirm, Laybuy and many more. Take a look at our guide on all of our Buy Now Pay Later options with Allegiant to find out more information.