Precision Air launches two new services with flights to Mombasa and Shinyanga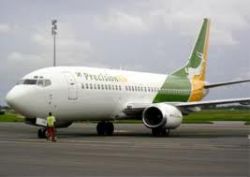 Dynamic East African regional carrier, Precision Air launched new direct services from their main hub in Dar es Salaam to the coastal city of Mombasa and the Northern Tanzanian provincial centre of Shinyanga.
The new direct flights started on 16th January 2012 and will operate five times each week. The flight from Dar es Salaam to Mombasa will fly on Monday, Tuesday, Thursday, Saturday and Sunday with the Dar es Salaamm to Shinyanga operating every Monday, Wednesday, Thursday, Friday and Sunday. the flights operate to the following schedules:
Depart Dar es Salaam at 10:50 arriving Mombasa at 11:50, and departing Mombasa at 12:20 arriving in Dar es Salaam at 13:20.
Depart Dar es Salaam 09:40 arriving Shinyanga at11:40 and departing Shinyanga at 12:10 arriving in Dar es Salaamar 14:20, (except Thursday when the times are depart Dar es Salaam 06:00 ,arrive Shinyanga 08:00 , depart Shinyanga 08:30 ,arrive Dar es Salaam 10:30 ).
Precision Air has the largest domestic network in Tanzania with flights operating to 11 airports including; Dar es Salaam, Arusha, Kilimanjaro, Zanzibar, Mwanza, Bukoba, Kigoma, Tabora, Musoma, Shinyanga, Mtwara. International destinations served include: Nairobi, Mombasa, Entebbe, Hahaya (Moroni, Comoros) and Johannesburg.
Precision Air has a fleet of 11 aircraft including 9 French built ATR turbo props and 2 boeing 737-200 jets. Having been flying now for over 20 years, Precision Air has risen to become one of the most successful of Africa's regional airlines and is enjoyed by many visiting tourists to travel between the world famous trekking peak, Mount Kilimanjaro and the Tanzanian coastal resorts .
Alternative Airlines are one of Precision Air's major UK sales agents with competitive ticket prices available either through our easy to use on-line booking facility or with our expert reservations agents on 44 1293 874920.