What is
Pompeii

?

Pompeii is a vast archaeological site, spanning 70 acres (and growing, as the site continues to be excavated). The once thriving Roman city was buried under meters of ash following the catastrophic eruption of Mount Vesuvius in 79 A.D.

Today, Pompeii is a UNESCO World Heritage site and visitors are free to explore the excavated ruins of the villas, streets, and public buildings that made up the city.

The site is located in southern Italy's Campania region, near the coast of the Bay of Naples, and is one of the most visited sites in Italy — as well as being one of the most visited archaeological sites in the world.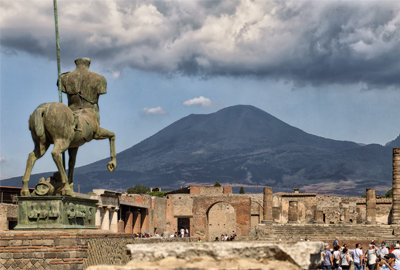 ---
What airport to fly to for
Pompeii

?

There isn't an airport in Pompeii. However, there are airports nearby. Most tourists heading to Pompeii will fly to Naples, which has the closest airport to Pompeii. It is easy to then travel from Naples to Pompeii town, where you'll find the archeological site.

Naples International Airport, also known as the Capodichino Airport (IATA: NAP), is located in the Capodichino district of Naples.

The airport has two terminals. Tourists flying to/from the airport will do so from Terminal 1, which is used for commercial operations. Terminal 2 is set back from the airfield and is used for chartered flights. The airport has just a single runaway and a single taxiway and is managed and operated by the Naples Airport Management Company.

Top Tip: You can use the search bar at the top of the page to start searching and comparing flights to Naples International Airport.
---
How far is Pompeii from Naples?
By Car
Naples is 27 km (16.7 miles) from Pompeii by car. The journey from Naples International Airport to Pompeii by car will take about 25 minutes.
By Train
Naples is located 28 km (18 miles) from Pompeii's main station (located just a few minutes walk from the main entrance to the archeological site) by train. If you choose to travel from central Naples to Pompeii by train the journey will take about 45 minutes. If you travel from Naples International Airport straight to Pompeii the journey by train will be between an hour and an hour and a half.
By Bus
Buses take roughly 35 minutes to reach Pompeii from Naples, with regular departures from the airport.