Flights for the Easter Holidays
Easter is a great time to take a well-deserved spring break, falling within the shoulder-season of some of the most incredible destinations around the world. Whether you are looking to buy domestic flights to fly back home to spend Easter with your family, or to make most of the national holiday and escape for an exotic vacation, you'll be sure to find the best flights for you with Alternative Airlines.
About Easter
Easter is one of the most significant and oldest festivals of the Christian Church. The festival celebrates the resurrection of Christ and is held between 20th March and 6th April, on the first Sunday after the first full moon following the northern spring equinox.
When is Easter 2023? In 2023, Good Friday will be on the 7th April and Easter Sunday will be on the 9th April.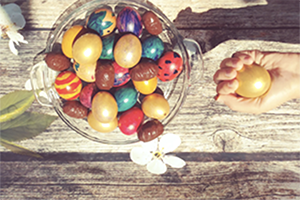 ---
Book Easter Flights Now and Pay Later
When you book your flights for Easter (or any other time of your year!) through Alternative Airlines, you can spread the cost over. Whether you're flying home to visit family or making the most of the long weekend by heading off on vacation, you can book your flights today without paying the full amount upfront. We offer lots of flexible pay later payment options with Klarna, Affirm, Afterpay, Zip, Laybuy, and more.

Discover all our buy now, pay later options
---
What are Easter Flights?
Easter flights are not just those which fly on Easter Sunday. They can be flights departing anytime over the Easter period, generally the two weeks surrounding the weekend. Spring break and Easter is one of the most popular times to travel before the summer break. During this time, there are often school breaks and national bank holidays, meaning a greater demand for flights.
---
When Is the Best Time to Fly for Easter?
Alternative Airlines has great airline ticket prices during the entire Easter period. The good news is that flight prices aren't dramatically more extortionate over Easter.
You can use the search bar at the top of the page to search for cheap flights. With Easter just around the corner, Alternative Airlines is the best place to search for cheap Easter flights. We offer thousands of flights from over 600 airlines, assuring that you will find the best flight for you.
---
Booking Last Minute Easter Weekend Flights
Is it cheaper to book your Easter flights last minute?
Sometimes it can be cheaper to book your flights last minute because an airline might sell seat tickets for a cheaper price if there is still availability on the plane. However, this is not guaranteed. Infact, sometimes airlines will raise the prices to make last-minute flights more expensive, reflecting the increase in demand during peak travel periods such as Easter and Christmas.
---
Top Tips for Booking Easter Flights
1. If you can be flexible, consider booking your flight at less popular travel times. Instead of departing on a weekend, for example, consider flying mid-week. Doing so could dramatically reduce costs!
2. Is it actually cheaper to book flights on a Tuesday? How far in advance should you book your Easter flights? To help you decide when the best time to book your flights is, check out our blog: The Cheapest Day to Buy Flights
3. Search for flights with a low-cost carrier. No matter where you are planning on heading, long-haul or short-haul, it's very likely that there will be a low-cost carrier option. Flying low-cost means services such as inflight meals, extra baggage allowance and priority boarding are not included in the price of the ticket, helping to reduce costs. Did you know, you can filter your search by airline when you book through Alternative Airlines?