Ryanair UK Reservations with Alternative Airlines
Make a Ryanair UK Booking and Find Some Amazing Deals
---
About Ryanair UK
Ryanair UK is the UK based subsidiary of Irish airline Ryanair. The airline is set to launch in 2019 and was created in order to prepare for the UK's departure from the European Union. The airline is based at London Stansted and will operate domestic flights within the UK, as well as flights from the UK to other countries outside of the European Union.
Ryanair UK is one of three subsidiaries from Ryanair, along with Ryanair Sun and Laudamotion. The airline was created in the early stages of 2018 and gained its AOC by the end of the year.
---
About Ryanair UK

Although Ryanair UK's fleet is growing as it comes closer to launching, the airline currently possesses a number of Boeing B737-800 aircraft, which was given to it by its parent airline.
---
Ryanair UK Baggage
Ryanair UK has the same baggage allowance its parent company, Ryanair.
Carry-on Baggage
Passengers on Ryanair UK flights are allowed one small personal item that must fit within the dimensions of 40 x 20 x 25 cm. This baggage has to fit within the sizer before boarding and has to be able to fit under your seat. If a passenger would like to a bag bigger than the regular 20kg checked bag, they can purchase a low-cost 10kg checked bag, which must fit within the dimensions of 55cm x 40cm x 20cm and be checked at the airport.
Checked Baggage
Other than the low-cost checked bag, Ryanair UK passengers can purchase up to three checked bags, each with a maximum weight of 20kg.
---
Ryanair UK Hub Airport
London Stansted Airport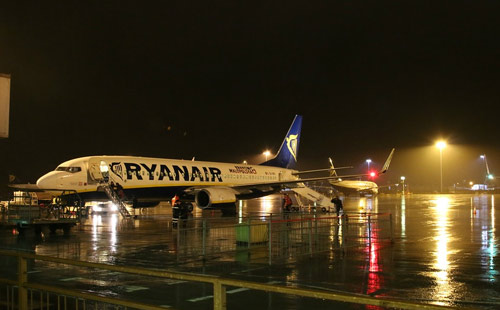 London Stansted Airport is one of four international airports in London and its surrounding areas and is the hub airport for Ryanair UK. The airport opened in 1943 and has connections to more than 170 destinations across three different continents — Europe, North Africa and Western Asia. The airport is the UK's busiest airport in terms of connections from the UK to Europe. Overall, London Stansted is the UK's fourth busiest airport, after London Heathrow, London Gatwick and Manchester Airport.
The airport is also the hub for soon-to-launch UK airline Atmosphere Airlines. Other airlines that have a strong focus at London Stansted include easyJet, Jet2, Ryanair, Thomas Cook Airlines, TUI Airways and Titan Airways.
---
Alternative Airlines to Ryanair UK
---
Buy Discounted Ryanair UK Tickets at Alternative Airlines
---