Cheap Flights in July 2022
Alternative Airlines can help you search and book cheap flights during July 2022.
You can search and compare flights with over 600 global airlines, so that you can find the right flights for you. As well as great prices, we offer more than 40 payment methods, including 'buy now, pay later' — allowing you to spread the cost of your flights over time.
---
Buy Cheap Flights in July 2022 with Alternative Airlines
July — it's the perfect time of year for a summer break. It's half way through the year, so definitely time for a well deserved break. July is the time of year to hunt out some sun, sea and sand.
One point to consider is that in some countries (such as the UK), the school summer holiday begins in July (towards the end of July). This means that the cost of flights from these countries can increase.
But don't worry, Alternative Airlines is here to help. Our flight search makes it quicker, easier and more convenient to find your flights. We offer lots of flight search filter options, including the option to view the cheapest flights first. We also offer lots of flexible payment options, including payment plans, to help you manage your spending.
---
Tips for Booking Cheap Flights in July 2022
1. Use our cheapest fare calendar
When you search for flights, you can use our calendar heat map to see the cheapest days to fly. If you can be flexible with your dates of travel, this is one of the best ways to save. Departing a day or two before or after your entered dates might really reduce the cost of your flights. The calendar is colour-coded, with the cheapest days in green and the more expensive days in red.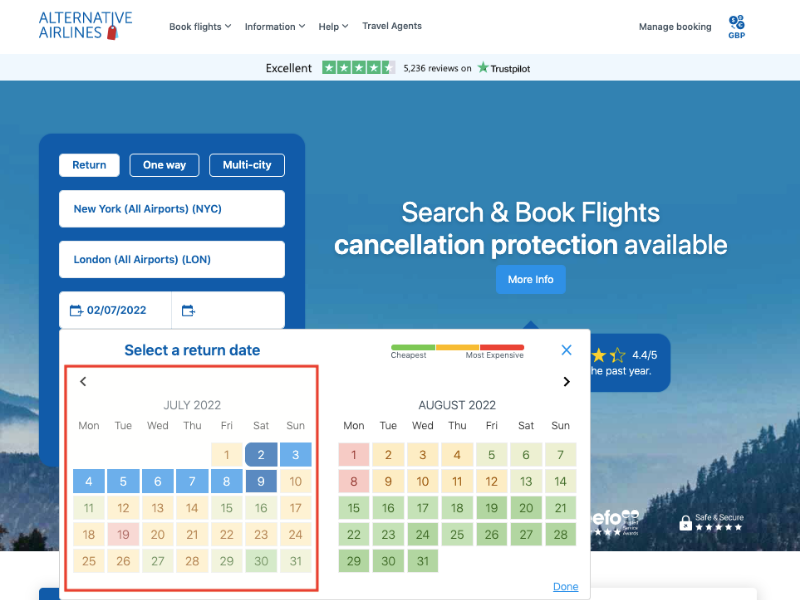 2. Filter by the cheapest flights
After you hit 'search', apply one off our filters to view the cheapest fares first. This will display the cheapest flight options at the top of the results, with each flight gradually increasing in price as you scroll down the page. If you don't mind which airline you fly with, this is also one of the best ways to save!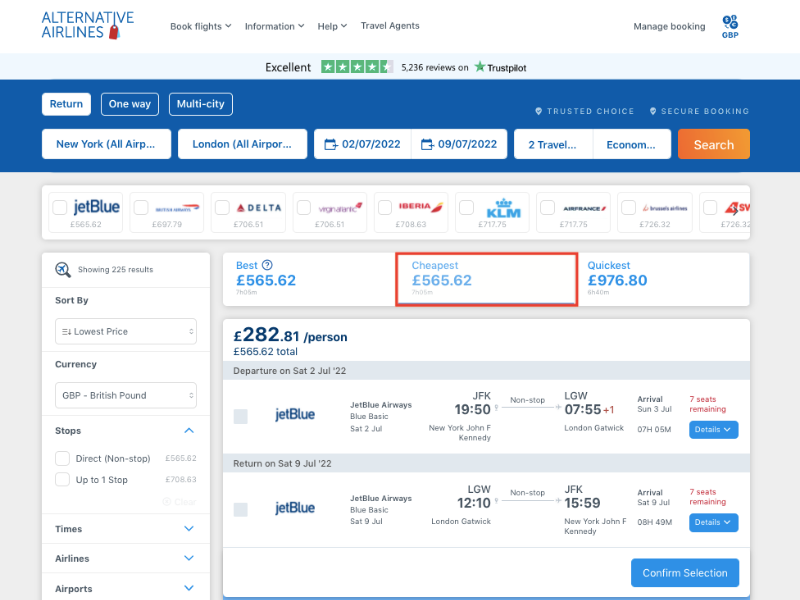 3. Pay with Buy Now, Pay Later or financing
Okay, so buy now, pay later and financing might not reduce the cost of your flights, these payment options enable you to spread the cost over time, which can make booking flights much more affordable in the long-term. If you like the price of a flight today but don't have funds available, you can still book and pay back the cost of the flights over a fixed number of weekly or monthly instalments. What's more, any of our payment plan options are interest-free!

---
How to Find and Book Cheap Flights for July 2022
Follow these 3 simple steps to help you find and book the cheapest flights for your July vacation...
STEP 1
Use the Alternative Airlines seach form at the top of the page. Enter your chosen departure dates and departure/arrival destinations. You can also use your colour-coded calendar to find the cheapest days to travel (all dates with the cheapest flights are in green!).
STEP 2
You can then filter the search results to view all flight options by the lowest price.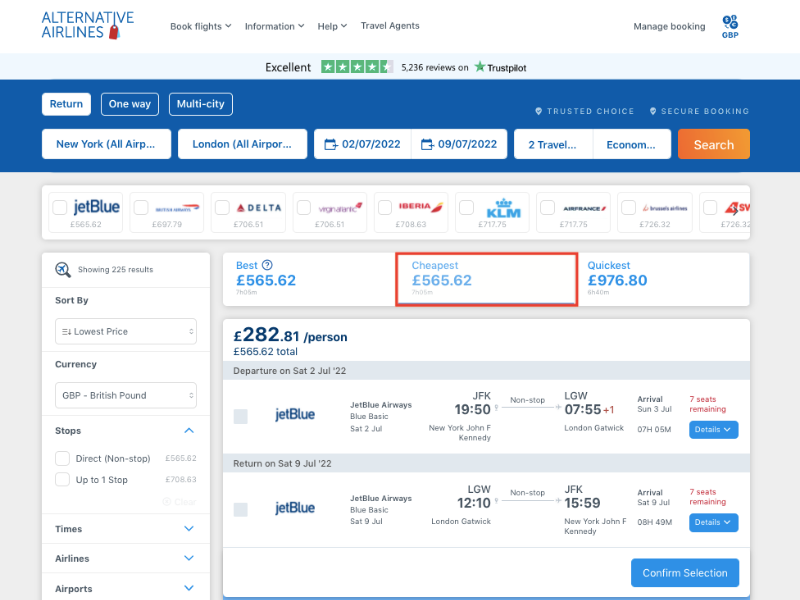 STEP 3
Choose your flights and enter your booking details before selecting your payment method.
Select one of our 'buy now, pay later' payment options to spread the cost of your flights over time. This makes it easier to pay off the cost of your flights, by breaking the cost into much more manageable instalments.