Buy Winter Flights
From the build-up to Christmas to the quieter months of January and February (the perfect time to discover a new city without the crowds!), winter really is a magical time of year. If you're looking for cheap flights for winter 2023, then Alternative Airlines can help. Use this guide to find out more about when to book flights for your winter break, as well as top tips to help make booking flights more affordable, from using our Best Fare Calendar to booking now and paying later.
Book flights for your next winter break with Alternative Airlines — simply use the search form at the top of the page to begin searching for flights.
---
How to Book Cheap Flights for Winter
1. Book early
The cost of flights will go up incrementally the closer that it gets to departure. So, for the best prices, book early. You can find out more about how far in advance airlines release tickets below.
2. Buy now and pay later
As well as booking early, paying the cost over time can help make your flight booking even more affordable, as you can pay over weekly or monthly instalments rather than upfront. Here at Alternative Airlines, we offer lots of buy now, pay later options, including Klarna, Affirm, Afterpay, Zip and more. Although the total cost will remain the same, spreading it out over time can enable you to book flights to destinations that would otherwise be unaffordable.

Discover all our pay later options
3. Use our calendar to find the cheapest flight
To begin searching for flights, enter your departure and arrival destinations, the number of travellers and your travel class. Once that is done, you can then select your dates of travel. This is when our Best Fare Calendar comes in.
The Best Fare Calendar uses a traffic light system to show you the cheapest date that is cheapest for you to travel in the month, with red being the most expensive and green being the cheapest. If you can be flexible with your dates of travel, this is one of the best ways to save.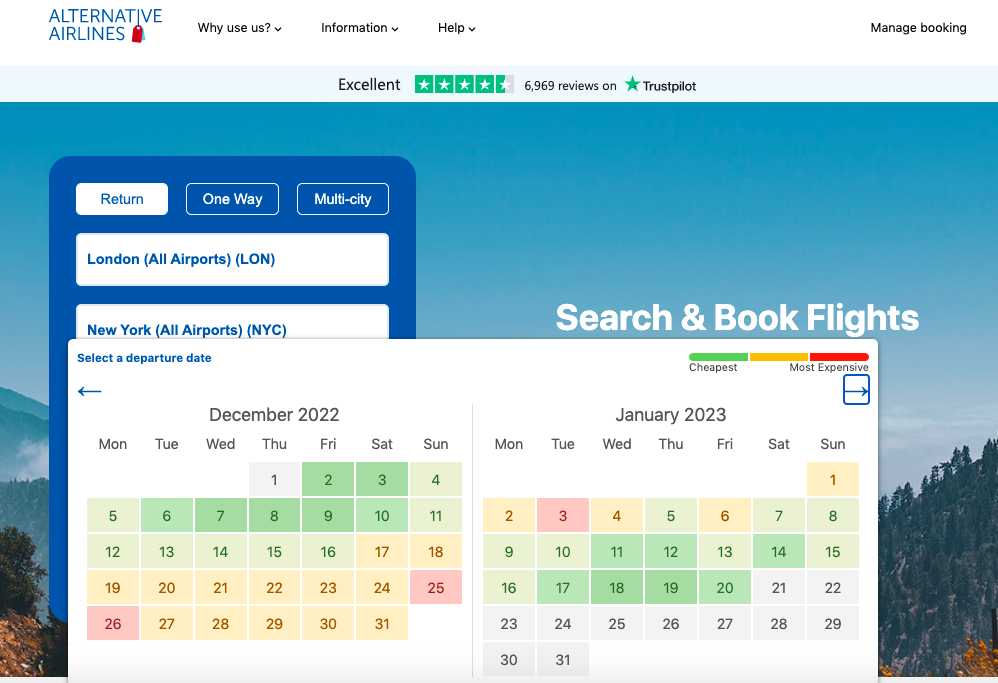 ---
Winter Flights to Europe
Winter is a wonderful time to visit Europe. Exploring Europe's beautiful cities during winter will always be an enchanting experience. From London to Vienna to Amsterdam, escape the snow and pop into an unmissable museum or don your hat and gloves and visit one of Europe's best Christmas markets. Many of Europe's best-loved cities looked even more incredible over the crisp winter months.
What's more, for many destinations in Europe, visiting in winter will mean cheaper flights, as winter is the quieter low-season for travel.
Whether you're flying from one country in Europe to another, or visiting from the US or elsewhere further afield, there are many airlines that operate regular flights to Europe over the winter. Use the search form at the top of the page, by entering your departure and chosen arrival destination, to begin your search.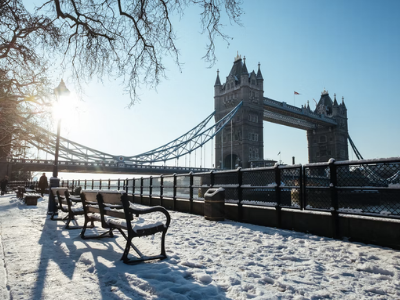 Popular Winter Destinations in Europe
Vienna, Austria
✈︎ Fly to Vienna International Airport with airlines including Austrian Airlines, Ryanair, Wizz Air, Air Canada, Air France, Emirates, Eurowings and many more.
Amsterdam, Netherlands
✈︎ Fly to Amsterdam Airport Schiphol with airlines including easyJet, British Airways, Air France, Air Canada, Transavia, Tui Netherlands, WestJet, Vueling, United Airlines, Scandinavian Airlines, Norwegian, Delta, Air Europa and many more.
Bruges, Belgium
✈︎ Fly to Bruges with TUI fly Belgium ​​
Prague, Czech Republic
✈︎ Fly to Václav Havel Airport Prague with airlines including easyJet, Eurowings, Czech Airlines, Ryanair, Wizz Air, Jet2, Aeroflot, Aerlingus, British Airways, Ural Airways and more.
Tallin, Eastonia
✈︎ Fly to Tallinn Airport with airlines including airBaltic, Ryanair, Wizz Air, Scandinavian Airlines and more.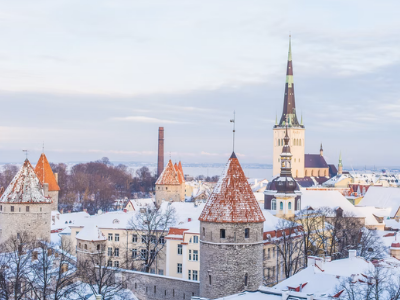 ---
Book Flights for Your Skiing Trip 2023
Can't wait to book your 2023 skiing trip? The season is just around the corner and there's no time like the present to book flights for your upcoming skiing strip. In fact, the earlier that you book, the likelier it is that you'll find cheaper prices. This is because the cost of flights can increase rapidly the closer to departure.
Looking for inspiration? Take a look at our top blogs for skiing enthusiasts:
9 Best ski resorts in the world
---
When Are Winter Flights Released?
This will depend on the airline. Many airlines will release their upcoming schedules up to 11 or even 12 months in advance, whereas other airlines will only release their upcoming schedules about three months prior. Domestic flight schedules may also be released before international flight schedules.
When will easyJet winter flights be available to book?
It's usually possible to search and book flights with easyJet for the entire upcoming year. This means that it will be possible to book winter flights in the early months of the same year.
When will Ryanair winter flights be released?
Ryanair will usually release their schedule 9 months in advance. If you want to book winter flights with this airline, we recommend doing so during the spring or summer prior — earlier the better to grab the best prices.
How early in advance can I book winter flights in the US?
The majority of major carriers in the US, including United Airlines, Delta, American Airlines, Hawaiian and Spirit all tend to release their tickets 11 months in advance. Jetblue and Allegiant Air usually release their tickets a little later, 6 to 9 months in advance.
When will Southwest winter flights be released?
While most airlines allow you to book flights up to 11 months in advance, Southwest Airlines does things a little differently. The airline will usually release fares in batches, about seven months in advance.
---
Booking Christmas Flights
For the best prices, we recommend booking your Christmas flights as early as possible. But we also understand that plans can change and sometimes bookings need to be made last-minute. Here at Alternative Airlines, there are lots of ways that we take the stress out of last minute bookings. Take a look at our guide to booking Christmas flights to find out more.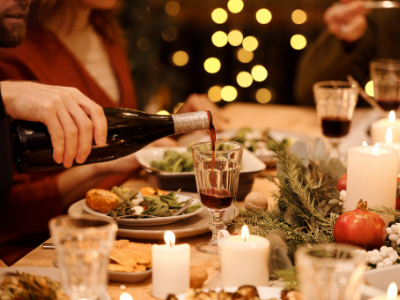 ---
Winter Flights
FAQs
When is the best time to buy winter flights?
Because the winter season spans a number of months, the answer depends on where you are going and when. If you're planning a pre-Christmas trip, perhaps to a popular Christmas-market city, then the tickets may be available sooner than if you are planning a late February break. However, to grab a bargain the general rule is to book early, as the price of the flights will increase the closer it gets to departure.
Where can I book winter flights?
Through Alternative Airlines! We ticket hundreds of global airlines (over 600!), flying to destinations around the world. So no matter which winter destination you've got your eye on, it will be easy to find and book your perfect flights with us. Simply use the search form at the top of the page to begin.