Cheap Flights in December 2022
Buy cheap flights for December 2022 with Alternative Airlines. We offer flights from more than 600 airlines worldwide at great prices. So, no matter where in the world you're flying to or from — we'll have a flight for you. Pay with one of our 40+ payment methods, including buy now pay later, e-wallet or even cryptocurrency.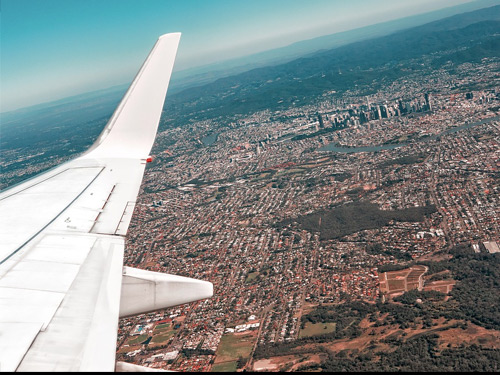 ---
Buy Cheap Flights in December with Alternative Airlines
With Christmas and New Year for some parts of the world and the beginning of summer for others, December is a popular and generally more expensive time of the year to fly compared to the months surrounding it.
That's why, if you're looking for December flights for a vacation or otherwise and you want to keep the cost down, you'll need to look in the right places. At Alternative Airlines, we offer flights in December flying all across the world and help you easily find the cheapest flights on our site.
How, exactly?Check out our tips and guides below...
---
Tips for Booking Cheap Flights in December 2022
Use our calendar to find the cheapest day to fly in December
Our cheapest date calendar is the perfect tool for anyone who isn't fussed about which dates they fly on and can be flexible with their dates.
The calendar is color-coded and highlights the cheapest days to fly in shades of green and the most expensive days in shades of red. Anything in between will be colored in yellow. The deeper green the date is, the cheaper the flights are on that day.
Our calendar is the first place to start when looking for cheap flights in December because it'll filter out the most expensive flights before you've even begun searching. The cheapest calendar automatically loads anytime you open our calendar when searching for a flight on our site.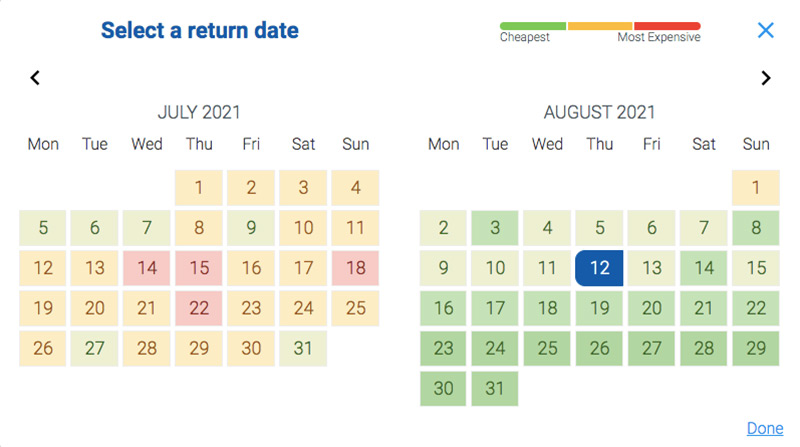 Sort your search by cheapest
Once you've decided the dates you want to fly on, you can choose to sort the flight results by 'lowest price'. This will put all of the cheapest flights at the top of the search.
Tip: if you'd like to see all of the cheapest direct flights or the cheapest flights that include baggage in their fare, sort by cheapest and then select one of our other filters. This will show you all of the cheapest flights with your selected filter view.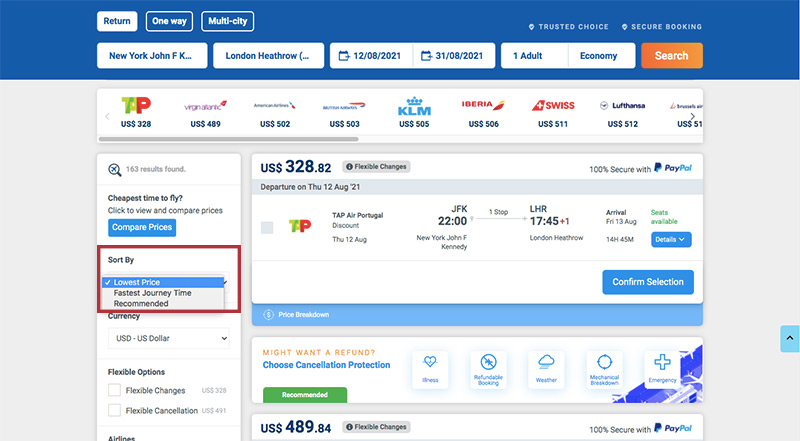 Cheapest flight by airline
Have a favourite airline?
We've also come up with a way that you can quickly and easily search for the cheapest flights from a specific airline. Once you've searched for flights, all you have to do is click on the airline logo on the banner at the top of the page. The price underneath the logo shows the price of the cheapest flight for each airline, so you can easily compare.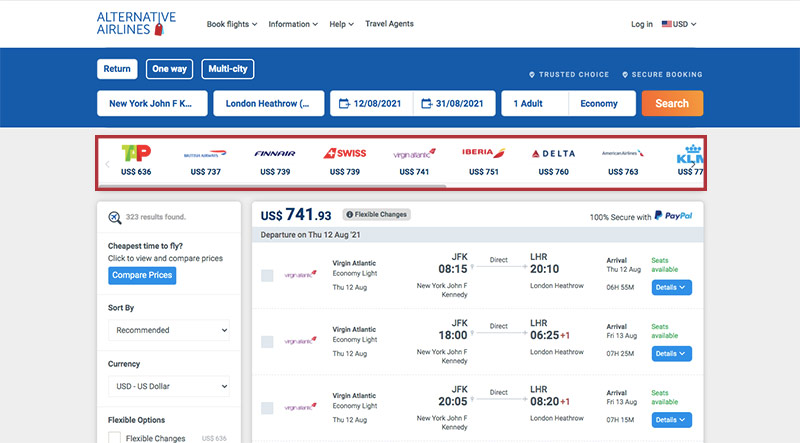 Pick the right payment method
While picking the right payment method won't make your flight cheaper, it can definitely help with paying off a flight ticket and make it more affordable.
For example, on flights that are paid for via PayPal, you're eligible to earn cashback.
Or, if you choose one of our buy now pay later options, you can split of the ticket over time. This allows you to better manage your money and buy the flight weeks or months before you'd ordinarily be able to.

---
How to Find and Book Cheap Flights for December 2022
Follow our step-by-step guide to discover exactly how to find cheap flights with Alternative Airlines.
STEP 1
Enter the date(s) in December that you want to fly on and which destinations that you want to fly between.
Tip: this is where our cheapest calendar comes in! The dates in green are the cheapest dates to fly on and the dates in red are the more expensive. If you're able to fly on that date, choose a green date.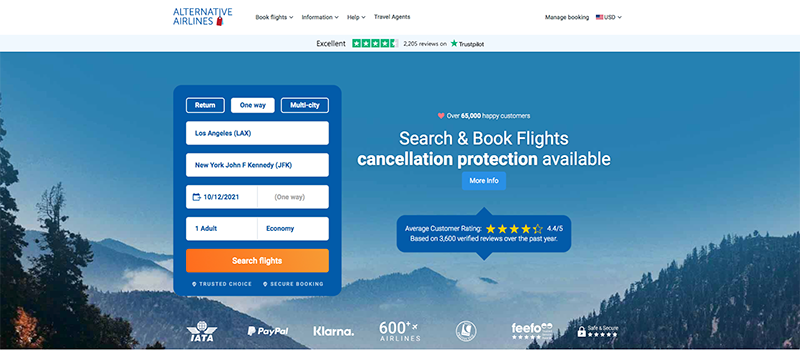 STEP 2
We'll display all available flights on the dates and destinations that you've chosen.
Here you can sort by cheapest flights by using our 'Sort By' filter. Or, click on one of the airline logos on the banner at the top to see the cheapest prices on a specific airline.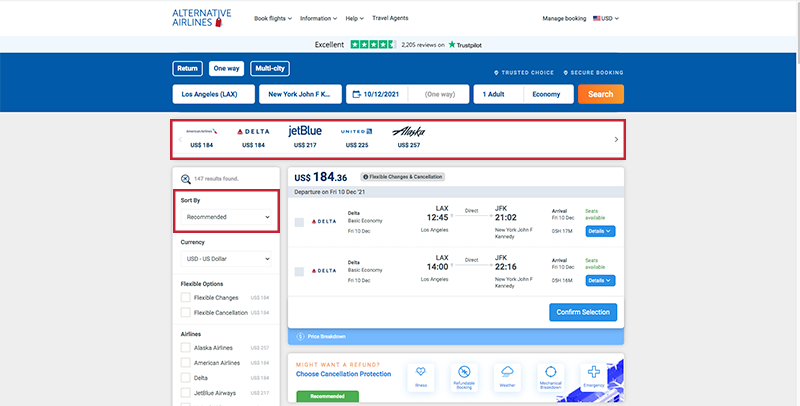 STEP 3
After you've filled out the passenger details for your flight, you'll need to select a payment method.
Remember, we've got a tonne of payment options and certain payment methods, such as our buy now, pay later options can help make your flight more affordable in the long run.
Once you've selected payment, you'll just need to follow the instructions to complete the payment. After that, the flight is yours! We'll send over your e-ticket right away, which you can use for check-in.