Airlines will always try to sit children with their parents (subject to check-in)
Some airlines will allow travel for unaccompanied minors. Please email us to check.
The fare is based on the child's age on the date of travel.
More detailed information can be found here Traveling with children
Most airlines will let infants travel with their parent(s) for free. However some airlines will charge up to 10% of the adult ticket price. Click on 'Price Breakdown' to find out more.
If you are pregnant, but due before the flight departure date, please contact us once your baby is born and has a name. We can then add him/her to your ticket.
Infants will not be given a seat. The airlines expect parents to travel with them on their lap.
Airlines regard infants as being under 24 months old.
The fare is based on the child's age on the date of travel.
More detailed information can be found here Traveling with children
Christmas Flights
Cancellation Protection
Protects
Trusted Choice
65,000 happy customers
Rated 4.5 Stars. Based on 3,581 service ratings over the past year
Dedicated customer service team on hand to help
Secure payments
Cancellation Protection
Protects
Trusted Choice
65,000 happy customers
Rated 4.5 Stars. Based on 3,581 service ratings over the past year
Dedicated customer service team on hand to help
Secure payments


Buy Christmas Flights
Looking to book flights for the Christmas period? This guide provides information on getting the best deal for Christmas Flights 2020, with tips for travelling over the festive period.
Flights for the Christmas Holidays

Whether you are looking to buy domestic flights to fly back home to spend Christmas with family, get away for an exotic vacation away from the stress of the holiday season, or looking for some extra festivities by visiting an alternative Christmas market, Alternative Airlines has the right flights for you.
Christmas flights are not just those which fly on Christmas Day (25th December). They can be flights departing anytime over the Christmas Period, generally the two weeks surrounding Christmas and New Year. In 2020, this period will fall from Saturday 19th December to Saturday 2nd January.
When is the best time to fly over Christmas?
For Cheap Christmas flights:
There is an urban myth that means people often believe Christmas Day is the cheapest day to fly over Christmas, but this isn't always the case. In fact, Christmas Day is often the most expensive day for flying, depending on where you are travelling. If possible, try to avoid the busiest peak travel dates, from 24th to 28th December for cheaper flights. We suggest using Alternative Airlines' best fare finder to find the cheapest day and time to fly within a week's period.
For quieter Christmas flights:
If you want to avoid the busiest flights over the Christmas period, the 17th of the month is said to be the quietest day for travel. The Saturday directly before Christmas is said to be the busiest day for travel, so make sure you avoid this date if you are looking to avoid hectic airports. In 2019 this date will fall on Saturday 21st December.
When's the best time to buy flights for Christmas 2020?
Based on previous years, the first week of November is considered the cheapest time to book Christmas flights. Therefore, the week commencing the 1st November 2020. Make sure you read our blog on the cheapest day to buy flights to find out more top tips about getting the best deal for your Christmas flights with Alternative Airlines. Why not make the most of Black Friday this year and buy a flight for Christmas with Alternative Airlines' Black Friday or Cyber Monday Deals, or take a look at our offers page?
Gifting Christmas Flights
With Alternative Airlines, you can buy a flight for someone else such as for a Christmas present, or an early surprise so that you can spend the holidays together. Find out how to buy flights as a gift with Alternative Airlines here.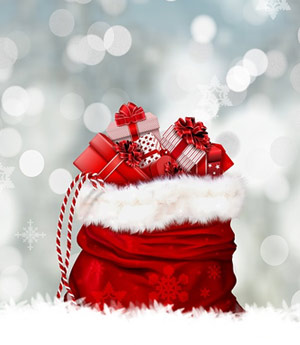 Tips for Travelling over the Christmas Period:
1
Make sure you get to the airport in plenty of time. Roads and other methods of transport are often busier during the holiday season, meaning you should allow yourself more time to get to the airport so that you can check-in and pass through security with plenty of time.
2
Travelling during the Christmas period can be stressful. Ensure you have fully prepared for your flight to minimise stress when travelling. Alternatively, passengers with anxiety or other psychological disorders can travel with an Emotional Support Animal to reduce stress when flying.
3
Travelling with presents? Presents which are already wrapped are best kept in your hold luggage. This is because items in your hand luggage may need to be inspected at security, so gifts may need to be unwrapped to be inspected. Delicate items are best kept unwrapped in your hand luggage, and then wrapped up when you get to your destination.
Top Destinations for Christmas
New York
There's a reason this magical city is often featured as a filming location in Christmas films. Fly here with JetBlue Airways or American Airlines.
Berlin
Fancy visiting a traditional Christmas market this December? Airlines that fly to Berlin include Eurowings or Germania.
Alternative Christmas Markets
Prefer Christmas markets which are unique or away from heaps of tourists? Read our blog on weird and wonderful Christmas Markets around the world, complete with airlines to get you there.
Australia
Experience a different Christmas with a BBQ on Sydney's famous Bondi Beach. Fly there with Jetstar Airways or Qantas.
Dubai
Escape here for some winter sun, where December temperatures average a comfortable mid-to-high 20°Cs. Find flights here with flydubai or Emirates.
Slovakia
For a cheaper alternative European destination to enjoy the ski season and mountain views. Fly to Slovakia with Ryanair.
Christmas Flights
FAQs
Can I pack party poppers or crackers in my luggage?
Party poppers are not permitted on any airlines in wither hold or hand luggage. Christmas crackers which are purchased from a store may be permitted on some airlines, but airlines operate different rules as to where they can be stored, and how many you can take. It's best to check with the airline before flying to avoid having to bin them. You should also check the rules of the airports you are travelling through, because most UK airports won't allow them in hand luggage in security, regardless of the rules of the airline. Similar rules apply in the US, where they aren't permitted in either checked or hand luggage.
Can I take snow globes in my hand luggage?
Unless snow globes display the measurement marking on the container, they will not be permitted through security as hand luggage as the liquid can not be proved to be under 100ml. Therefore, it is best to pack this safely in your checked luggage.
Can I take a frozen turkey or ham on a flight?
Although the rule is that you should check with the airline you are flying with, and check the rules surrounding transporting goods of the countries you are departing and arriving at, you usually are permitted these. It is recommended that you properly pack this according to the regulations, for example, some airlines only permit a certain amount of dry ice, and freezer blocks must still be frozen and not liquid at the time of travelling. Also bear in mind any stopovers you may have which may increase the length of your flight - the turkey may have to sit in hot temperatures for a long time during a stopover. Read more about what foods you can fly with here.
Can I fly with presents?
Presents are usually best transported in checked luggage, or unwrapped in hand luggage in gift bags. See above for more information in our tips for flying over the Christmas period.
Best time to buy and book Christmas flights?
The best time to buy flights is usually around 6 weeks before you go. For Christmas flights, the best time to book Christmas flights is usually the first week in November. Read above for more information on getting the best deals for your Christmas flights.
When do Christmas flights go on sale?
Different airlines have different times that they put their tickets on sale. Generally, these go on sale around a year before departure, meaning you can book in advance to get better deals.
Are Christmas flights expensive?
Christmas flights can work out quite expensive because there is so much demand for them. Using Alternative Airlines can help get you the best deal with out Best Fare Finder and offers and vouchers including our Black Friday Offers.