Black Friday Flight Deals 2023 With Alternative Airlines
Get big discounts on your flights with Black Friday deals and offer codes at Alternative Airlines.
Our Black Friday promos have now expired. Make sure to check back next year for even better savings on flights during Black Friday/Cyber Monday weekend.
In the meantime, you can still save money on flights with other promos that we run throughout the year. Check out all of our other deals and offers we currently have on flights through our offers page.
---
Are there Black Friday flight deals?
Alternative Airlines offers Black Friday deals on flights, allowing you to get great discounts on airline tickets. This can be on any airline from 600 choices around the world!
Want to find out how to get the cheapest flights this Black Friday 2023? Read our Black Friday flights blog to find out more about the holiday and discover the best destinations for getting the best airline ticket discounts. This is the best place to find amazing Black Friday flight deals.
What about Travel Tuesday?
Visit our Travel Tuesday page for all the latest offers.
---
Black Friday Flight 2023 Deals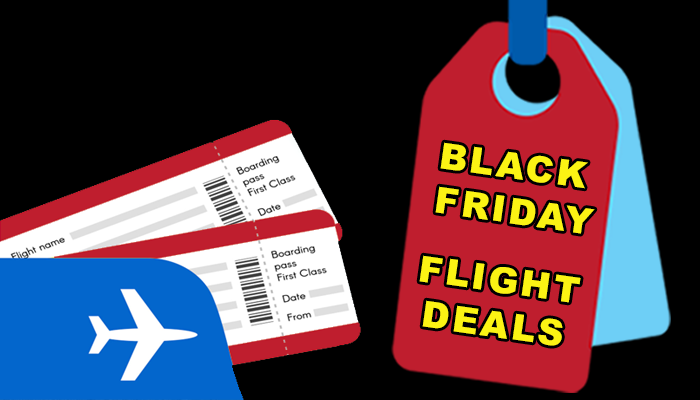 The Alternative Airlines Black Friday sale has been and gone! Make sure to check back next year for our Black Friday 2023 sale.
Until then, you can check our deals and offers page for all of our other promos.
---
Black Friday
FAQs
What is Black Friday?
Black Friday is a commercial-dedicated shopping day that falls the day after the Thanksgiving holiday in the USA. It's seen as a day for offers, deals and discounts for shoppers. Black Friday is also seen as the first day of the Christmas shopping season. It's the Friday before Cyber Monday, which is another commercial day dedicated to shopping for electrical deals. Although it's for electrical, we want to treat you to flight ticket bargains then too.
When is Black Friday 2023?
Black Friday 2023 will commence on Friday 24th November 2023. Sales usually are offered throughout the weekend after and ending at the end of Tuesday 28th November 2023.
Can I get a Black Friday Airfare deal?
Of course! The online flight search Alternative Airlines offers many deals and promo coupons for flights on Black Friday. We know many travellers will be on the hunt for a good bargain and we want to make sure that they get the best deal for their flights! Look out for our flight promo and voucher codes for Black Friday 2023!
Can I get Black Friday deals for flights to Europe and US?
Absolutely, there are many flight deals to grab with us. Just make a search from your desired departure to the destination airport whether it is in Europe, the US, Africa or anywhere and use our flight coupon codes to get discounted flight reservations.
When will I hear about Black Friday flight deals?
Our Black Friday deals for 2022 have now expired. Black Friday 2023 flight deals with Alternative Airlines will launch on Friday 24th November 2023 on our website and social media. These will carry on through the Black Friday weekend. Other flight deals for the travel website before the announcement date can be found here.
What travel websites offer Black Friday deals?
Alternative Airlines is a travel website that offers Black Friday deals on 600 airlines around the world. The deals will be live on 24th November 2023 and can be added to the checkout when a flight reservation is made.
Are flights cheaper on Black Friday?
Flights can be cheaper on Black Friday when offer codes are announced and used. These will provide a deduction to the total price at the checkout. If you can wait until then, other voucher codes can be found with Alternative Airlines.
Can I finance my flights with a Black Friday deal?
You can finance your flights with the Black Friday deal when booking with Alternative Airlines. If you choose PayPal Credit in USD or GBP, you can add a Black Friday deal code at the checkout and this will discount the price before you begin paying in instalments. You can see all the options to finance your flight tickets here.
Best time to buy and book Christmas Flights?
The best time to buy flights is usually around 6 weeks before you go. However, for Christmas flights, the best time can often be the Black Friday weekend because of the flight deals that you can get. Read above for more information on getting the best deals for your Christmas flights. Check out the unique Christmas markets blog if you need some inspiration on where to fly this year!
What airlines have Black Friday deals?
Alternative Airlines sells over 650 different airlines, meaning you have access to so many different routes and fares. Any one of these airlines can be used with our Black Friday discounts, including airlines such as American Airlines, Alaska Airlines, Cebgo, Ethiopian Airlines, Go Air, Firefly and Aerolink Uganda.
---
Pay the way you like for Black Friday flights
There are over 160 currencies to pay for flights, including USD and more with Alternative Airlines. During the Black Friday weekend, we offer deals on different payments for you to use.
There are over 25 payment methods on the Alternative Airlines website that you can use to pay for your flights, including PayPal, Apple Pay, Affirm, Klarna and Alipay. Or choose to finance your airline tickets!
Check out all of our payment methods.
---
People love using Alternative Airlines to pay for flights!
Our customers love to share their reasons for using Alternative Airlines. From our friendly and helpful customer service team, to the choice that we offer customers in the flight options and ways to pay. Read our customer's comments to see for yourself:
"

A Pleasure!

"

Fast, easy and efficient! I never had any difficulty or questions while making my reservation, and received immediate confirmation of my flight. A pleasure doing business with you!

"

Easy to use

"

It's easy to use and shows many options to choose the right flight.

"

Excellent customer service!

"

Excellent customer service. Offering affirm as an optional payment method really help a lot!