Book Flights & Save on Travel Tuesday 2023
Travel Tuesday is the Tuesday after the Black Friday and Cyber Monday weekend. It's a pretty recent phenomenon which can see consumers benefiting the most from extra discounts and deals when it comes to travel.
Our Travel Tuesday flight discount has now expired until 2023, however, you can still save money on your flights with our other flight deals and discounts.
Keep reading to find out how you can make the most of Travel Tuesday 2023 and book the cheapest flights. We also have top tips to help you spread your funds even further when you book through Alternative Airlines!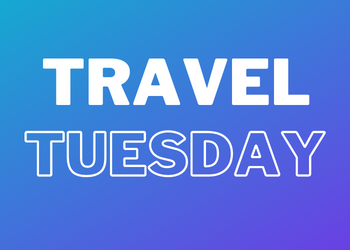 Travel Tuesday Flight Deals
If it's November and you're thinking about booking flights, it might be worth holding out and booking over Black Friday and Cyber Monday weekend, or even on Travel Tuesday. Never heard of Travel Tuesday? It's a pretty new phenomenon that might see you save even further when you book your flights.
See also: Alternative Airlines' Black Friday and Cyber Monday Deals 2023
Don't want to wait until Travel Tuesday?
Don't worry, here at Alternative Airlines we hold promo events throughout the year, not just on Black Friday weekend! Follow us on our social platforms including Twitter, Instagram and Facebook to ensure that you never miss out on our latest promotions. Visit Alternative Airlines from the 24th of November 2023 to discover all our Black Friday, Cyber Monday and Travel Tuesday deals!
You can also take a look at our deals and discounts page to check out our latest offers. Some of our offers depend on the payment option that you use (PayPal, for example) and can be redeemed no matter which airline you book!
---
Travel Tuesday Flight Booking Tips 2023
Book on Travel Tuesday and pay later
As well as finding and booking cheaper flights, when you book through Alternative Airlines you can spread the cost of your flights over time. This can help make your flight booking even more affordable, as you can pay over weekly or monthly instalments rather than upfront. You can use one of our buy now, pay later options even if you've redeemed a Black Friday/Cyber Monday or Travel Tuesday discount code!*
*Note that some discount codes might be specific to a payment option — visit our offers page to find out more.

DISCOVER ALL OUR PAY LATER OPTIONS
Use our Cheapest Fare Finder
As well as applying a discount code, comparing when to travel is one of the best ways to help you save even more money. Use our cheapest fare finder to discover the cheapest days of each month to travel. Our traffic light colour system makes it easy to quickly identify the cheapest dates. If you can be flexible with your dates of travel, then flying even a day or two before or after might help you save.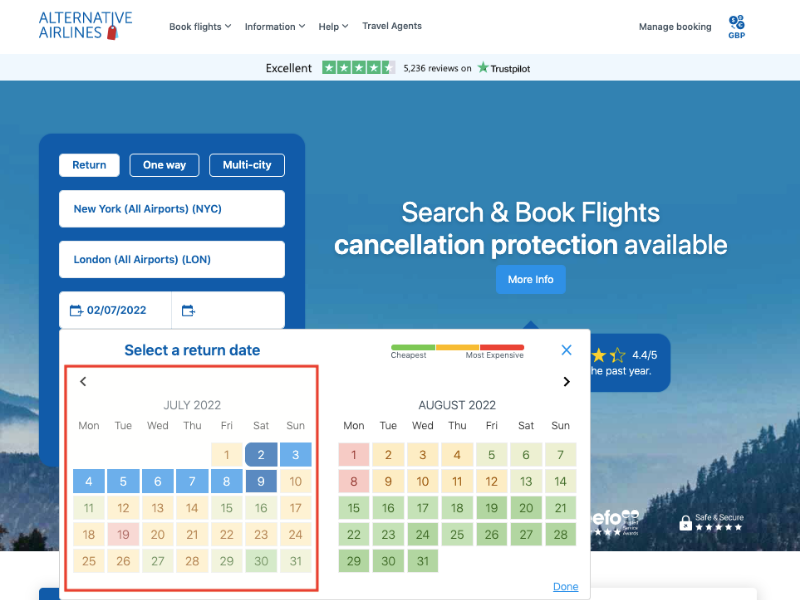 ---
Travel Tuesday Flights
FAQs
What is the cheapest day to buy flights?
For a number of reasons, many swear that it can be cheaper to book flights on a Tuesday and there are a lot of articles online to support this claim. In this case, Travel Tuesday perfectly combines lower fares with airline deals and discounts! However, here at Alternative Airlines, we've found that the dates that you travel and how far in advance, as well as other factors, make the biggest difference when it comes to finding the cheapest fares!
Top Tip: Take a look at our blog, 'Is there a cheapest day to book flights?' to find out more.
Are flights cheaper on Travel Tuesday?
Travel Tuesday follows Cyber Monday, which is also preceded by Black Friday Weekend. For many, this is the last payday weekend before Christmas. As a result, many retailers hold discounts, sales and promotions over this weekend. Deals and discounts often last through to the following 'Travel Tuesday' which is now a popular date for those looking to save on their next break.
When is Travel Tuesday 2023?
In 2023, Travel Tuesday will be on the 28th November. Keep checking in with this page and our social media for updates on what discount code to use for Travel Tuesday 2023.
When did Travel Tuesday start?
Travel Tuesday is a newer phenomenon, first seen in 2017. It's increasingly been embraced by the travel industry, with more and more travel providers offering greater discounts for flights, hotels, car hire and more on Travel Tuesday.
Where can I find the best Travel Tuesday Deals?
Through Alternative Airlines! We offer amazing discounts and deals throughout the year, and we love celebrating Black Friday weekend by bringing our customers the best fares and deals possible. Follow us on Twitter, Facebook and Instagram and visit our site over the Black Friday weekend to find our latest deals.