Trusted Choice
Secure Booking
Airlines will always try to sit children with their parents (subject to check-in)
Some airlines will allow travel for unaccompanied minors. Please email us to check.
The fare is based on the child's age on the date of travel.
More detailed information can be found here Traveling with children
Most airlines will let infants travel with their parent(s) for free. However some airlines will charge up to 10% of the adult ticket price. Click on 'Price Breakdown' to find out more.
If you are pregnant, but due before the flight departure date, please contact us once your baby is born and has a name. We can then add him/her to your ticket.
Infants will not be given a seat. The airlines expect parents to travel with them on their lap.
Airlines regard infants as being under 24 months old.
The fare is based on the child's age on the date of travel.
More detailed information can be found here Traveling with children
Search and book flights with
AirAsia
Buy
AirAsia

Flights
AirAsia Reservations with Alternative Airlines
Make an AirAsia Booking and Find Some Amazing Deals
---
About AirAsia
AirAsia is a Malaysian low-cost airline headquartered in Kuala Lumpur, which operates many flights to 22 countries and 100 destinations. AirAsia has been awarded Skytrax's 'World's Best Low-Cost Airline' for 7 years running and is committed to low fares, low cost carrier model including cost-saving innovations and self automation. Within the AirAsia family includes subsidiary airlines:
Malaysia AirAsia
AirAsia flies to many destinations which include: Abu Dhabi, Adelaide, Alor Setar, Bacolod, Balikpapan, Banda Aceh, Bandar Seri Begawan, Bandung, Bangalore, Bangkok, Beijing, Batam, Bintulu, Busan, Cebu, Chengdu, Chennai, Chiang Mai, Taipei, Pattaya, Colombo, Ho Chi Minh City, Johor Bahru, Colombo, Kathmandu, Penang and many others.
AirAsia has lots of affiliate airlines Thai AirAsia, Indonesia AirAsia, Philippines AirAsia and AirAsia India. Other airlines flying to destinations in the Philippines include Cebu Pacific and its subsidiary Cebgo.
AirAsia is featured on our list of the cheapest and best value airlines in the world.
---
AirAsia Frequent Flyers Program
AirAsia offers AirAsia Asean Pass, a travel pass that allows passengers to book base fares at least 14 days or more before departure date. AirAsia offers AirAsia BIG SHOT, a frequent flyer program to reward regular travellers with the airline. As a BIG SHOT, you get to earn BIG Points with every flight booking and in return, redeem more flights with those points. From September 2017, AirAsia have renovated to BIG points. Under the scheme, points are determined by how often passengers fly: the more they fly with AirAsia, the faster they will earn points, regardless of how much they spend on fares.
The four-status system moves from Red status - for passengers who fly up to 13 AirAsia flights a year - to Gold and Platinum and Black, for those who fly over 50 times a year. Long-haul and Fly-Thru flights count as two short-haul flights, under the new calculation.
---
Book AirAsia Flights in English
Book your AirAsia flights with Alternative Airlines to ensure a good service and communication through booking in English. We provide options and choice for you in our payment methods and currencies, giving a trusting service and experience.
---
AirAsia Deals and Discounts
Looking for AirAsia deals and flight ticket discounts? See all of Alternative Airlines airline ticket coupons and save with AirAsia. Pay in US Dollars, pay with PayPal and save!
---
AirAsia Food
AirAsia Meal Options
AirAsia offer inflight meals under their AirAsia Santan menu, with dishes inspired by Asean and international origins. This menu can be pre-ordered before flying up to 24 hours before flying, to ensure you get the option of your choice. The options vary depending on your flight, but generally includes fragrant curries, sandwiches, pasta dishes and oriental rice and chicken dishes. Check out this page to select your flight and see the available options for you and pre-order.
Please note that pre-ordered meals must be ordered 24 hours before flying. All pre-ordered meals will include a complimentary drink.
Snacks and selected hot meals can still be purchased in flight. The in-flight menu for your flight can be viewed by following the link above.
AirAsia Special Dietary Requirements
If there is nothing on the pre-order menu that suits your dietary requirements, contact AirAsia directly to see if they can provide a special meal for you onboard.
AirAsia Drinks & Alcohol
If you pre-order a meal with AirAsia before travelling, there will be a complimentary drink included in the fare. In addition, there will be drinks available to purchase on board in the in-flight service. On most flights, there is a selection of alcoholic beverages that will be available to purchase.
---
AirAsia Baggage
AirAsia entitles its passengers to one piece of cabin baggage and one laptop or handbag on-board. Checked baggage can be pre-booked online and must not exceed 81 cm x 119 cm x 119cm and 32 kg in weight. AirAsia offers four types of fares, each with has different conditions or baggage. These fares are low fare, value Pack, Premium Flex and Premium Flatbed. Premium Flatbed allows customers to enjoy a full flat bed with a universal pocket socket, personalised reading light and foldaway table.
Each checked baggage must not exceed:
81cm (H) x 119cm (W) x 119 cm (D) and
32kg in weight.

Checked baggage allowance available for pre-book online

Domestic flights – 15kg/ 20kg/ 25kg/ 30kg/ 40kg
International flights – 20kg/ 25kg/ 30kg/ 40kg
Flights to/from the United States - 1 piece (20kg), 2 pieces (20kg each)

Note: Checked baggage allowance can only be shared with guests in the same booking number. Each single item has to weigh less than 32kg (20kg for flights to/from the United States) and is subject to occupational health and safety requirements.
---
AirAsia Check-In
Online Check-In
Passengers can check-in online via the AirAsia web check-in page. Online check-in opens 14 days before scheduled flight departure time and closes one day before. Passengers can check-in by entering the airport of departure, the booking number/reference and the last name of the person that the reservation was made under. Online check-in can also be completed via the AirAsia mobile app.
Airport Check-In
Passengers can also check-in at the airport of departure by presenting their travel documents to one of the agents at the AirAsia check-in desk.
On all international flights, airport check-in opens three hours before and closes one hour before the scheduled departure time of the flight.
On all domestic flights, airport check-in opens two hours before scheduled flight departure time and closes one hour before on flights from Kuala Lumpur International Airport, 30 minutes before on all flights from Japan and 45 minutes before on flights from all other airports.
---
AirAsia Destinations
Domestic Destinations
Aior Setar
Bintulu
Ipoh
Johor Bahru
Kota Bharu
Kota Kinabalu
Kuala Lumpur
Kuala
Terengganu
Kuantan
Kuching
Labuan
Langkawi
Miri
Penang
Sandakan
Sibu
Tawau
International Destinations
Banda Aceh
Banda Seri
Begawan
Bandung
Bangkok
Beijing
Bengaluru
Bhubaneswar
Can Tho
Cebu
Changsha
Chennai
Chiang Mai
Chongqing
Clark
Colombo
Da Nang
Davao
Delhi
Denpasar
Dhaka
Goa
Guangzhou
Guilin
Haikou
Hangzhou
Hanoi
Hat Yai
Ho Chi Minh
City
Hong Kong
Hua Hin
Hyderabad
Jakarta
Kalibo
Kaohsiung
Kochi
Kolkata
Krabi
Kunming
Lombok
Luang Prabang
Macau
Makassar
Malé
Manila
Medan
Nanning
Nha Tang
Padang
Palembang
Pattaya
Pekanbaru
Phnom Penh
Phu Quoc
Phuket
Pontianak
Semarang
Shantou
Shenzhen
Siborong-Borong
Siem Reap
Sihanoukville
Singapore
Solo
Surabaya
Surat Thani
Taipei
Tiruchirapalli
Vientiane
Visakhapatnam
Wuhan
Yangon
Yogyakarta
---
AirAsia Route Map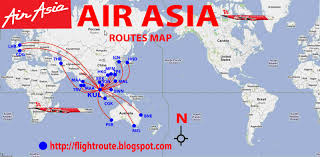 ---
AirAsia Popular Routes
Johor Bahru

Ho Chi Minh City
Kuala Lumpur

Kathmandu
Penang

Kuching
Kuala Lumpur

Taipei
Pattaya

Kuala Lumpur
Kuala Lumpur

Colombo
---
AirAsia Fleet
The AirAsia fleet includes 22 186-seat A320neos and 182 180-seat A320neos.
---
AirAsia Hub Airport
Kuala Lumpur International Airport
Kuala Lumpur International Airport is Malaysia's main international airport and is one of the busiest airports in South East Asia. It is the hub airport for Malaysia Airlines, AirAsia, AirAsia X and Malindo Air. Other airlines which fly to and from Kuala Lumpur International Airport include Air Astana, Air China, Air France, Air Maurtitius, Cathay Pacific, Korean Air, Kuwait Airways, Lion air, Lufthansa and many others.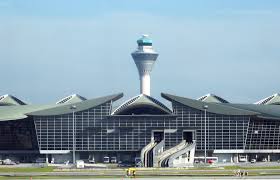 ---
Alternative Airlines to AirAsia
Please click on the logos below to find out more about airlines that fly similar routes to AirAsia:
---