Search & Buy ADA Flights
Let's fly!

Select your payment method to view total prices including any payment fees:
Flying with children
Airlines will always try to sit children with their parents (subject to check-in)
Some airlines will allow travel for unaccompanied minors. Please email us to check.
More detailed information can be found here Travelling with children

Buy
ADA

Flights

Aerolínea de Antioquia Reservations with Alternative Airlines
Flights to and from Mellín
Make an Aerolínea de Antioquia and Find Some Amazing Deals
---
About Aerolínea de Antioquia (ADA)
ADA (Aerolínea de Antioquia) is a regional airline of Colombia and is based at Olaya Herrera Airport in Mellín, Colombia. The airline began operations in 1987 and operates scheduled domestic service from Medellín to over 20 destinations.
---
Aerolínea de Antioquia (ADA) Fleet
The Aerolínea de Antioquia (ADA) fleet includes eight BAe Jetstream 32 and four Dornier 328-100 aircraft.
---
Aerolínea de Antioquia (ADA) Destinations
Aerolínea de Antioquia serves many destinations in Colombia including Acandí, Apartadó, Armenia, Bahía Solano, Barranquilla, Bucaramanga, Capurganá, Cartagena, Cali, Caucasia, Corozal, Cúcuta, El Bagre, Manizales, Medellín, Montería, Nuquí, Pereira, Remedios, Quibdó, Riohacha and Tolú.
---
Aerolínea de Antioquia (ADA) Check-in
Online Check-In
You can check in online for your Aerolínea de Antioquia flight from 72 up to four hours before your flight. If the passenger only has carry-on baggage they are able to go directly to security and boarding 30 minutes prior to scheduled departure.
---
Aerolínea de Antioquia (ADA) Baggage
Carry-on Baggage
The maximum baggage allowance for carry-ons on your Aerolínea de Antioquia flight is 5kg. Passengers must not leave any carry-on baggage unattended at the airport.
Checked Baggage
The maximum weight for checked baggage is 10kg. Any baggage in excess of this will incur additional fees.
---
Aerolínea de Antioquia (ADA) Hub Airport
Enrique Olaya Herrera Airport
Enrique Olaya Herrera Airport is an airport located in Medellín, Colombia. It is one of the largest airports in the country, serving over 800, 000 passengers in 2017. Other airlines that operate out of the airport include Avianca, Copa and Satena.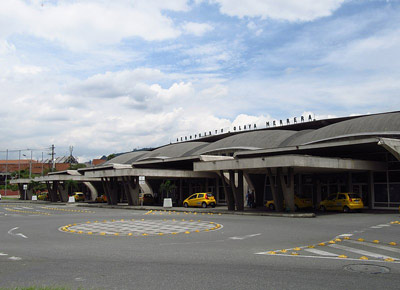 Photo credit: Felipe Restrepo Acosta
---
Aerolínea de Antioquia (ADA) News
24th January 2018
Olaya Herrera Airport suspends operations due to pirate station
Olaya Herrera Airport, central hub of ADA, had to hault procedings this morning due to a radio frequency that interrupted communication between the control tower and the aircrafts. For more than 20 minutes, operations at the Olaya Herrera airport in Medellin were suspended due to an illegal frequency that prevented communication between the aircraft and the control tower. When the pilot of Flight 7997, of the Antioquia Airlines (ADA), tried to communicate with the controllers, what he found in the radiofrequency was a popular music song.
"We were returning from Corozal and when we started the approach we went to the frequency of the airport, but we listened to music and commercials, it was a station," Hernando Vásquez Vélez, pilot and director of operations of the airline, told El Colombiano. Although the airport's cessation of activities took place from 3:00 p.m. until 3:20 p.m. on Monday, Captain Hernando Vásquez Vélez, operations director of Aerolíneas de Antioquia, assured that since morning hours the pilots had registered inconsistencies with the communication and had informed.
According to the report delivered by the pilot, to reestablish communication with the aircraft it was necessary to transfer the communication to the frequency used with the planes that are on the ground. "But it also got saturated and that was chaos. That affects air safety (...) it has happened to us that there are small interferences, but yesterday was the lid, "added the pilot affected to the Antioquia newspaper.
---