Airlines will always try to sit children with their parents (subject to check-in)
Some airlines will allow travel for unaccompanied minors. Please email us to check.
The fare is based on the child's age on the date of travel.
More detailed information can be found here Traveling with children
Most airlines will let infants travel with their parent(s) for free. However some airlines will charge up to 10% of the adult ticket price. Click on 'Price Breakdown' to find out more.
If you are pregnant, but due before the flight departure date, please contact us once your baby is born and has a name. We can then add him/her to your ticket.
Infants will not be given a seat. The airlines expect parents to travel with them on their lap.
Airlines regard infants as being under 24 months old.
The fare is based on the child's age on the date of travel.
More detailed information can be found here Traveling with children
Search and Buy Air India Red Eye Flights
Cancellation Protection
Protects
Trusted Choice
Rated 4.5 Stars. Based on 3,581 service ratings over the past year
Dedicated customer service team on hand to help
Secure payments
Cancellation Protection
Protects
Trusted Choice
Rated 4.5 Stars. Based on 3,581 service ratings over the past year
Dedicated customer service team on hand to help
Secure payments
What are Red Eye Flights?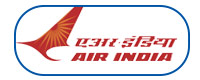 Red eye flights, also referred to as overnight flights, are flights departing late at night and arriving early in the morning of the next day. The term 'red eye' originally comes from when passengers feel tired and get red eyes after travelling late at night or early in the morning. These types of flights are mostly used by business travellers who don't want to miss a day of work.
Searching for red eye Air India flights through Alternative Airlines is easy! Follow our helpful step-by-step guide below showing you how to use our search form and how to apply filters to your search, letting you browse the most suitable red eye flight for you. Red eye flights normally last between 4-6 hours, but you'll still be able to adjust the flight length that best suit your needs.
Use our search bar at the top of the page to start searching for red eye flights with Air India.
---
How to Book Red Eye Flights with Air India
STEP
1
At the top of the page, fill in our search form with your departure and arrival destinations, the dates you wish to travel, how many passengers will be travelling and what cabin class you'd like to fly in. You can also choose between return, one-way or multi-city flights. Hit 'Search Flights' when you're ready!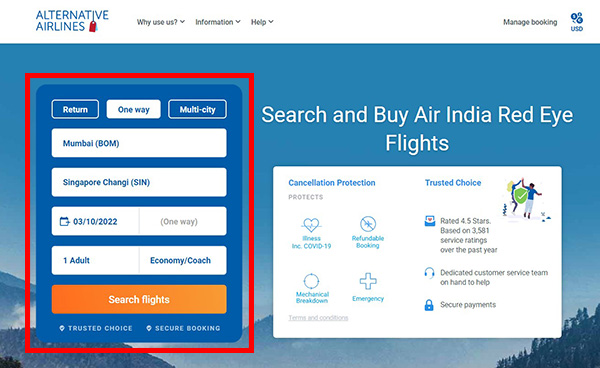 STEP
2
Once the search results have loaded, you can apply a filter to find flights from your preferred airline (e.g., Air India).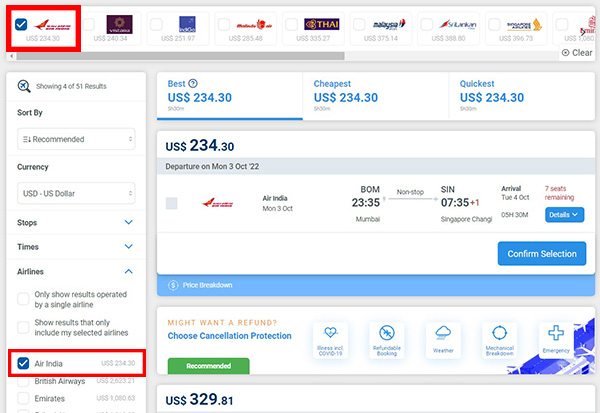 STEP
3
After you've selected the airline of your choice, you'll only see flights operated by that airline. To further narrow down the results to red eye flights, navigate to the 'Experience' tab and select 'Show overnight flights only'. From here you can select the flight that is perfect for you and hit 'Confirm Selection' to proceed with your booking.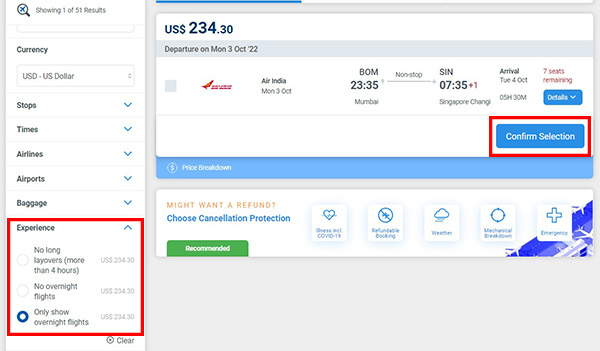 ---
Popular Red Eye Flight Routes with Air India
Red eye flights with Air India are usually within Asia and the Middle East. For example, there may be passengers wishing to fly from Mumbai to Singapore without doing all their travelling during the day, or business travellers needing to fly from New Delhi to Tokyo without missing a day of work - this is where red eye flights come in handy. Booking Air India red eye flights is easy through Alternative Airlines.
Mumbai ✈ to Singapore
New Delhi ✈ to Tokyo
Jeddah ✈ to Mumbai
Dubai ✈ to Chennai
---
Red Eye Flights
Tips
The last thing you need when arriving at your destination is to feel exhausted and drained from not getting enough sleep. Our tips below on making the most of your red eye flight will ensure you feel well-rested and ready for the day once you've landed at your destination.
Comfortable Clothing
Everybody loves to fly in style, but if you want to get plenty of sleep on your flight, you'll need to keep that suit tucked away in your suitcase. We recommend wearing loose, comfortable clothing such as a hoodie, t-shirt, sweatpants or shorts. This will help you settle in for your flight.
Accessories
You can fall asleep a lot quicker if you bring a sleep mask and a travel pillow onto your flight with you. The cabin often gets chilly too so it's a great idea to bring a warm blanket with you or use a blanket provided by the airline.
Seating
Booking the window seat for your red eye flight means you'll have full control over the window shutters, so you can block the sun out during the sunrise. It also reduces the chances of you being woken up by other passengers as they won't need to squeeze past you to use the facilities onboard.
Eat Light
You may think eating a full, heavy meal will help you fall asleep faster on your red eye flight - this will actually do the complete opposite! A light meal is recommended and we also suggest avoiding fatty, oily foods to help your stomach settle before flying.
---
Red Eye Flights with Air India
FAQs
Can I book Air India red eye flights?
Of course! It's incredibly easy to book red eye flights with Air India through Alternative Airlines. Red eye flights with Air India are mostly within Asia and the Middle East. Use out step-by-step guide we made earlier to show you how to search for red eye flights with any airline of your choice.
Can I buy Air India red eye flights on finance?
Absolutely! At Alternative Airlines, we have 40+ different payment methods to offer including 'buy now, pay later' options such as Klarna, Afterpay and Affirm. Depending on where you reside, different payment plans will be available to use at checkout. You can find out more about all of our payment methods here.
What time is a red eye flight?
The majority of red eye flights normally depart late at night from 10 pm to 1 am and arrive in the morning from 5 am to 7 am. With Alternative Airlines, you can choose flight lengths that best suit you.