Search and Buy Air Atlanta Icelandic Flights with Alternative Airlines
Make a Booking and Find Some Amazing Deals
---
About Air Atlanta Icelandic
Air Atlanta Icelandic is a charter and ACMI services provider based in Kópavogur, Iceland. It has recently launched a new airline subsidiary based in Malta, Air Atlanta Europe. The airline was founded in 1986 and has been focusing on ACMI and charter services for both passengers and cargo. The airline operates a fleet of Boeing 747, Airbus 340 and Airbus 330.
Its customer base range from airlines, tour operators, charter brokers, governments, non-profit organizations, etc. Airlines that Air Atlanta Icelandic partner with are Saudia, Virgin Atlantic, Iberia, Finnair, Norweigian, Avianca, British Airways, Malaysia Airlines, Air India and many more.
---
Destinations
Air Atlanta Icelandic offers ACMI (Aircraft, Crew, Maintenance, Insurance) and charter services for various customers around the world. Customers could range from airlines to event organizers including providing a service for Iron Maiden's world tour.
---
Baggage Allowance
Carry-On Baggage
Please refer to the operator that offered the flight to you for carry-on baggage information. No prohibited items are allowed onboard including fluid exceeding 100ml. Any prohibited items identified by airport security would be confiscated.
Checked Baggage
Baggage allowance for your flight would depend on the operator that offered the flight to you. Air Atlanta Icelandic doesn't have general guidance on the baggage allowance for its flights. However, as a general rule, no baggage exceeding 32kg would be accepted by the airline due to international health and safety regulations.
---
Check-In Information
Check-In Online
Air Atlanta Icelandic doesn't currently offer any online check-in services. If the flight that you booked is operated by Air Atlanta Icelandic on behalf of an airline. Please check-in with that airline instead.
Airport Check-In
Passengers are advised to arrive at the airport two hours before the scheduled departure time so you will have plenty of time to check-in and report to the boarding gate. Please ensure that all the prohibited items are stored in the checked baggage and batteries are taken out from the checked baggage.
When arrived at the airport please report to the airport check-in area to check-in for your flight. Check-in counters should be labelled with the airline name and logo.
---
Frequent Flyer Program
As it's not a scheduled passengers airline, Air Atlanta Icelandic doesn't offer a frequent flyer programme to its customers.
---
Airline Alliance
The airline isn't part of any airline alliances.
---
Airline's Fleet
Air Atlanta Icelandic operates a fleet of Boeing 747 aircraft in four different aircraft models including the B747-400F, B747-400 SF, B747-400 and B747-8. The -400F, -400 SF models are cargo aircraft. The airline calls themselves as the Boeing 747 specialist.
---
Hub Airport
Keflavík International Airport
Keflavík International Airport (KEF) is the largest and the most important hubs for international flights. The airport is located 3.1 km from Reykjavík. The airport has two runways and one passenger terminal to accommodate over seven million people flying between North America and Europe.
Other airlines that fly to the airport include airBaltic, Atlantic Airways, Icelandair, Lufthansa, Wizz Air, Norwegian, Finnair, Iberia Express and more.
---
Alternative Airlines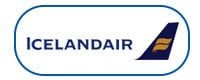 ---