Facilities
Facilities Include:
Food and drink: Food options are available both Landside and Airside, and operate according to flight schedules. The 10/11 Convenience Shop, located Landside Arrivals/Departures, is a good option for snacks.
Duty Free Shopping: As well as Duty Free Iceland, there are a limited number of additional duty free shops located throughout the airport: 66°North, Airport Fashion, Blue Lagoon, Elko, Optical Studio, Penninn Eymundsson, Pure Food Hall, and the Rammagerdin Iceland Gift Store.
Wi-Fi: Complimentary Wi-Fi is available to all passengers within the terminal buildings.
Self-check-in: In the check-in hall, there are 50 self-check-in kiosks, which are open 24 hours a day. Passengers will only be able to check-in at least two and a half hours before departure.
Currency, tax refunds and banking: Arion Bank provides currency exchange and service points in the arrival and departure hall. It also has 14 cash machines (ATMs) in the terminal buildings.
Services for children: There is a children's play area by C gates in the South Building. Children can also pick up a free colouring book and crayons - just head to the information desk! There are also family washrooms on the 2nd level of the airport, and free strollers are available throughout the terminal.
Charging points: There are over 100 charging stations are available, located throughout the airport terminals.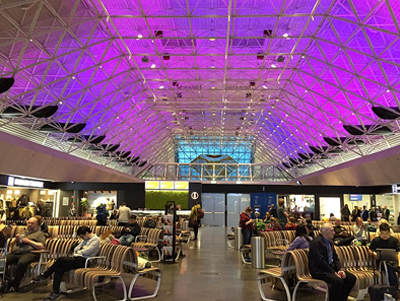 The main airport waiting area. Image Credit: Wikipedia Commons
Lounges Include:
Icelandair Saga Lounge
Open daily from 5:30 AM to 5:30 PM. The lounge is accessible to Icelandair Saga Class and Economy Comfort flyers, Saga Gold and Silver members. Certain American Express, Mastercard, Alaska Airlines and Lufthansa Elite/Gold Status flyers are also permitted. The lounge features padded loungers, complimentary snack/drinks and showers.