Search and Buy PLAY Flights with Alternative Airlines
Make a Booking and Find Some Amazing Deals
---
About PLAY
PLAY is an Icelandic low-cost airline, launched after WOW Air ceased operations in March 2019. Its entrance brings competition to the national carrier, Icelandair. The airline will be focusing on providing services between Iceland and Europe.
PLAY will be operating with a fleet of narrowbody aircraft, namely the Airbus A320 family aircraft. Flights will be operated out of Keflavik Airport to destinations in Spain, Germany, Denmark and the United Kingdom. Initially, London Stansted will be the airline's first ever destination.
---
Destinations
As of December 2021, PLAY already operates to multiple destinations from its base, Reykjavik Airport (KEF). The airline also has plans to begin services to a wide range of further European cities in the first half of 2022.
| COUNTRY | CITY | IATA | AIRPORT |
| --- | --- | --- | --- |
| Spain | Alicante | ALC | Alicante–Elche Miguel Hernández Airport |
| Spain | Barcelona | BCN | Josep Tarradellas Barcelona-El Prat Airport |
| Spain | Tenerife | TFS | Tenerife South Airport |
| Spain | Gran Canaria | LPS | Gran Canaria Airport |
| Spain | Madrid | MAD | Adolfo Suárez Madrid–Barajas Airport |
| Spain | Malaga | AGP | Málaga-Costa del Sol Airport |
| Spain | Mallorca | PMI | Palma de Mallorca Airport |
| Germany | Berlin | BER | Berlin Brandenburg Airport |
| Germany | Stuttgart | STR | Stuttgart Airport |
| Denmark | Copenhagen | CPH | Copenhagen Airport |
| United Kingdom | London | STN | London Stansted Airport |
| France | Paris | CDG | Paris-Charles de Gaulle Airport |
| Netherlands | Amsterdam | AMS | Amsterdam Airport Schiphol |
| Poland | Warsaw | WAW | Warsaw Chopin Airport |
| Romania | Bucharest | OTP | Henri Coandă International Airport |
| Sweden | Gothenburg | GOT | Gothenburg-Landvetter Airport |
| Norway | Stavanger | SVG | Stavanger Airport |
| Norway | Trondheim | TRD | Trondheim Airport, Værnes |
| Portugal | Lisbon | LIS | Humberto Delgado Airport |
| Belgium | Brussels | BRU | Brussels Airport |
| Italy | Bologna | BLQ | Bologna Guglielmo Marconi Airport |
| Austria | Salzburg | SZG | Salzburg Airport W. A. Mozart |
| Czech Republic | Prague | PRG | Václav Havel Airport Prague |
| Ireland | Dublin | DUB | Dublin International Airport |
| Iceland | Reykjavik | KEF | Keflavik Airport |
---
Baggage Allowance
Carry-On Baggage
Passengers will receive a personal item that must fit within 42cm x 32cm x 25cm (17" x 13" x 10") and a maximum dimension of 10kg (22 lbs).
Travellers can also add a carry-on baggage with a fee that doesn't exceed a maximum dimension of 56cm x 45cm x 25cm (22" x 18" x 10") and lighter than 12kg (26 lbs).
Any items onboard must fit within the overhead lockers and under the seat. Otherwise, the item must be transported as checked baggage.
Checked Baggage
Checked baggage isn't included in the fare but passengers can buy excess baggage as long as it's not heavier than 20kg (44lbs) and not larger than 158cm (62") in the sum of three dimensions.
No individual baggage can exceed 32kg.
At Alternative Airlines, we recommend travellers book their excess baggage during the initial booking process as it's often more expensive to purchase at the airport. Please contact our customer service team if you've already booked with us. Otherwise, follow our guide on how to book excess baggage.
---
Check-In Information
Check-In Online
Online check-in opens 24 hours before and close one hour before the scheduled departure time.
It's straightforward and simple to do via the PLAY airline website and it should only take a few minutes to complete.
Once online check-in is completed, passengers will obtain their boarding passes and it can be used to scan it at the boarding gates and check-in kiosks at the airport.
Airport Check-In
Passengers must check-in online and print the bag tags at the airport, using the self-service kiosks provided. Once the bags have been tagged, simply drop them off at the baggage drop counters. Once that's done, proceed to airport security.
Please be online for the flight. Any passengers late for check-in or boarding will lose their ticket. At Alternative Airlines, we recommend passengers to arrive at the airport two hours before departure and should report to the check-in counters as soon as they arrive.
---
Travel Classes
PLAY only offers all-economy aircraft with seats 3x3 across the cabin. Passengers don't receive any additional benefits included with their ticket and must purchase these if required. A complimentary meal service or checked baggage is not offered free of charge.
---
Entertainment & Wifi
The airline doesn't offer any inflight entertainment or Wifi onboard. It is strongly recommended that you bring something to keep you from being bored during the flight.
---
Food & Beverages
Food and Beverages are provided during the flight, however, these are not free and must be purchased. You are able to purchase a range of soft drinks, alcoholic beverages as well as snacks and sandwiches from the cabin crew, consult the PLAY menu at your seat for more details.
---
Route Map
As of December 2021 PLAY's current route map is as follows: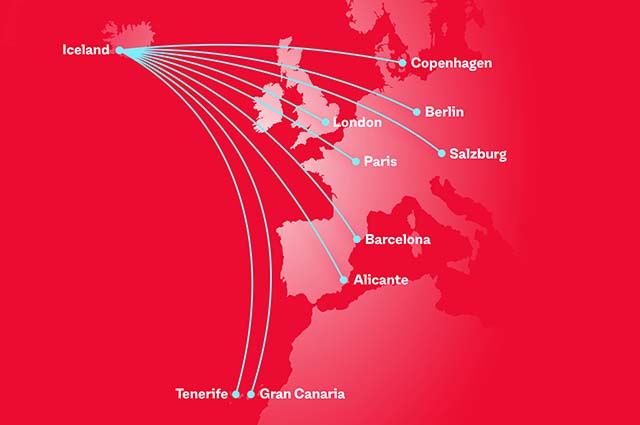 ---
Airline Alliance
PLAY hasn't announced if they will be joining an airline alliance but they aren't expected to.
---
Frequent Flyer Programme
PLAY doesn't currently offer a frequent flyer program, however, they have MyPLAY accounts for you to become a member of to help manage your bookings. There is potential for a frequent flyer program to be integrated into this account platform, however, PLAY hasn't announced any plan for this.
---
Airline's Fleet
PLAY has an all-Airbus fleet, choosing to operate the A320neo and A321neo aircraft. The airline has 3 of the later in operation as well as 1 A320, however, more aircraft are on order to be delivered by 2023. These aircraft are expected to have a seating capacity from 140 to 240 in total and will be serving small to large markets from Iceland.
---
Hub Airport
Keflavík International Airport
Keflavík International Airport (KEF) is the main and the largest airport in Iceland. It's located in Suðurnesjabær, serving the Greater Reykjavík Area, and about 50km from Reykjavík. In 2019, the airport was serving over seven million passengers. To accommodate that, the airport is equipped with three runways but only two of which are active and one is under construction. Although there's only one passenger terminal, it's expanded in 2016.
Icelandair is the only airline that is based at the airport. Other airlines flying to the airport include, Air Greenland, British Airways, easyJet, Finnair, Iberia Express, Lufthansa, Norwegian, SAS Scandinavian Airlines, Transavia, Wizz Air and more.
---
Alternative Airlines
---