Facilities
Facilities Include:
Food and Shopping: On the concession level, there are a range of retail outlets, offering everything from premium labels to novelty gifts. There is also a branch of Renaissance Books, believed to be the world's first used book store in an airport. There is a small food court within the main terminal, as well as food outlets within both Concourses. Options range from Italian restaurants to coffee shops, fast food and light snacks.
Wi-Fi and Charging: Free Wi-Fi is available throughout the airport for 60 minutes; fees apply after 60 minutes. Outlets for charging can be found in banks of seats near the gates.
Baby and Family Amenities: There are nursing suites are available throughout the airport, complete with power/USB ports and comfortable seating and fold-down shelf. Located throughout the airport, family restrooms provide additional space. There are also play areas for children within both Concourse C and D.
TSA PreCheck: TSA PreCheck is available to those who have signed up. Find out more here to enjoy faster security screening.
Museum: The main terminal building also houses the 'Mitchell Gallery of Flight', a non-profit museum that explores the aviation history of the airport and area.
Additional Facilities: Additional facilities include conference room, a FedEx/UPS parcel drop area, a BMO Harris Bank and a service animal relief area.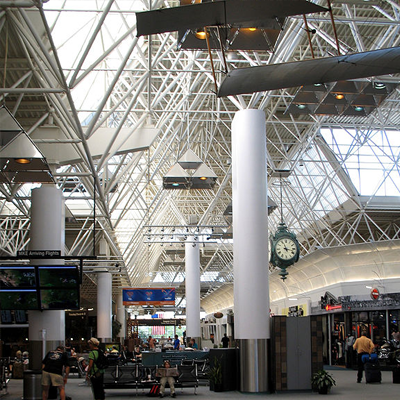 Inside the Main Terminal Building. Image Credit: Wikipedia Commons
Lounges Include:
MKE offers a USO Lounge on Concourse D, open 8am-8pm, 7 days a week, and open to military travellers with an active duty military ID and a boarding pass. The lounge provides a comfortable place to watch TV, use the computer, and read or relax. Snacks and beverages are also served.
Delta Sky Club
Exclusive for Delta Air Lines Skyclub members, the lounge is located in Concourse D, Airside, and open 4:45AM – 7:15PM (Sun – Fri) and 4:45AM – 5:00PM (Sat). Facilities include beverages (including alcoholic, fax machines, photocopiers and hot spot printing, newspapers and magazines, snacks, telephones, TV and Wi-Fi.