Search and Buy MASwings Flights with Alternative Airlines
Make a MASwings Booking and Find Some Amazing Deals
---
About MASwings
Founded in 2007, MASwings is a Malaysian airline flies to many regional destinations within East Malaysia and Indonesia with its cost-effective and safe service. The airline's full name is MASwings Sdn Bhd, but is branded as MASWings. The airline is hubbed at, and headquartered at, Kota Kinabalu International Airport (BKI), from where it operates the vast majority of its services.
MASwings is a subsidiary of Malaysia Airlines and was created to focus on routes in the regional community of the East Malaysian states of Sabah and Sarawak (Borneo). MASwings flew its inaugural flight on 1st October 2007 and has since expanded its route network to fly to over 20 different destinations with its fleet of more than 15 aircraft.
---
MASwings Fleet
| AIRCRAFT | IN SERVICE | ORDERS |
| --- | --- | --- |
| ATR 72-500 | 10 | / |
| Viking Air DHC-6-400 Twin Otter | 6 | / |
---
MASwings Destinations
Currently, MASwings flies to 24 destinations, mainly domestically within Malaysia, but also occasionaly Indonesia. The main regions the airline flies to are Sarawak and Sabah, as per the table of destinations below:
| REGION | CITY | AIRPORT |
| --- | --- | --- |
| Sabah | Kota Kinabalu | Kota Kinabalu International Airport (BKI) |
| Sabah | Kudat | Kudat Airport (KUD) |
| Sabah | Lahad Datu | Lahad Datu Airport (LDU) |
| Sabah | Sandakan | Sandakan Airport (SDK) |
| Sabah | Tawau | Tawau Airport (TWU) |
| Labuan Federal Terrirory | Labuan | Labuan Airport (LBU) |
| Sarawak | Kuching | Kuching International Airport (KCH) |
| Sarawak | Miri | Miri Airport (MYY) |
| Sarawak | Ba'kelalan | Ba'kelalan Airport (BKM) |
| Sarawak | Bario | Bario Airport (BBN) |
| Sarawak | Lawas | Lawas Airport (LWY) |
| Sarawak | Limbang | Limbang Airport (LMN) |
| Sarawak | Long Banga | Long Banga Airport (LBP) |
| Sarawak | Long Seridan | Long Seridan Airport (ODN) |
| Sarawak | Long Lellang | Long Lellang Airport (LGL) |
| Sarawak | Marudi | Marudi Airport (MUR) |
| Sarawak | Mulu | Mulu Airport (MZV) |
| Sarawak | Mukah | Mukah Airport (MKM) |
| Sarawak | Sibu | Sibu Airport (SBW) |
| North Kalimantan (Indonesia) | Tarakan | Juwata Airport (TRK) |
---
MASwings Route Map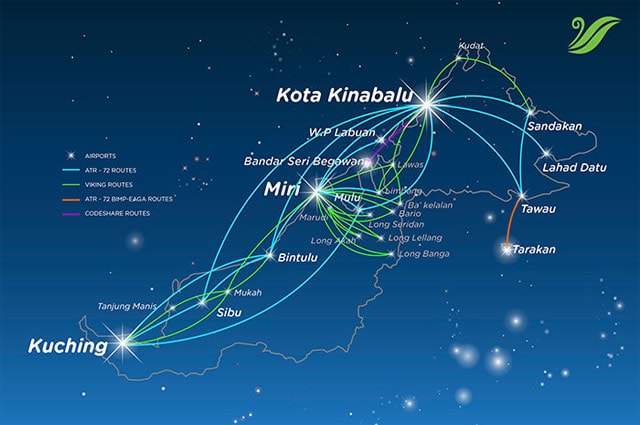 ---
MASwings Baggage
Carry-on Baggage
The MASwings baggage allowance policy allows passengers to carry one carry-on bag in Economy Class, weighing no more than 7kg. The item of hand baggage must not exceed the dimensions of 56 x 36 x 23 cm.
Checked Baggage
Your MASwings checked baggage allowance will depend on which aircraft you're flying on, so please check your e-ticket or with the airline before you pack your bag. For passengers flying on the ATR 72-500 aircraft, the weight limit is 20kg for Economy Class passengers.
You may check as many pieces of baggage as you wish, as long as it doesn't exceed the total weight limit stated.
Excess Baggage
If your carry-on baggage exceeds the size or weight limit, MASwings has the right to charge a fee and check your bag as checked baggage.
If your checked baggage is over the weight limit, you will be charged per kg that it is overweight. Currently, this is 5 MYR per kg.
---
MASwings Check-In Information
Online Check-in
Passengers can check-in for their flight online, via the MASwings website homepage. You will need your booking reference or e-ticket number to locate your booking details and begin check-in. This service will open 48 hours before your flight time, and will close 90 minutes before your flight.
Mobile Check-in
Passengers can also check-in from their mobile, which also opens 48 hours before flying, and closes 60 minutes before your scheduled flight time.
Airport Check-in
If you have not been able to check-in before arriving at the airport, head to the self-serve kiosk or check-in counter to proceed with check-in. The kiosks open 48 hours before your flight, and will close 40 minutes before your flight for domestic flights, or 60 minutes before for international flights. The check-in counter will open 24 hours before your flight, and closes 45 minutes before flying.
---
MASwings Hub Airport
Kota Kinabalu International Airport
Kota Kinabalu International Airport is an international airport in Sabah, Malaysia and is the airport hub for MASwings. The airport was originally used for the military in WWII but now is now used by a number of commercial airlines offering scheduled passenger services. The airport is separated into two terminals. Terminal 1 is the primary terminal in the airport and deals with the majority of passenger services at the airport. Terminal 2 is the older and smaller terminal, it used to deal with charter and low-cost carrier but now operates as a cargo terminal. Other airlines that operate out of the airport include AirAsia, Malaysia Airlines and Malindo Air.
---
MASwings Class Information
Economy Class
Currently, economy class is the only class of travel that MASwings provide.
Facilities
Passengers can enjoy complimentary drinks with a light snack on board flights with this airline. Free newspapers and magazines are also provided free of charge.
Seats
The seats onboard these planes are comfortable, with a generous amount of width and pitch of 31 inches. The seat formation is either 1 x 2, or 2 x 2, depending on the aircraft flying in.
Premium Economy
Premium Economy is not currently an option for MASwings flight.s
Business Class
There is no business class currently available onboard this airline's flights.
First Class
There is currently no first-class onboard MASwings aircraft.
---
Alternative Airlines to MASwings
Please click on the logos below to find out more about airlines that fly similar routes to MASwings:
---
MASwings In-Flight Entertainment
Passengers can use the short flight times of MASwings to read the complimentary newspapers and magazines provided. Alternatively, there is some additional basic in-flight entertainment on the ATR aircraft.
---
MASwings Food
Due to the short journey times of most of the routes that MASwings fly, there is not a full meal served on board. However, there is still complimentary drinks and snacks available. On the longer flights of 60 minutes or more, passengers can enjoy items such as muffins and sandwiches.
---
MASwings WiFi
There is currently no WiFi services onboard this airline, either paid or complimentary.
---
MASwings Frequent Flyer
This airline participates in its parent company's frequent flyer program, called Enrich. This was introduced in 2006 and allows members to accumulate miles on qualifying flights on partners such as Air France, Alitalia, Emirates, KLM and Virgin Atlantic.
---
MASwings Airline Alliance
MASwings is currently not part of any Airline Alliance. However, it entered into a codeshare agreement with Royal Brunei Airlines in 2013. This allows the two airlines to codeshare on flights between Kota Kinabalu and Bandar Seri Begawan.
---
MASwings Special Services
Passengers who require any type of passenger services, such as reduced mobility assistance, travelling with young children or expectant mothers should contact the airline well before their flight to ensure there is enough time to accommodate their requests.
---